In the nearly nine years since the Florida Supreme Court decertified Engle v. Liggett Group Inc., CVN has broadcast more than 120 Engle progeny proceedings. Harnessing the data from that library of cases, we first introduced our Engle Trading Cards in 2011 as a light-hearted way to highlight the key individuals and trials across this landmark litigation. Last September, we introduced Series 2, a 12-card set that included CVN's Engle Attorneys of the Year and met unprecedented popularity.
Our Series 3 cards, the first of which will debut next Tuesday, will build upon CVN's earlier collections by focusing on Engle's key attorneys and their CVN-covered trials.
In anticipation of our Series 3 launch, we offer a look back at all of our Series 2 cards, with links to each card below.
---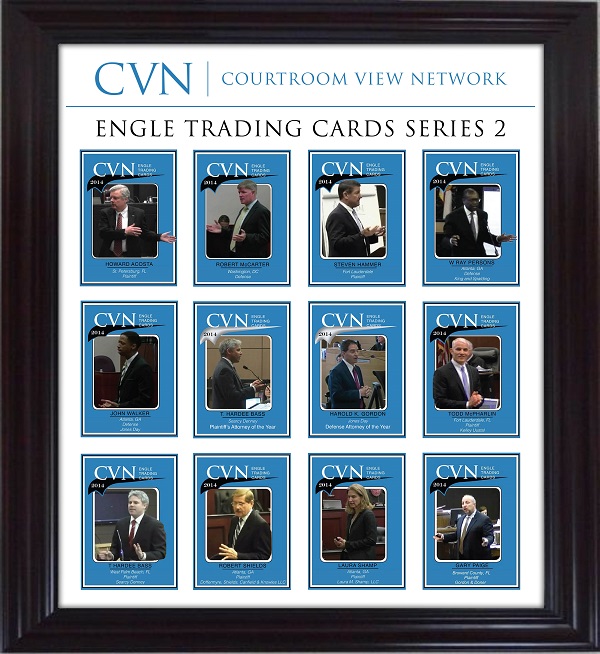 A collection of CVN's Series 2 Engle cards. Our Series 3 cards will debut April 28. Click here for a larger version of our framed collection.
---
CVN Engle Cards, Series 2
Howard Acosta, Howard M. Acosta Law Offices, Card #1.
Robert McCarter, Shook, Hardy & Bacon, Card #2.
Steven Hammer, Law Offices of Sheldon J. Schlesinger, Card # 3.
W. Ray Persons, King & Spalding, Card #4.
John Walker, Jones Day, Card #5.
Todd McPharlin, Kelley Uustal, Card #6.
T. Hardee Bass, Searcy Denney, Card #7.
Robert Shields, Doffermyre, Shields, Canfield & Knowles, Card #8.
Laura Shamp, Laura M. Shamp, LLC, Card #9.
Gary Paige, Gordon & Doner, Card #10.
T. Hardee Bass, Searcy Denney, CVN Engle Plaintiff's Attorney of 2014.
Harold K. Gordon, Jones Day, CVN Engle Defense Attorney of 2014.
Come back next Tuesday for the debut card in our Series 3 collection.
---
CVN Engle card statistics are compiled from our unmatched Engle progeny coverage.
Not a subscriber?
Click here to learn more about our expansive tobacco litigation library.