Each Tuesday we issue a new Engle trading card featuring an attorney, trial, or firm from Florida's Engle progeny tobacco cases. Our exclusive cards provide a light-hearted way to track important statistics through eight years of this landmark tobacco litigation.
---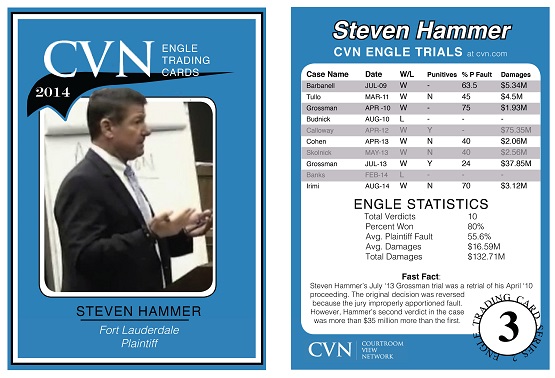 Steven Hammer, who tries Engle cases with the Law Offices of Sheldon J. Schlesinger, carries an 8-2 record, with no mistrials in more than five years of Engle trials. Click here to see the full-size card.
---
This week's Engle card feature, Steven Hammer, carries an impressive 80% win rate through 10 Engle trials.
The jury in Hammer's first Grossman trial awarded $1.93 million, the lowest of his eight career Engle wins. Notably, the jury in that trial found deceased smoker Laura Grossman's husband Jan, the case's plaintiff, partially responsible. However, the Florida Fourth District Court of Appeal reversed the decision after finding the trial court erred in placing Jan on the verdict form to apportion comparative fault for buying Laura cigarettes. On retrial, Hammer won a $37.85 million verdict for his client, which is second only to his monumental $75.35 million win in Calloway.
Come back next Tuesday when we release another Engle card.