Each Tuesday we issue a new Engle trading card featuring an attorney, trial, or firm from Florida's Engle progeny tobacco cases. Our exclusive cards provide a light-hearted way to track important statistics throughout this landmark tobacco litigation.
---
Card #7: T. Hardee Bass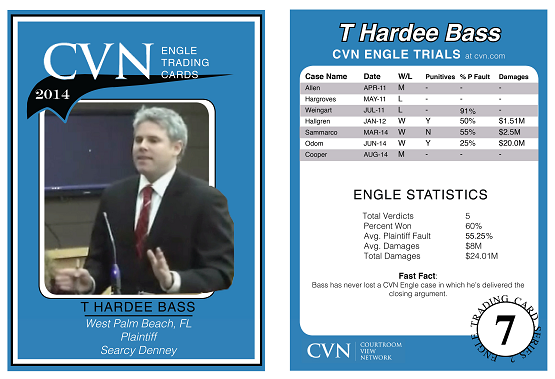 With five CVN Engle trials under his belt, including a $20 million verdict in June, Searcy Denney's T. Hardee Bass is the feature of this week's Engle Trading Card. Click here for the full-size version.
---
In three years of Engle progeny litigation on CVN, Searcy Denney's T. Hardee Bass has an impressive 60 percent winning record, highlighted by a three-case winning streak running from January 2012 through June 2014. Each of those wins was punctuated by a closing from Bass, who has never lost a CVN Engle trial where he's delivered the closing argument.
Come back next Tuesday to see who will be featured on our newest Engle trading card.