---
Each Tuesday we issue a new trading card featuring an attorney, trial, or firm from Florida's Engle progeny tobacco cases. Our exclusive cards provide a light-hearted way to track important statistics throughout this landmark tobacco litigation.
---
Card #9: Laura Shamp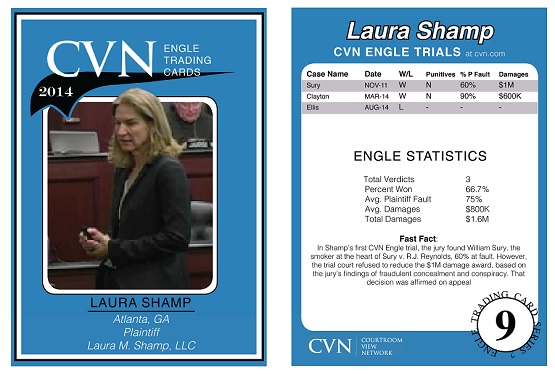 Atlanta's Laura Shamp, of Laura M. Shamp LLC, carries an $800,000 average award per CVN Engle win and is the featured attorney on this week's Engle Trading Card Tuesday. Click here to view the larger card.
---
Although she hasn't tried as many CVN Engle progeny cases as some our other featured attorneys, Laura Shamp carries a solid 66.7% winning percentage through her three years of CVN Engle experience. Notably, she secured the full award of damages in her first CVN Engle trial, Sury v. R.J. Reynolds, despite the jury's finding that the smoker at the case's heart was 60% at fault. Florida's First District Court of Appeal ultimately affirmed trial judge Tyrie Boyer's decision, finding that the judge had the discretion to deny a reduction in damages when, as in Sury, the jury found in plaintiff's favor on fraudulent concealment and conspiracy claims.
Come back next Tuesday to see who will be featured on our next Engle Trading Card.
---
Related Information
To watch Laura Shamp's CVN Engle trials on demand, click here for her Attorney page.
Trading card statistics are pulled from CVN's unsurpassed library of Engle progeny coverage.
Not a subscriber?
Click here for seven days of free video access to our full library of Engle progeny tobacco litigation.