Every Tuesday we issue a new Engle trading card featuring an attorney, trial, or firm from Florida's Engle progeny tobacco cases. The cards provide a light-hearted way to track key statistics in the unprecedented tobacco litigation.
---
Robert McCarter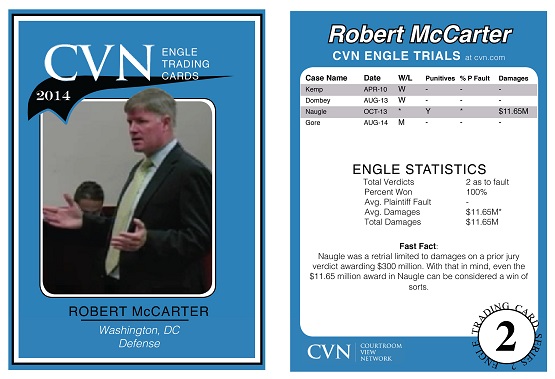 Robert McCarter, of Shook, Hardy & Bacon, is featured on this week's Engle trading card. Click here to see the full-size card.
---
While Shook, Hardy & Bacon's Robert McCarter has not argued as many Engle cases as other attorneys, he's won both cases he's tried on the issue of fault. Moreover, CVN's only Engle case in which damages were awarded against him was a retrial in Naugle, where the $11.65 million award was more than a 96% reduction of the earlier trial's $300 million jury verdict. His most recent trial, Robert Gore v. R.J. Reynolds, was declared a mistrial after jurors found R.J. Reynolds was liable for punitive damages but refused to award compensatory damages in the case.
Come back next Tuesday to see who'll be the focus of our third Engle card.
Related Information
Visit Robert McCarter's Attorney page to view on-demand video of his trials.
Read Judge Declares Mistrial in Engle Progeny Tobacco Case that Found Punitive Liability Without Compensatory Award.