---
Each Tuesday we issue a new Engle trading card featuring an attorney, trial, or firm from Florida's Engle progeny tobacco cases. Our exclusive cards provide a light-hearted way to track important statistics throughout this landmark tobacco litigation.
---
Card # 6: Todd McPharlin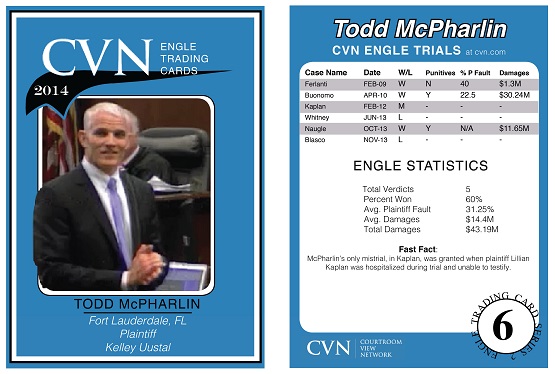 Kelley Uustal's Todd McPharlin, a veteran of six CVN Engle progeny trials over the last five years, is the subject of this week's trading card. Click here for a larger version.
---
Although he hasn't tried as many CVN-brodacast Engle cases as some of our other card subjects, Todd McPharlin is an Engle progeny veteran, representing plaintiffs on CVN since 2009. McPharlin, from Fort Lauderdale's Kelley Uustal, is dominant on his "home court" in Florida's 17th Judicial Circuit, going undefeated in four Engle progeny appearances (3-0 and 1 mistrial) there.
Come back next Tuesday to see who will be on our next Engle trading card.
Related information
Visit Todd McPharlin's Attorney Page and watch on-demand video of his trials.