---
Each Tuesday we issue a new trading card featuring an attorney, trial, or firm from Florida's Engle progeny tobacco cases. Our exclusive cards provide a light-hearted way to track important statistics throughout this landmark tobacco litigation.
---
Card #8: Robert Shields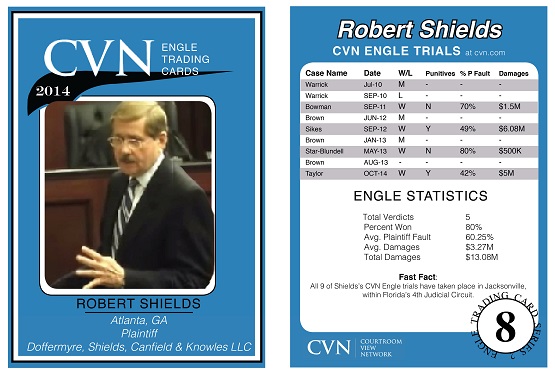 Robert Shields, of Atlanta's Doffermyre, Shields, Canfield & Knowles, brings 9 CVN Engle trials' worth of experience to this week's Trading Card Tuesday. Click here to view the full-size card.
---
An Engle litigation veteran, Atlanta's Robert Shields has represented Engle progeny plaintiffs on CVN for more than four years. In that time, he's built an outstanding 80% win rate through five verdicts, including a $6 million award in 2012's Sikes v. R.J. Reynolds and, most recently, a $5 million verdict in Taylor v. R.J. Reynolds.
Of Shields's mistrials, two have come in a wrongful death suit by Mary Brown on behalf of the Estate of Rayfield Brown. The ultimate disposition in the third CVN trial in that suit, August 2013's Brown v. Philip Morris, remains in question. Jurors found that Rayfield Brown's addiction to nicotine caused his lung cancer and that Philip Morris's concealment of smoking's dangers was the legal cause of his death, but failed to answer the form's remaining questions, which prompted a defense motion for a third mistrial in the case.
Come back next Tuesday to see who will be featured on our newest Engle trading card.