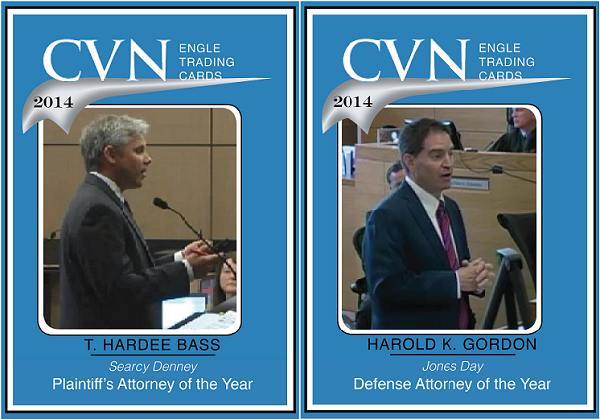 T. Hardee Bass and Harold K. Gordon, CVN's inaugural Engle Progeny Attorney Award winners.
---
With 31 key trials, including a record-setting, $23.6 billion verdict in one case alone, 2014 was a landmark year in CVN's coverage of Engle litigation. To reflect on the outstanding trial work in such influential proceedings, we present the attorneys and firms we believe shone brightest in 2014.
Plaintiff's Attorney of the Year: T. Hardee Bass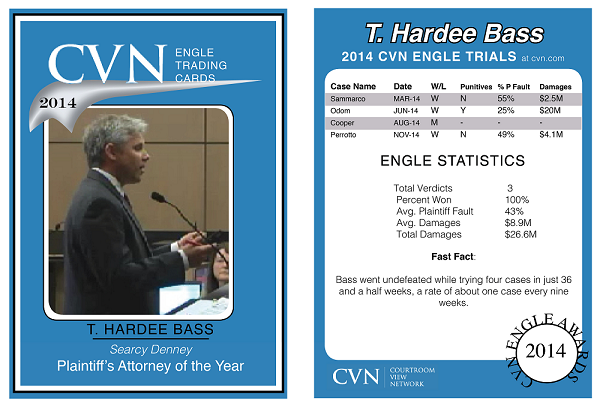 While other attorneys may have finished the year with larger verdict totals, Bass's 3-0-1 record in just over 36 weeks was eye-popping. Further, his $20 million award in Odom v. R.J. Reynolds was the fourth biggest CVN verdict of the year.
---
Defense Attorney of the Year: Harold K. Gordon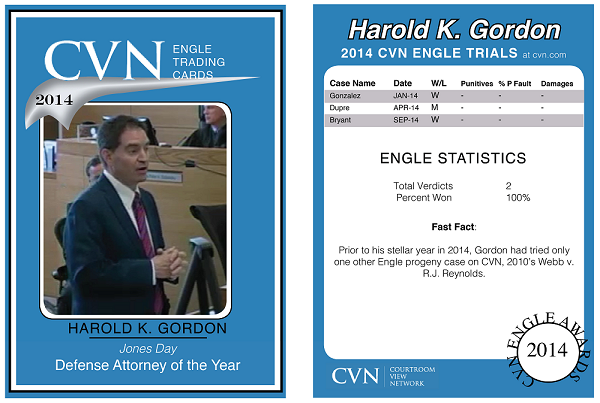 Jones Day's Harold K. Gordon went undefeated on the year while representing R.J. Reynolds in three critical trials. His record, and his key role in each case's defense, make him CVN's Engle Defense Attorney of 2014.
---
Plaintiff's Law Firm of the Year: Searcy Denney
Searcy Denney attorneys seemed to be in Engle courtrooms everywhere in 2014, working nearly 30% of CVN's Engle cases this year. With a 6-2-1 record and nearly $45 million in damages, they backed up their numerous appearances with stellar results.
Defense Law Firm of the Year: Jones Day
The firm's 5-5-2 record on the year, while solid, does not tell the whole story. Out of 27 CVN Engle trials taken to verdict in 2014, the defense prevailed only 10 times. Jones Day attorneys were involved in half of those wins. Further, Jones Day saw only one of the year's seven $10-million-plus awards.
---
CVN features unmatched Engle litigation video coverage.