In the nearly eight years since the Florida Supreme Court decertified Engle v. Liggett Group Inc., CVN has broadcast more than 100 Engle progeny proceedings. We first introduced our Engle Trading Cards in 2011 as a light-hearted yet useful way to track some of the key individuals and trials in the ongoing litigation. Because those cards were so popular, and because Engle progeny cases continue to play a key role in tobacco litigation, we're introducing Series 2 of our the trading cards. Each Tuesday, we'll issue a new card featuring a case or attorney that has made a significant impact in this landmark litigation.
---
Card #1: Howard Acosta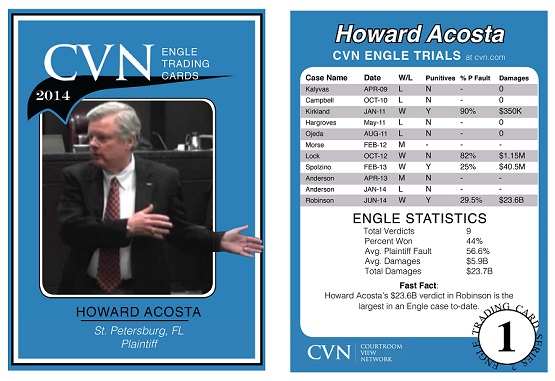 Howard Acosta leads off Series 2 of our Engle Trading Cards. Click here to view the full-size version.
---
Howard Acosta has argued 11 Engle cases broadcast by CVN. His most recent case, Cynthia Robinson v. R.J. Reynolds Tobacco Co, et al., is likely his most famous, making headlines with a $23.6 billion punitive award. Even without the enormous punitive award in Robinson, however, Acosta's average damage award exceeds $14.7 million (which includes Robinson's more than $16 million in compensatories)
Come back next Tuesday when we'll issue another new Engle Trading Card.
Related Information
View Howard Acosta's Attorney page on CVN and view on-demand video of his cases.