Each Tuesday we issue a new Engle trading card featuring an attorney, trial, or firm from Florida's Engle progeny tobacco cases. Our exclusive cards provide a light-hearted way to track important statistics through eight years of this landmark tobacco litigation.
---
Card #4: W. Ray Persons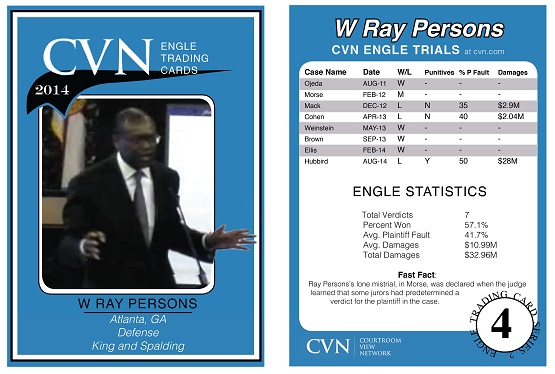 W. Ray Persons, from King & Spalding's Atlanta office, has tried 8 Engle cases in three years. His record features an impressive three-trial wining streak in 2013 and 14. Click here to view his full-size card.
---
King & Spalding's W. Ray Persons has been one of the most active Engle defense attorneys since we issued our Series 1 cards in 2011; he carries an impressive 4-3 record with only one mistrial in the last three years. The nine-month period between May 2013 and February 2014 was particularly busy, and more importantly, successful, for Persons: he built a three-trial winning streak during that time.
Come back next Tuesday to see who'll be the focus of our third Engle card.
Related Information
Visit W. Ray Persons's Attorney Page to watch on-demand video of his trials.