Each Tuesday we issue a new Engle trading card featuring an attorney, trial, or firm from Florida's Engle progeny tobacco cases. Our exclusive cards provide a light-hearted way to track important statistics through years of this landmark tobacco litigation.
---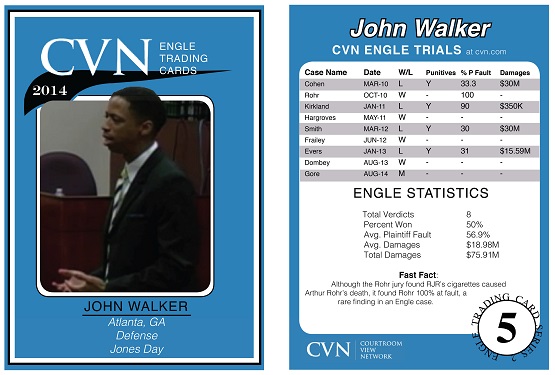 John Walker, of Jones Day's Atlanta office has represented R.J. Reynolds in the trials since 2010. Click here for a larger version of his card.
---
Jones Day's John Walker is a long-time veteran of CVN's Engle progeny trials. He's represented R.J. Reynolds in 9 cases going back to 2010, when trials were bifurcated to first determine requisite class membership issues. One of those earlier trials was Rohr v. R.J. Reynolds, noteworthy for the jury's determination that the tobacco maker's cigarettes caused Arthur Rohr's death from cancer, but finding him 100% responsible and awarding no damages in the case. Walker's most recent case, Robert Gore v. R.J. Reynolds, ended in a mistrial when jurors found RJR liable for punitive damages but refused to award compensatories. Fellow Series 2 card member Robert McCarter represented codefendant Philip Morris Tobacco Co. in that trial. Before that, they worked together in 2013's Dombey v. R.J. Reynolds, a defense win.
Come back every Tuesday to see who'll be on our newest card.