Each Tuesday we issue a new trading card featuring an attorney, trial, or firm from Florida's Engle progeny tobacco cases. Our exclusive cards provide a light-hearted way to track important statistics throughout this landmark tobacco litigation.
---
Card #10 Gary Paige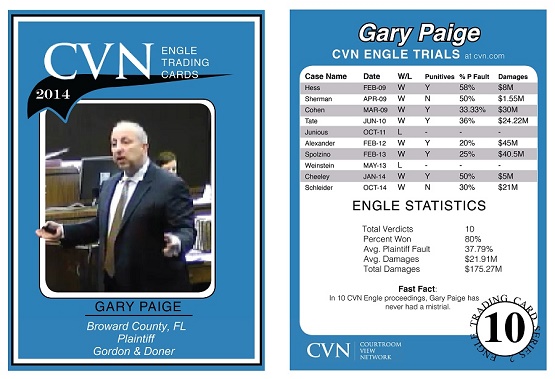 Gary Paige, of Gordon & Doner, brings an 80% winning record with him as this week's Engle card feature. Click here to see the larger version of the card.
---
Gordon & Doner's Gary Paige is one of the most successful attorneys in CVN's Engle litigation, with an outstanding 8-2 record that extends back to 2009. The awards in those eight wins place Paige in the exclusive 9-figure club, with more than $175 million total. In fact, Paige has only one Engle award under $5 million. His most recent win, in Schleider v. R.J. Reynolds, yielded a $21 million verdict and is one of only two awards that didn't include punitives.
---
Related Information
Click here to watch Gary Paige's CVN Engle trials on demand.
Trading card statistics are pulled from CVN's unsurpassed library of Engle progeny coverage.
Not a subscriber?
Click here for seven days of free video access to our full library of Engle progeny tobacco litigation.