As a companion to our recently released list of most impressive plaintiff verdicts of 2021, Courtroom View Network is excited to present our picks for the top 10 most impressive defense verdicts we covered over the last year.
In an era of shrinking newsroom budgets, defense verdicts often go uncovered by the mainstream media despite being newsworthy events for the professional community that CVN primarily serves. Due to CVN's commitment to gavel-to-gavel video coverage, we are often the only media outlet to report on defense verdicts, and over the years CVN has been fortunate to cover many of the country's finest defense attorneys in trial representing clients ranging from automobile manufacturers to drug companies to insurers to tobacco companies.
In 2021 both plaintiff and defense attorneys turned to CVN to see firsthand how the top defense attorneys in the country would navigate a variety of "new normals" for trials, whether that meant Zoom proceedings or trials in large convention centers or just dealing with masks. Stakeholders were also keen to see how the defense bar adapted to framing emotionally charged cases involving death or serious injury in the context of an ongoing pandemic.
By signing up for a no-contract monthly or annual CVN trial video library subscription, you can see firsthand how these attorneys delivered successful results for their clients in real-world, high-stakes trials. Both plaintiff and defense attorneys can learn from watching how these trial pros frame their opening and closing statements, cross-examine expert witnesses, and use exhibits and demonstratives to convey complex information to a jury of laypeople.
A subscription gives you unlimited on-demand access to all the trials on this list, along with our picks from previous years (2019, 2018, 2017, 2016, 2015) and hundreds more trials.
Know about a trial CVN should cover in 2022? Please reach out and let us know.
Happy new year!
***
#1 - State of California v. Purdue Pharma, et al.
First defense trial victory for drug companies in $50 billion "public nuisance" opioid lawsuit
Defense attorneys: James Collie (pictured), Wendy West-Feinstein - Morgan Lewis & Bockius LLP. Michael Yoder, Amy Laurendeau - O'Melveny & Myers, Donna Welch, Jennifer Levy - Kirkland & Ellis LLP, John Hueston, Moez Kaba, Patrick Foran - Hueston Hennigan LLP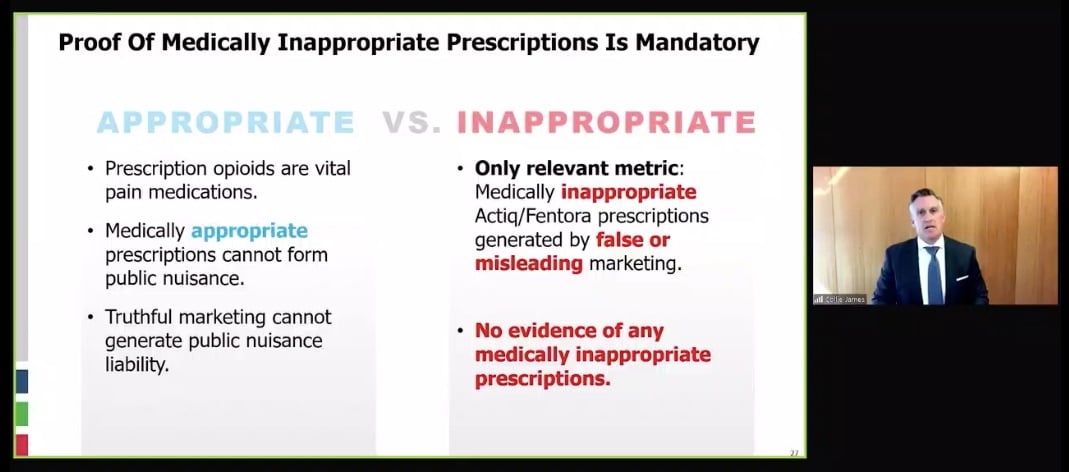 Link to video of the full trial:
https://cvn.com/proceedings/people-of-the-state-of-california-v-purdue-pharma-lp-et-al-trial-2021-04-19
Why it made the list:
While this defense win took place in a bench trial without a jury, the victory for a group of drug companies in California state court in a lengthy "public nuisance" opioid lawsuit worth potentially $50 billion is the most impressive defense trial outcome that CVN covered in 2021.
The sprawling trial, which took place on Zoom from mid-April through late July, involved claims from a group of local governments that Johnson & Johnson, Teva Pharmaceutical Industries, Endo International and AbbVie Inc.'s Allergan unit should pay cleanup costs for their supposed role in the opioid epidemic, which the plaintiffs argued have cost state and local governments billions.
The lawsuit hinged on the theory that the drug companies alleged misconduct created a "public nuisance" - a position rejected by Orange County Superior Court Judge Peter Jackson, who wrote in his opinion favoring the defendants, "There is simply no evidence to show that the rise in prescriptions was not the result of the medically appropriate provision of pain medications to patients in need."
CVN is currently covering another opioid bench trial that is underway in Washington state court, having previously covered the first such case to go to trial in Oklahoma in 2019.
Read more via the CVN News Blog
***
#2 - Camacho v. JLG Industries Inc.
Directed verdict following products liability trial over allegedly defective scissor lift entrance
Defense attorneys: Brook Laskey - McCoy Leavitt Laskey Law, Jeffrey Zinder (pictured) - Zinder & Koch,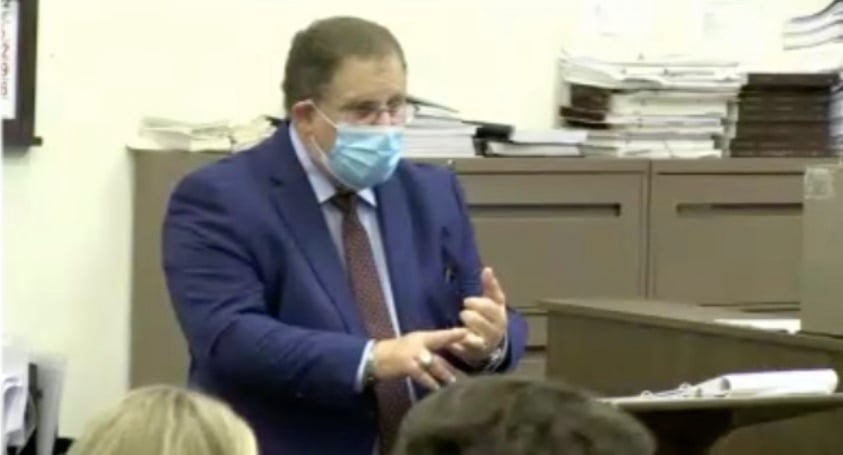 Link to video of the full trial:
https://cvn.com/proceedings/camacho-v-jlg-industries-inc-trial-2021-08-16
Why it made the list:
Courts generally only allow cases to clear the high bar of summary judgment when there are genuine issues of fact that must be decided by a jury. It is exceedingly rare for a court to step in and enter judgment in a case after allowing jurors to hear weeks of argument and testimony.
That is exactly what happened this October, when a California state court judge issued a directed verdict in favor Oshkosh Corp. subsidiary JLG Industries Inc. in a lawsuit alleging a scissor lift's design caused an operator to fall over 12 feet and suffer a devastating traumatic brain injury.
The judge's ruling came down roughly a month into the causation phase of the bifurcated trial. The plaintiffs argued the scissor lift's chain latch over the entrance didn't offer adequate fall protection, but JLG's legal team convinced the court that evidence during the trial showed the chain was never used, which they argued rendered the product liability claims moot.
"Unless you use the chain you cannot make the claim that the chain was inadequate," lead defense attorney Jeffrey Zinder told CVN after the trial concluded. "In this case there was no evidence the chain had been used."
Zinder suggested the court's decision had broader implications for personal injury lawsuits involving scissor lifts.
"It certainly should send a message to the plaintiff's bar that this type of claimed defect does not exist," he said. "It exists in the minds of experts that they can hire."
Read more via the CVN News Blog
***
#3 - Giese v. Johnson & Johnson
Defense win in multi-plaintiff ovarian cancer talc trial in St. Louis, Missouri
Defense attorneys: Allison Brown (pictured), - Skadden Arps Slate Meagher & Flom LLP, Michael Brown - Nelson Mullins

Link to video of the full trial:
https://cvn.com/proceedings/giese-v-johnson-johnson-trial-2021-02-17
Why it made the list:
The resumption of cosmetic talc trials in 2021 drew intense scrutiny from both plaintiff and defense attorneys, as a massive backlog of cases meant the initial post-shutdown trials would be important indicators of how jurors responded to these complex claims in the context of the new environment.
While a smattering of trials in cosmetic talc lawsuits involving individual plaintiffs with mesothelioma took place in 2021, this was the first trial of the year involving multiple plaintiffs who alleged they developed ovarian cancer from using Johnson & Johnson's Baby Powder.
In addition to the inherent complexities of a multi-plaintiff case, St. Louis, Missouri is in many ways "ground zero" for cosmetic talc litigation after the first trials against Johnson & Johnson took place there in 2016, and since then St. Louis juries have awarded numerous headline-grabbing verdicts against the company.
This jury returned a defense verdict after just a few hours of deliberations following a trial that spanned most of September, rejecting the plaintiffs request for more than $100 million in damages.
Along with the added factor of a trial involving an experienced plaintiffs' team that has delivered some of the largest cosmetic talc verdicts nationwide, this trial earns the number three spot on CVN's list of most impressive defense verdicts for 2021.
Read more via the CVN News Blog
***
#4 - Perry v. Kia Motors
Kia cleared in $83 million lawsuit over allegedly defective seat belt
Defense attorneys: James Feeney (pictured), Dommond Lonnie, Clay Cossé - Dykema

Link to video of the full trial:
https://cvn.com/proceedings/perry-v-kia-motors-trial-2021-05-17
Why it made the list:
In July a California state court jury rejected a lawsuit from a former aspiring pop star who allegedly suffered a traumatic brain injury in a rollover accident involving a 2015 Kia Forte which blamed her injuries on the car's supposedly defective seat belt.
The lawsuit argued the lack of a device called a pretensioner on the Kia Forte's passenger side, which quickly tightens the seat belt in a crash, caused the plaintiffs head to hit the car's roof when it rolled over.
Seeking $83 million in damages, the plaintiffs maintained Kia knew the supposed design defect in the Forte's seatbelt system posed a risk, but Kia's attorney James Feeney of Dykema Gossett PLLC successfully argued in his closing that the 2015 Forte's seat belts met all applicable federal safety standards, and that a pretensioner would not have provided any meaningful protection to the plaintiff.
Read more via the CVN News Blog
***
#5 - Rickman v. R.J. Reynolds
Defense win at 1st in-person tobacco trial of 2021
Defense attorney: Steve Geise - Jones Day

Link to video of the full trial:
https://cvn.com/proceedings/rickman-v-rj-reynolds-tobacco-co-trial-2020-01-25

Why it made the list:
Jurors in February cleared R.J. Reynolds of responsibility for the terminal lung cancer an Oregon woman developed after decades of smoking the company's cigarettes, concluding what is likely the first in-person, state court tobacco trial in nearly a year.
The Oregon state court jury, in Multnomah County, deliberated more than 8 hours before ruling 10-2 in favor of Reynolds on Patricia Rickman's fraud claim against the company.
Rickman, 46, who says she was a regular smoker by the time she was about 13, continued smoking a variety of Reynolds's Camel-brand cigarettes for more than 30 years. In 2018, she was diagnosed with lung cancer, which doctors now consider terminal. Rickman claims that Reynolds's participation in a decades-long campaign to misrepresent the health effects of smoking ultimately caused her cancer.
Reynolds successfully argued Rickman smoked despite knowing the dangers of cigarettes. Jones Day's Steven Geise, representing Reynolds, told jurors Rickman began smoking years after mandatory warnings went onto cigarette packs and continued despite widespread information concerning smoking's dangers.
Read more via the CVN News Blog
***
#6 - Manning v. Chromalox Inc.
Defense win in 1st post-shutdown asbestos trial in South Carolina
Defense attorney: Elizabeth O'Neill (pictured), Ted Roberts - Womble Bond Dickinson

Link to video of the full trial:
https://cvn.com/proceedings/manning-v-gould-pumps-incorporated-trial-2021-09-13
Why it made the list:
This case marked the first in-person asbestos trial in South Carolina in 2021, and one of the first in-person asbestos trials nationwide.
Following a relatively brief four-day trial, jurors took just four hours to clear heating materials supplier Chromalox, Inc. of responsibility for the mesothelioma death of a South Carolina plumber.
Rabon Manning died from mesothelioma, a cancer of the lung lining caused by asbestos exposure, in 2018. Manning's son, Dennis, contends his father's years of work with hot water heater gaskets that contained asbestos caused his father's death.
However a jury in Columbia found in favor of Chromalox, which Manning had claimed was responsible for the hot water heater gaskets his father worked on.
Read more via the CVN News Blog
***
#7 - Marcus v. NKM Transportation
FedEx prevails at trial over crash that killed an 18-year-old Florida mother
Defense attorneys: K. Lee Blalack II (pictured), Anwar Graves - O'Melveny & Myers

Link to video of the full trial:
https://cvn.com/proceedings/marcus-iii-et-al-v-nkm-transportation-et-al-trial
Why it made the list:
A Florida state court jury in Duval County deliberated less than 90 minutes in April before concluding that FedEx delivery truck driver Jerry Mondestin was not responsible for the rainy day 2017 crash that killed Sari Adams Marcus, and injured her 22-month old daughter and another passenger.
The crash occurred when Marcus swerved to avoid a head-on collision with an oncoming SUV in her lane, lost control of her car, and ultimately struck a concrete utility pole. The SUV had entered Marcus's lane to pass the FedEx truck, contracted through NKM Transportation, that Mondestin had parked.
The nine-day trial turned on who was ultimately responsible for the crash. Marcus's husband, Charles Marcus, contends Mondestin negligently blocked a lane of the residential roadway, and knew it was likely that cars would move into the oncoming lane of traffic to pass the vehicle.
Plaintiff attorneys sought more than $18 million in damages for Marcus's death and her daughter's injuries.
Read more via the CVN News Blog
***
#8 - Nash v. Michelin North America
Jury sides with Michelin in $17m+ trial over allegedly defective motorcycle tire
Defense attorneys: Michael O'Donnell (pictured), Chris Daniels, Edward Stewart - Wheeler Trigg O'Donnell LLP

Link to video of the full trial:
https://cvn.com/proceedings/rose-nash-v-michelin-north-america-inc-et-al-trial-2021-11-08
Why it made the list:
A South Carolina state court jury handed a win to tire manufacturer Michelin North America Inc. in November, finding that a Michelin tire's supposed manufacturing defect didn't cause a motorcycle accident than left the driver paralyzed and his wife seriously injured.
The Dorchester County jury deliberated for just over four hours after hearing closing arguments in a trial that began on November 8. Attorneys for plaintiffs Ron and Rose Nash claimed the Michelin Commander II mounted on Ron's bike blew out due to a manufacturing defect, seeking roughly $17 million in economic damages and unspecified non-economic damages, but Michelin successfully argued the tire was under-inflated and not properly maintained.
Plaintiff attorneys blamed the crash on a manufacturing defect known as an "open inner liner splice," which occurs when the various layers in the tire aren't properly fused together, which can cause a leak in the tire's air membrane. However lead defense attorney Michael O'Donnell repeatedly argued throughout the trial the blowout resulted from a "damaged tire, not a defective tire."
Read more via the CVN News Blog
***
#9 - Monroe v. Johnson & Johnson
First Georgia defense verdict in a cosmetic talc lawsuit
Defense attorneys: Kenneth Reilly (pictured), Jennifer Voss - Shook Hardy & Bacon LLP, Sherry Knutson, Caroline Tinsley, Charissa Walker - Tucker Ellis LLP

Link to video of the full trial:
https://cvn.com/proceedings/monroe-v-johnson-johnson-et-al-trial-2021-09-07
Why it made the list:
In October a Georgia state court jury cleared Johnson & Johnson and its Georgia-based bottler of responsibility for the cancer death of a retired teacher who had used Johnson's Baby Powder for more than half a century.
The Richmond County State Court jury deliberated for less than four hours before finding in favor of J&J and PTI Royston on a host of claims stemming from the 2018 death of Margie Evans. The decision represents the first state court cosmetic talc case involving J&J to reach a verdict in Georgia.
Evans, a Richmond County School teacher for more than 30 years, had used Johnson's Baby Powder for decades before being diagnosed with the ovarian cancer that ultimately led to her death. Her family contends asbestos in the talc used for J&J's Baby Powder caused the disease.
The only previous cosmetic talc trial in Georgia, also filmed by CVN, ended in a mistrial in 2019.
Read more via the CVN News Blog
***
#10 - Thompson v. State Farm
State Farm cleared of responsibility for injuries sustained in rollover crash
Defense attorney: Nicholas Maniotis - Flanagan & Maniotis PA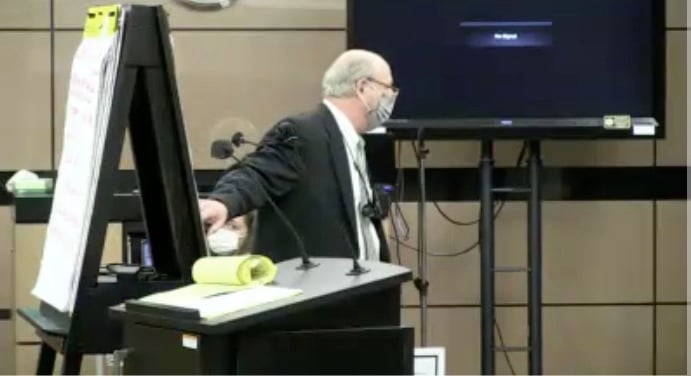 Link to video of the full trial:
https://cvn.com/proceedings/michael-thompson-v-state-farm-trial-2021-02-25
Why it made the list:
In March State Farm prevailed in a 4-day in-person trial against the insurer, which covered the pickup truck Michael Thompson was driving for his employer when he was hit by a Ford F-150. That collision rolled Thompson's truck onto its hood and sent it into a utility pole.
Thompson sued State Farm under the underinsured/uninsured driver coverage it issued on the truck, claiming the wreck left him with a herniated disc in his back and a torn anterior cruciate ligament in his knee.
The defense successfully argued that Thompson's injuries were the result of other incidents. During his closing argument, Nicholas Maniotis, of Flanagan & Maniotis, P.A., noted Thompson had suffered a knee injury from playing basketball before the crash that he said likely injured his ACL.
Read more via the CVN News Blog
***
E-mail David Siegel at dsiegel@cvn.com