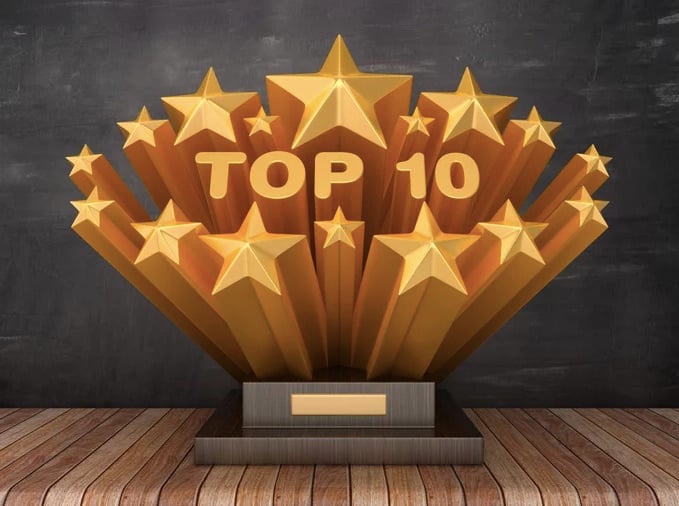 Following up on our recent list of top 10 most impressive plaintiff verdicts of 2019, Courtroom View Network is excited to roll out our list of the most impressive defense verdicts we covered last year.
Defense verdicts sometimes don't generate the same headlines a big plaintiff victory might, but to the professional community that CVN serves they are major news events.
CVN is the only news service in the country focused on gavel-to-gavel video coverage of civil trials, and during 2019 our cameras filmed some of the most elite defense attorneys in the country successfully defend cases ranging from bellwether product liability trials involving large pharmaceutical companies to catastrophic personal injury and medical malpractice cases watched closely by insurers.
These trials are not ranked solely by the amount of money at stake. Instead we also took into consideration the facts of the case, the parties and attorneys involved, and the potential broader impact of the verdict. A CVN subscription provides the rare opportunity to see first-hand how these litigators delivered these outcomes for their clients.
They also make up a tiny fraction of the cases CVN covered in 2019. Become a CVN subscriber for $99/month with no contract and get access to the hundreds of trials in CVN's one-of-a-kind online trial video library. It's the only online video collection of civil trials anywhere in the world, and the rare footage it contains (including expert witness testimony, and images of critically important exhibits and demonstratives) makes it an invaluable resource for law firms large and small.
Also check out our top 10 defense picks from 2018, 2017, 2016 and 2015 - all included with a video library subscription.
***
#1: New York v. ExxonMobil Corp.
Energy giant defeats historic $1.6 billion climate change lawsuit
Defense attorney: Ted Wells (Paul Weiss Rifkind Wharton & Garrison LLP)

Link to video of the trial:
https://cvn.com/proceedings/people-of-the-state-of-new-york-v-exxon-mobil-corp-trial-2019-10-23
Why it made the list:
Our top pick from a bench trial isn't technically a jury verdict but is still the clear choice for most impressive defense trial outcome covered by CVN in 2019.
Exxon faced a first-of-its-kind lawsuit brought by the New York Attorney General accusing the company of hiding information from investors about the actual financial risk climate change poses to the company's bottom line.
Exxon and other energy companies face numerous climate change-related lawsuits throughout the country, so this trial received national scrutiny both due to the $1.6 billion at stake and the potential impact on those many other cases.
The judge rejected the AG's claim that Exxon essentially kept two sets of books to mislead shareholders, writing in his opinion clearing the company that, " What the evidence at trial revealed is that ExxonMobil executives and employees were uniformly committed to rigorously discharging their duties in the most comprehensive and meticulous manner possible."
The stakes don't get any higher in a civil trial than they were here, and it earns the number 1 slot on CVN's list for 2019.
***
#2: Forrest v. Johnson & Johnson
Defense victory in 1st ovarian talc case in Missouri since multi-billion award in 2018
Defense attorneys: Allison Brown (pictured - Skadden Arps Slate Meagher & Flom LLP), Michael Brown (Nelson Mullins Riley & Scarborough LLP)

Link to video of the trial:
https://cvn.com/proceedings/vickie-forrest-et-al-v-johnson-johnson-et-al-trial-2019-12-04
Why it made the list:
Despite being the jurisdiction where cosmetic talc verdicts first burst into the headlines, St. Louis, Missouri didn't seen any talc cases since a trial in 2018 ended in a landmark $4.7 billion verdict.
Since then talc trials largely involved mesothelioma-related cases in other states, so besides being the first talc case in Missouri in a year and a half, the trial also drew attention due to being only the second ovarian case since the 2018 verdict (the other ending in a mistrial in Georgia).
The verdict was also one of the first since bombshell news broke last year that Johnson & Johnson voluntarily recalled a batch of talc powder after FDA testing revealed it contained asbestos, a finding the company disputes.
J&J faced off against the same plaintiff team that landed a string of verdicts in the initial Missouri ovarian cancer talc cases in 2016 and 2017, and this time they asked for an award of up to $5 billion in punitive damages.
A defense verdict reached the same day closing arguments concluded in light of the potentially explosive recall news and in a venue known for large plaintiff verdicts earns this trial the number 2 spot on this year's list.
***
#3: Fong v. Johnson & Johnson
Defense verdict in 1st mesothelioma talc case since news broke of FDA recall
Defense attorneys: Kimberly Branscome (pictured), Jay Bhimani (Kirkland & Ellis LLP)

Link to video of the trial:
https://cvn.com/proceedings/pui-fong-et-al-v-imerys-talc-america-inc-et-al-trial-2019-10-07
Why it made the list:
We mentioned in our previous pick the potentially game-changing news last year about the FDA detecting asbestos in a sample of J&J's talc powder. While the company vehemently disputes the finding, a federal agency with the credibility in the public's eye of the FDA supposedly finding asbestos in J&J's talc powder could have an unpredictable impact on jurors.
Along with the Forrest ovarian case in Missouri, this mesothelioma case was one of the first to reach a verdict after the FDA news broke, and it takes the third slot instead of second only because mesothelioma talc trials were far more common over the last two years than ovarian cases.
Nonetheless a defense verdict in that context, reached against a plaintiff firm that to date had been undefeated in cosmetic talc trials in California is what lands this trial in one of the top spots on our 2019 list.
***
#4: Robinson v. R.J. Reynolds
Retrial victory after previous jury awarded $23 billion in damages
Defense attorneys: Stephanie Parker (pictured), Jack Williams, Timothy Fiorta (Jones Day)

Link to video of the trial:
https://cvn.com/proceedings/cynthia-robinson-v-rj-reynolds-tobacco-company-et-al-trial-2019-06-10
Why it made the list:
In 2014 a Florida jury sent shockwaves through the world of tobacco litigation with a record-setting award of $23 billion (yes with a 'b') in an Engle tobacco trial. Not only was that verdict by far the largest ever in an Engle case, it's one of the largest jury verdicts awarded in the United States in the last decade.
While a verdict that extreme will obviously be reduced or tossed on appeal, as was the case here, the reality that the underlying claims evoked such an explosive reaction from jurors still presented a serious risk in a retrial.
You can't get a bigger pendulum swing in a lawsuit than going from a $23 billion plaintiff verdict to a defense verdict returned just hours after the end of closing arguments, landing this verdict the number 4 slot on CVN's list of defense picks for 2019.
***
#5: Diaz v. Cynosure Inc.
1st products liability trial over popular fat removal laser
Defense attorneys: Karin Curtis (pictured), Philip Brinson (Gordon Rees Scully Mansukhani LLP)

Link to video of the trial:
https://cvn.com/proceedings/adrian-diaz-et-al-v-cynosure-inc-et-al-trial-2019-03-25
Why it made the list:
A long-running products liability trial ended in a defense verdict last May, when a California state court jury sided with laser manufacturer Cynosure Inc. in a lawsuit alleging the company's fat removal device left a woman with permanent pain and scarring.
The Los Angeles County jury returned their verdict following three days of deliberations in a sprawling trial that began in late March. Beverly Hills plastic surgeon Stuart Linder and his patient and office manager Adriana Diaz sought millions in punitive and compensatory damages after Cynosure's "Cellulaze" device supposedly burned Diaz during its first use in Linder's office.
However Cynosure successfully fended off claims the company misrepresented the Cellulaze's approval status with the Food & Drug Administration, and argued that Diaz's prior history of liposuction treatment made her a poor candidate for Cellulaze treatment.
Believed to be the first involving the widely-used Cellulaze device, this defense verdict following a 33-day trial (closing arguments alone took three days to complete) lands the number 5 spot on our list.
***
#6: McCants v. Vitacost Inc.
Jury rejects claims green tea extract caused man's catastrophic liver failure
Defense attorneys: Edward Nicklaus (pictured), Raul Flores, Yaniv Nahon (Nicklaus & Associates)

Link to video of the trial:
https://cvn.com/proceedings/mccants-v-vitacostcom-inc-trial-2019-03-25
Why it made the list:
A state court jury in April cleared a South Florida-based online nutrition company of responsibility for the catastrophic liver damage a Texas man suffered after taking the company's green tea extract.
The Florida state 15th Circuit Court jury, in Palm Beach County, deliberated for about 4 hours before finding in favor of Vitacost, a Kroger-owned nutrition company, on negligence and failure-to-warn claims surrounding its green tea supplements.
James McCants was forced to undergo a liver transplant in 2014, months after beginning to take Vitacost's green tea extract supplements. McCants, 54, claims the product damaged his liver and kidneys.
During closing arguments, McCants's attorney requested more than $6.2 million in medical expenses alone, plus an unspecified amount for pain and suffering.
The nine-day trial turned largely on whether Vitacost bore a duty to warn about potential liver problems linked to green tea extract and whether a specific warning could have prevented McCants's liver failure.
The defense successfully argued Vitacost's general warnings about the supplement were sufficient, and that there was no direct proof that the company's supplements caused McCants's liver failure.
***
#7: Villa v. The City of Long Beach
City prevails in $40 million lawsuit over allegedly unsafe road conditions
Defense attorneys: Chelsea Trotter (pictured), Monte Machit, Ted Zinger, (Long Beach City Attorney's office)

Link to video of the trial:
https://cvn.com/proceedings/fermin-villa-v-the-city-of-long-beach-trial-2019-02-19
Why it made the list:
A California state court jury cleared the City of Long Beach in April in a $40 million lawsuit alleging that unsafe road conditions caused a single vehicle rollover accident resulting in a passenger's permanent brain damage.
Jurors deliberated for nearly three days following a 16-day trial before determining that large boulders placed on the median of an on-ramp did not cause the 2012 accident. Plaintiff Fermin Villa accused the city of creating an unsafe road condition with the placement of the boulders.
Villa's attorney asked jurors to award his client over $40 million in damages, arguing in court filings that Villa suffers from serious brain damage, along with multiple spinal injuries that left him with incomplete quadriplegia.
Attorneys for the city blamed the accident entirely on the allegedly intoxicted driver of the vehicle Villa rode in, maintaining the car hopped a curb, launched off a boulder and then rolled over in the on-ramp's median due to the driver's negligence and not because of the boulders themselves or the design of the ramp.
***
#8: Izundu v. Choi, et al.
Doctor cleared in $10 million trial over patient's blindness
Defense attorneys: Paul Weathington (pictured), Jessica Holland (Weathington McGrew)

Link to video of the trial:
https://cvn.com/proceedings/izundu-et-al-v-choi-et-al-trial-2019-08-12
Why it made the list:
Georgia jurors in August cleared an Atlanta neurologist of fault in a $10 million claim over a condition that left one of his patients legally blind.
The Fulton County State Court jury deliberated for about an hour-and-a-half before concluding Dr. Brice Choi was not negligent in treating Kimberly Izundu for worsening vision problems caused by pressure around her brain.
Izundu suffered optic nerve damage that has left her legally blind after a 2014 bout of idiopathic intracranial hypertension (IIH), a condition in which pressure in the spaces of the brain can become dangerously high. Izundu claims Choi failed to diagnose the condition or follow up in time to save her vision, despite her tell-tale symptoms and abnormal results of an MRI.
Izundu had seen Choi twice, complaining of worsening symptoms, ranging from headaches and pulsing sounds in her ears to intermittent vision loss. Days later, she visited the emergency room at Piedmont Hospital and later, Emory University Hospital, where her condition was ultimately diagnosed.
Although Piedmont Henry and its doctors were originally named as defendants in the suit, a 2017 consent judgment involving Piedmont left Choi and his practice the only defendants at trial, where the defense successfully argued Choi had met his standard of care in referring Izundu to an eye expert for further testing.
***
#9: Santangelo-Santana v. Exodus Women's Center, Inc., et al.,
Doctor cleared for allegedly failing to detect ectopic pregnancy
Defense attorneys: Ethen Shapiro (pictured -Hill Ward Henderson), Louis LaCava (La Cava & Jacobson), Tracy Falkowitz (Banker Lopez Gassler)

Link to video of the trial:
https://cvn.com/proceedings/santangelo-santana-v-exodus-womens-center-inc-et-al-other-2019-11-04
Why it made the list:
Jurors in November evening cleared a trio of doctors at trial over an ectopic pregnancy that left a woman unable to naturally conceive.
The Florida state court jury deliberated about three hours before finding Exodus Women's Center physicians, Drs. Dawn Ericsson and Stephen Wagner, and Dr. Robert Ruffalo, a pathologist at Brandon Regional Hospital, were not responsible for a nearly month-long delay in surgery to end Stacey Santangelo-Santana's ectopic pregnancy.
Her ectopic pregnancy, a non-viable pregnancy outside the uterus, required the removal of Santangelo-Santana's right fallopian tube. Because she had lost her left fallopian tube in an earlier ectopic pregnancy, the 2014 incident left her unable to naturally conceive.
Santangelo-Santana contends Ruffalo failed to properly contact obstetricians Ericsson and Wagner to alert them of results showing a likely ectopic pregnancy, while the two obstetricians failed to follow up to get the test results in time to save her fallopian tube.
The defense argued that the physicians acted appropriately, pointing to evidence he said showed Ericsson, as the surgeon on the procedure, reasonably expected the follow-up surgeon to review the pathology results, while Wagner expected anything significant would be conveyed to him.
***
#10: Spencer-Smith v. Volunteer Restaurant Associates, et al.
Defense verdict in $2 million trip-and-fall case
Defense attorneys: Brantley Rowlen (pictured), Kate Cappelmann (Lewis Brisbois Bisgaard & Smith)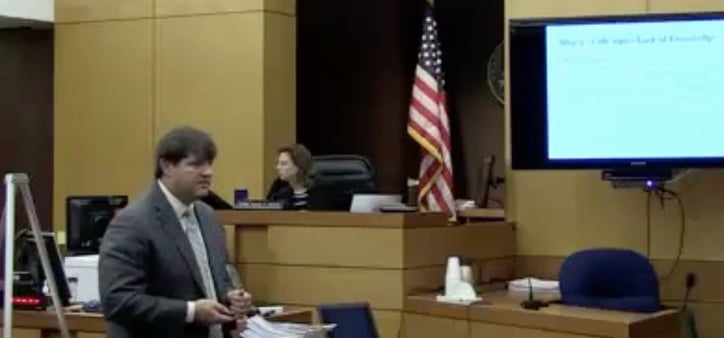 Link to video of the trial:
https://cvn.com/proceedings/spencer-smith-v-cafe-290-et-al-trial-2019-08-12
Why it made the list:
Jurors in August cleared an Atlanta-area jazz club of fault for a fall that a patron claimed left her with serious back and hip injuries.
A Fulton County State Court jury deliberated a little over 2 hours before finding Cafe 290, in Sandy Springs, was not liable for the April 2013 fall that Tina Spencer-Smith contends left her with a labral tear in her hip and damage to a disc in her back.
Spencer-Smith contends she fell when she stumbled against steps as she was about to take her seat in the club. Her attorneys sought $2 million in damages.
However the defense successfully argued the nightclub wasn't negligent and the steps presented an open and obvious risk that Spencer-Smith should have been aware of, highlighting proactive measures the club took like marking the steps with reflective tape and installing additional lighting.
***
Thanks for reading. If you know about any trials in 2020 CVN should keep an eye on, please let us know!
E-mail David Siegel at dsiegel@cvn.com