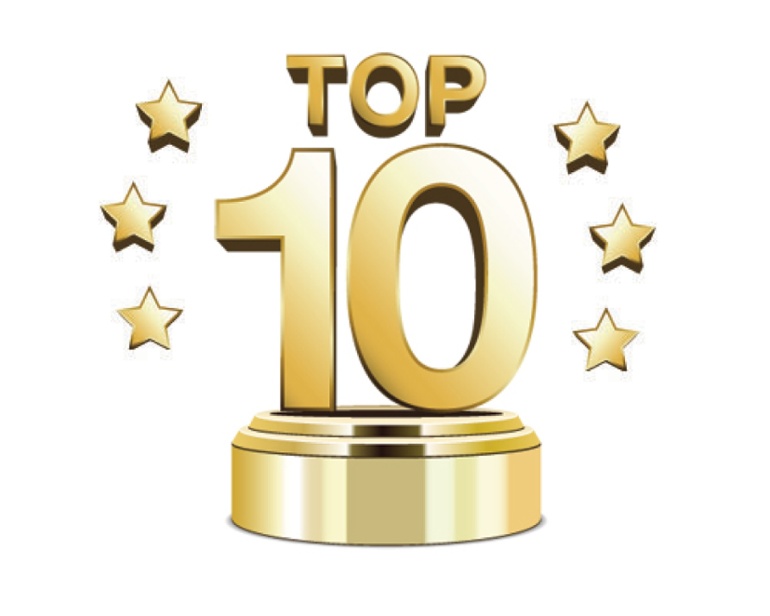 Courtroom View Network recently highlighted the Top 10 Most Impressive Plaintiff Verdicts we covered in 2018, and now we're excited to share our top 10 most impressive defense verdicts!
Last year CVN's cameras filmed some of the country's premier trial attorneys, from a variety of heavyweight firms, defend clients ranging from insurers to medical professionals to Fortune 500 companies at a wide variety of high-stakes civil jury trials.
In choosing the top 10 most impressive verdicts among those, we took into consideration the parties involved, the facts of the case, and the potential broader impact of the verdict.
Gavel-to-gavel video of all of these trials, along with our top picks from 2017, 2016, 2015, and hundreds more, are available in CVN's one-of-a-kind online video archive.
Become a CVN subscriber today, and see for yourself how these elite attorneys delivered for their clients in front of real juries. It's just like being there in the courtroom, except you've got a more comfortable seat.
***
#1: Henry v. Johnson & Johnson
Jury clears Johnson & Johnson in 30 minutes at 4-week cosmetic talc trial
Defense attorneys: Diane Sullivan (pictured), Allison Brown, Weil Gotshal & Manges LLP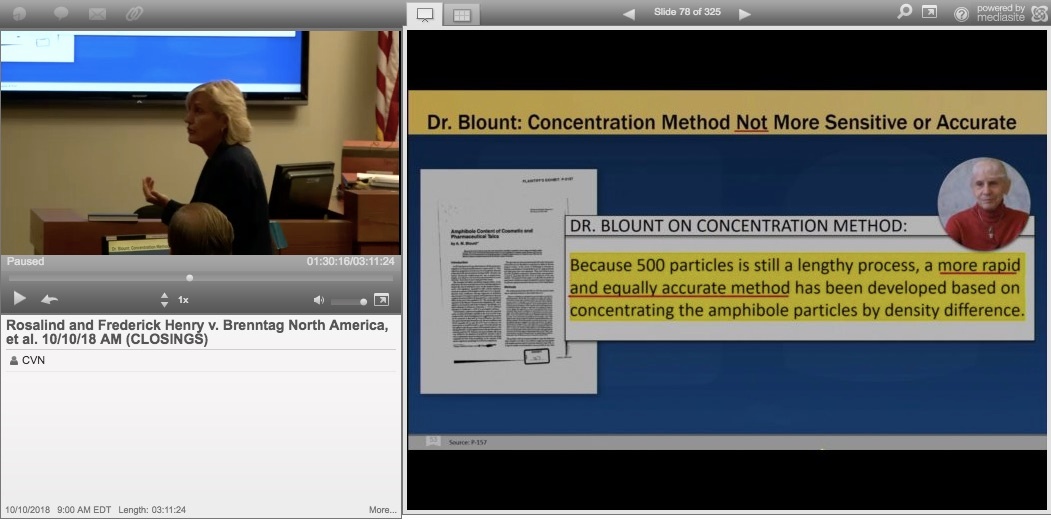 Link to video of the trial:
https://cvn.com/proceedings/rosalind-and-frederick-henry-v-brenntag-north-america-et-al-trial-2018-09-04
Why it made the list:
In October a New Jersey state court jury delivered a major victory for Johnson & Johnson, when they returned the first defense verdict in a talc powder trial in the company's home state.
Jurors in a courtroom just a few miles away from J&J's US headquarters deliberated for less than 30 minutes before determining that plaintiff Rosalind Henry's mesothelioma was not caused by inhaling asbestos fibers supposedly present in products like Johnson's Baby Powder.
The trial, which spanned four weeks, was closely watched after the only other J&J talc trial to date in New Jersey ended in a $117 million verdict - a case highlighted on CVN's list of top 10 most impressive plaintiff verdicts of 2018.
The combined stakes of following a verdict of that size, in the same court, and going up against a well-resourced national plaintiffs firm, makes this decisive win by Weil Gotshal & Manges on J&J's behalf our clear pick for CVN's #1 most impressive defense verdict of 2018.
***
#2: Wing v. U-Haul
U-Haul lands defense verdict at $30M trial over allegedly defective tow dolly
Defense attorneys: J. Chandler Bailey (pictured), J. Banks Sewell, David Rich, Lightfoot Franklin & White LLC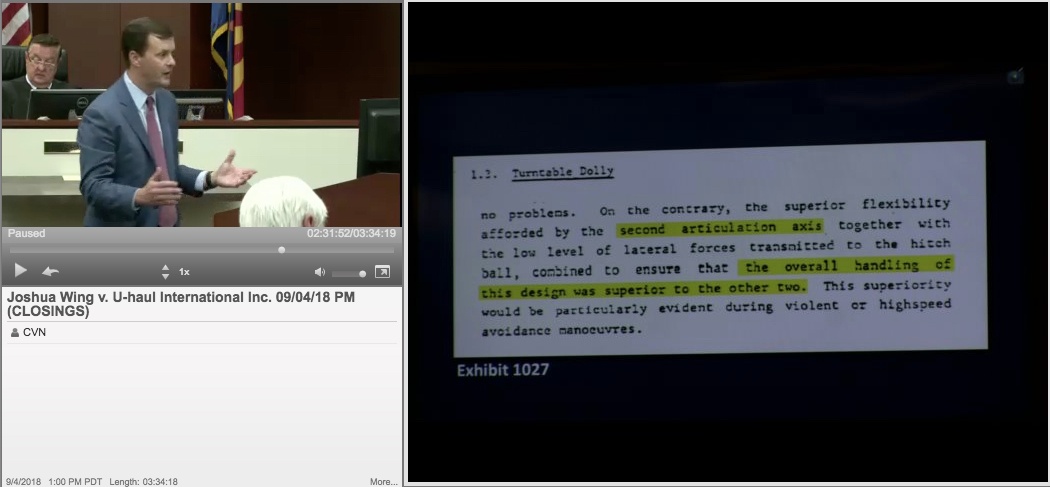 Link to video of the trial:
https://cvn.com/proceedings/joshua-wing-v-u-haul-international-inc-trial-2018-08-14
Why it made the list:
An Arizona state court jury cleared rental truck giant U-Haul of all liability in September at a $30 million products liability trial over claims that the lack of brakes on a tow dolly caused a car accident that left a man permanently paralyzed.
The jury in Maricopa County, where U-Haul has its headquarters, deliberated for two days following weeks of testimony before rejecting plaintiff Joshua Wing's lawsuit. Wing accused U-Haul of renting out tow dollies without independent braking systems despite knowing they posed a serious hazard for drivers, but U-Haul successfully argued the accident that rendered Wing a paraplegic was caused solely by reckless driving.
U-Haul's defense team overcame a potentially significant pre-trial obstacle, after Judge Theodore Compagnolo ruled that the tow dolly used by Wing violated an Arizona law requiring any vehicle trailer in excess of 3000 pounds to have independent brakes.
Despite Wing's attorney describing the judge's ruling to jurors, they accepted the Lightfoot Franklin & White defense team's argument that the supposedly one-off finding, which hadn't been subject to appellate review, was the first such decision in the statute's 40 year history, and that tow dollies were generally not classified as trailers in the rental truck industry.
Overcoming that hurdle, the fact few U-Haul tow dolly cases have gone to trial, and taking on a plaintiff represented by a firm with a national reputation for both its plaintiff and defense work landed this case in the #2 spot on our list of most impressive defense verdicts of 2018.
***
#3: Avalos v. Dobkin
Surgeon cleared in 1st trial over alleged off-label use of Medtronic's 'Infuse' spinal implant
Defense attorneys: Dennis Ames (pictured), Michael Doubet, Grigory Rchtouni, La Follette Johnson De Haas Fesler & Ames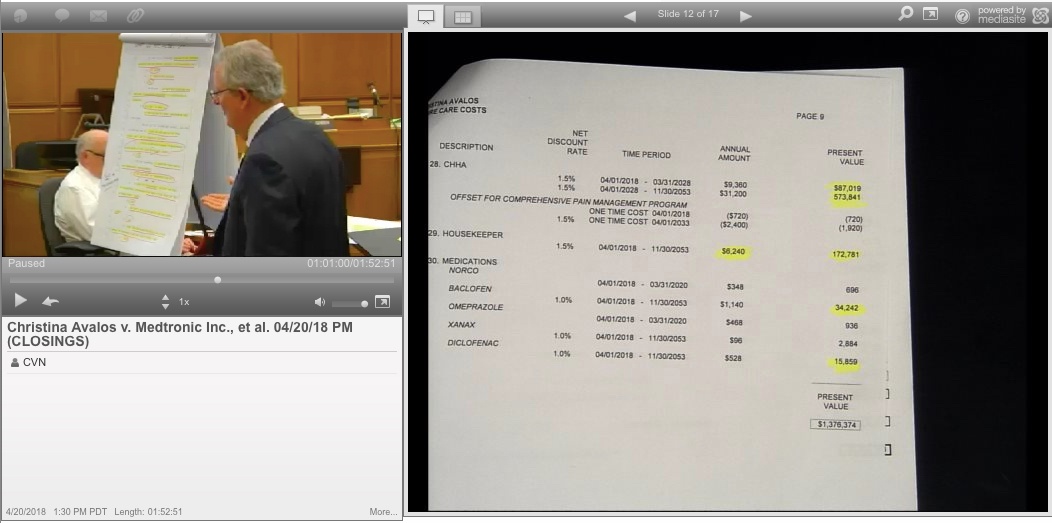 Link to video of the trial:
https://cvn.com/proceedings/christina-avalos-v-medtronic-inc-et-al-trial-2018-03-12
Why it made the list:
A California state court jury delivered a defense verdict in April for a surgeon accused of engaging in "off-label" use of medical device company Medtronic's "Infuse" spinal implant on a patient without her consent, in the first such case to go to trial.
The Los Angeles County jury decided 11-1 that Dr. William Dobkin, a spinal surgeon at Hoag Hospital in Newport Beach, was not negligent in his use of Infuse to treat plaintiff Christina Avalos' chronic back pain, and that he obtained the proper consent before using the implant during her two lumbar surgeries.
Avalos, a nurse, claimed she would never have allowed Dobkin to use Infuse if she knew that it was not approved by the Food & Drug Administration for use in lumbar surgeries. Her attorney told jurors that the Infuse implant, which contains a synthetic protein meant to stimulate bone growth, caused excessive bone growth in Avalos, that left her suffering from chronic, disabling pain.
Dobkin's attorney, Dennis Ames of La Follette Johnson De Haas Fester & Ames, successfully argued that the use of Infuse to treat Avalos was consistent with the standard of care, and that her continuing pain is the result of pre-existing medical conditions that the surgery failed to cure.
"The fact that she wasn't cured does not determine liability," Ames told jurors during his closing argument. "The standard of care is a standard of conduct. It is not a standard of result."
Although Medtronic was no longer a defendant, Avalos' case is believed to be the first time a jury determined whether or not a surgeon's use of Infuse was medically negligent.
***
#4: McCaleb v. Daher-Socata
Aircraft manufacturer found not liable at $15M+ products liability trial
Defense attorneys: Joseph Ortego (pictured), Brian Dalrymple, Erik Goergen, Nixon Peabody LLP, Michael Marsh, Donnie King, Akerman LLP


Link to video of the trial:
https://cvn.com/proceedings/mccaleb-v-daher-socata-trial-2018-10-22
Why it made the list:
Last November a Florida state court jury found Daher-Socata and Socata North America were not at fault for the 2014 plane crash that injured a Georgia physician and her husband, the plane's pilot.
The verdict, reached after more than eight hours of deliberations in Florida's 17th Judicial Circuit, cleared the French plane manufacturer and its North American subsidiary on plaintiff's design defect, failure-to-warn, and negligence claims. Attorneys for the couple had sought more than $15 million in damages.
Cynthia McCaleb, an internal medicine physician, suffered a traumatic brain injury, and her husband, Blaine McCaleb injured his neck and back, when their Socata TBM 700/850 turboprop plane crashed in a Georgia high school athletic field. The crash occurred after a fuel became unported, or sloshed away from the fuel system, while the craft was on autopilot and flying in a sideslip, in which it was oriented at an angle.
Their attorneys maintained the plane's yaw damper, designed to avoid dangerous sideslips, did not work properly with the craft's autopilot.
However the defense successfully argued the plane's gravity-fed fuel system was not defective and the craft was certified by the Federal Aviation Administration.
During closing arguments, Nixon Peabody's Joseph Ortego reminded jurors of evidence that Blaine McCaleb could have engaged the yaw damper himself, and warnings would have indicated the yaw damper was disengaged when he was in autopilot.
"This is not a case that another warning, or another indication that the yaw damper was off would make a difference because no more warnings would have made a difference," Ortego said. "Because he ignored all the others."
***
#5: Crawford v. Covil Corporation
Pipe insulation company scores come-from-behind asbestos trial win despite sanctions
Defense attorneys: Mark Wall (pictured), Thomas Boger, Wall Templeton & Haldrup PA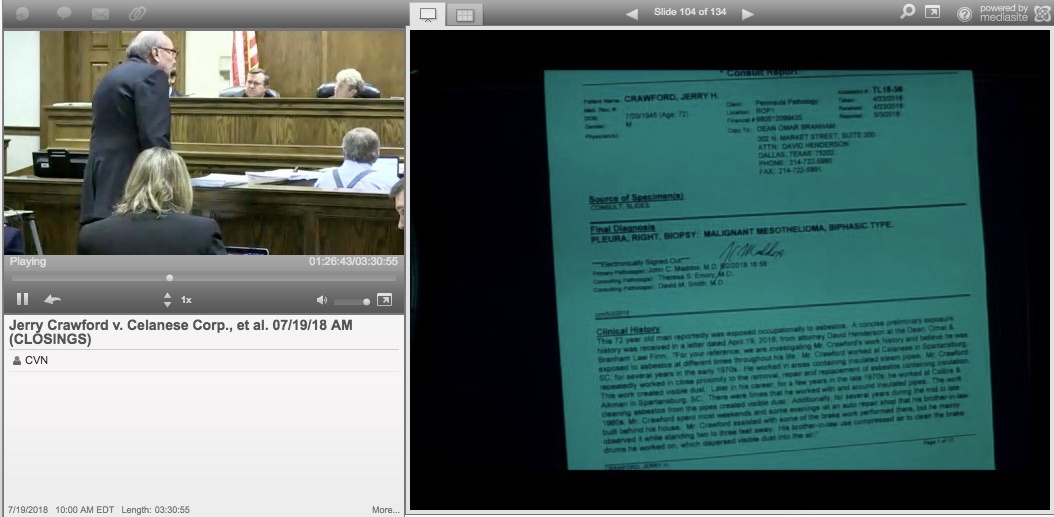 Link to video of the trial:
https://cvn.com/proceedings/jerry-crawford-v-celanese-corp-et-al-trial-2018-07-16
Why it made the list:
Attorneys for a defunct pipe insulation company notched a defense verdict last July in an asbestos lawsuit in South Carolina state court, despite the judge instructing jurors the plaintiff was exposed to their asbestos as part of a pre-trial sanctions order.
Jurors deliberated for just a few hours before determining that Covil Corporation, which went out of business in 1991, was not responsible for plaintiff Jerry Crawford's mesothelioma. Crawford claimed exposure to asbestos in Covil's pipe insulation while working at a Celanese Corporation plant in the early 1970's caused his fatal cancer.
Crawford's attorneys filed a motion for sanctions on the eve of trial accusing Covil of intentionally destroying key company records and supposedly falsely claiming they were destroyed in a warehouse fire.
Former South Carolina Supreme Court Chief Justice Jean Toal, who came out of retirement to preside over the state's asbestos docket, found that Covil's claims about the missing documents were not supported by the evidence presented, and as a result instructed jurors prior to the start of opening statements that, "Jerry Crawford was exposed to asbestos insulation supplied and installed by Covil Corporation Celanese between 1970 and 1974" - an issue that otherwise would have been a major factual dispute during the trial.
Covil's attorneys overcame that hurdle by arguing that enough unanswered questions remained in the case to find in their client's favor, and they successfully convinced jurors to reject a request by Crawford's team for more than $7 million in damages.
"That instruction did not set forth any particular date of exposure. It did not set forth the location of exposure except Celanese, and never set forth the amount of exposure," said Mark Wall of Wall Templeton & Haldrup PA, according to Courtroom View Network's webcast of the trial. "Those issues are still up to you."
***
#6: Chavez, et al. v. MassMutual
MassMutual avoids liability in 300-member class action alleging unpaid policy dividends
Defense attorneys: Jennifer Keller (pictured) Jesse Gessin, Keller/Anderle LLP, Joel Feldman, Christopher Assise, Sean Commons, Melissa Evidente, Sidley Austin LLP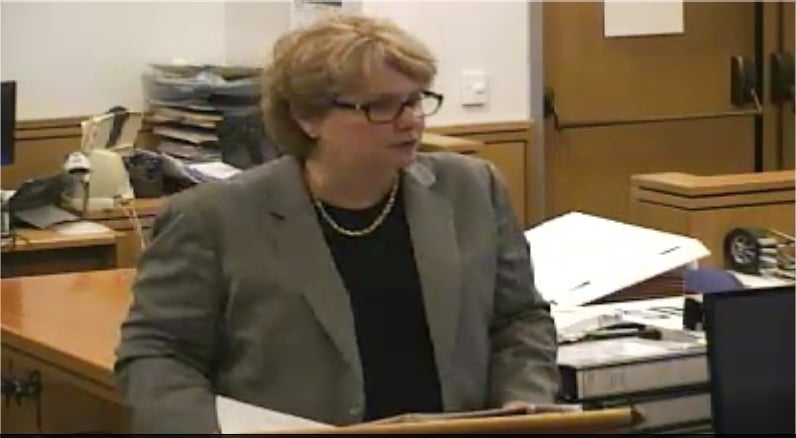 Link to video of the trial:
https://cvn.com/proceedings/chavez-et-al-v-mass-mutual-life-insurance-trial-2017-06-12
Why it made the list:
A California state court jury returned a defense verdict in February in a class action lawsuit brought on behalf of 300 MassMutual term life insurance policyholders who accuse the company of failing to pay contractually owed dividends as its profits soared.
Attorneys for plaintiff Christina Chavez, who served as the class representative, argued that MassMutual breached its contract with policyholders in the Los Angeles area who purchased 20-year term life insurance policies, known as T20G policies, from 2000 to 2004.
Her attorneys argued that because MassMutual is owned by its policyholders it had an obligation to pay out excess profits each year, but failed to do so from 2000 to 2010. They told jurors that MassMutual improperly withheld $717,000 in dividends owed to the class members.
MassMutual maintained that the T20G policies were "bare bones" plans, and that the company was only required to pay out dividends on more expensive whole life policies that generate a profit.
Jennifer Keller of Keller/Anderle LLP told the jury during her closing argument that Chavez's policy did not contribute to any divisible surplus and did not earn any dividends, making Chavez ineligible for any payout.
Keller argued that MassMutual met its only obligation to Chavez when it paid her a $1 million death benefit after her husband passed away. However Keller stressed that the T20G policies failed to meet even their conservative five percent profit margin, and that MassMutual is only obligated to pay dividends on more expensive and profitable policies.
"That's the case right there," Keller said. "That's it."
***
#7: Starr-Blundell v. R.J. Reynolds, et al.
Retrial victory in Engle tobacco lawsuit following key ruling from Florida's Supreme Court
Defense attorneys: Kenneth Reilly (pictured) Shook Hardy & Bacon, Philip Green, Randall Bassett, King & Spalding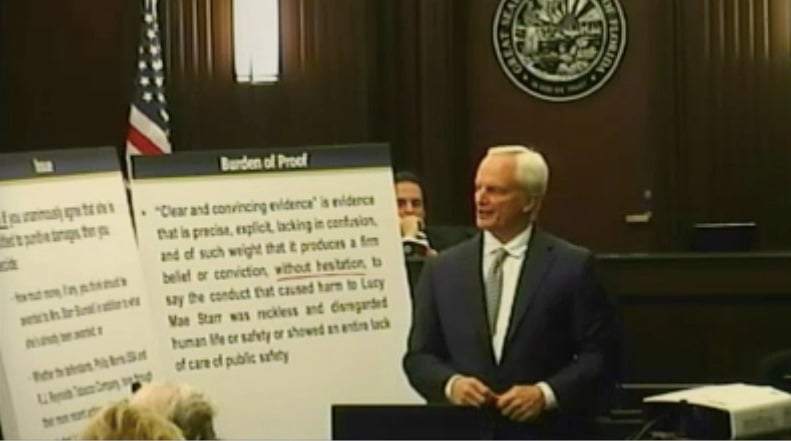 Link to video of the trial:
https://cvn.com/proceedings/teresa-starr-blundell-v-rj-reynolds-tobacco-trial-2018-02-12
Why it made the list:
Jurors in Florida's Fourth Circuit Court, in Duval County, needed less than an hour to reject a claim for punitive damages against the tobacco companies for the lung cancer death of Lucy Mae Starr, who smoked the companies' brands for decades.
The verdict follows a 2013 trial in the case (also filmed by CVN), in which a jury found Starr a member of the Engle class under her negligence and strict liability claims and awarded $500,000 in compensatory damages. But it apportioned 80% of responsibility to Starr herself and, importantly, rejected her daughter's fraud and conspiracy claims against the tobacco companies. That finding prohibited punitive recovery under the jurisdiction's law in effect at the time.
However, in 2016, the Florida Supreme Court, in Soffer v. R.J. Reynolds, ruled Engle plaintiffs such as Starr-Blundell could seek punitive damages on negligence and strict liability claims against the cigarette makers, paving the way for trial in Starr-Blundell and similar cases on punitive damage claims.
The nine-day trial over punitives focused on the tobacco companies' conduct, both during the years Starr smoked and, more recently, when the tobacco industry has been held to tougher regulations.
The defense contended that strict federal oversight of cigarettes, combined with tough restrictions on tobacco messaging over the last two decades argued against imposing punitive damages in the case. During last week's closing arguments, Shook Hardy's Kevin Reilly reminded jurors that the tobacco companies were now regulated and subject to inspection by the Food and Drug Administration.
Reilly added the tobacco companies' conduct did not affect Starr in a way that warranted punitive damages in the case. "Just because somebody at Philip Morris or R.J. Reynolds had a bad idea, wrote a bad idea in a memo, made a recommendation," Reilly told jurors, "that doesn't result in harm to Mrs. Starr."
***
#8: Kerr v. CrossFit
CrossFit prevails in lawsuit filed by personal injury attorney who performed a "deadlift"
Defense attorneys: Y. Kevin Williams (pictured), Anna Idelevich, Weinberg Wheeler Hudgins Gunn & Dial LLC, Nathan Leming, Baker Sterchi Cowden & Rice LLC


Link to video of the trial:
https://cvn.com/proceedings/julia-kerr-v-no-shelter-crossfit-et-al-trial-2018-12-03
Why it made the list:
A Missouri state court jury cleared CrossFit Inc. of all liability in December in a lawsuit filed by a personal injury attorney who claimed that a weightlifting coach's inadequate training caused her to suffer a herniated disc.
Plaintiff Julia Kerr, a personal injury attorney, sought $3 million in damages after performing a "deadlift" exercise in a gym offering the CrossFit training regimen, a popular fitness program that involves motivational coaches encouraging clients during their workout. She claims her coach instructed her to perform the deadlift too quickly and in an unsafe manner, and that the incident was the first time she had ever attempted a deadlift.
CrossFit denied any responsibility for Kerr's herniated disc, arguing that she didn't seek medical attention until five weeks after the incident, and that when she did tell her doctor about back pain she made no mention of her time at the gym. The company's lawyers told jurors that Kerr had prior back problems she did not disclose to her coach, and that if she had she would never have been allowed to perform the deadlift.
CrossFit's regimen is used in over 10,000 "affiliate" gyms worldwide, but there have been relatively few trials seeking to hold CrossFit as a corporate entity responsible for the actions of staff in those independently owned and operated locations. Another Missouri jury delivered the first verdict against CrossFit in such a case in 2016, awarding $400,000 at a similar deadlift-related trial.
***
#9: McCorkle, et al. v. Milliken & Company, et al.
Miliken & Co. prevails in $18M+ trial over deadly GA plane crash
Defense attorneys: Pete DeMahy (pictured), DLD Lawyers, Stevan Miller, Lisa Richardson, Drew Eckl & Farnham LLP

Link to video of the trial:
https://cvn.com/proceedings/mccorkle-et-al-v-georgia-power-et-al-trial-2018-08-06
Why it made the list:
A Georgia state court jury in August cleared Milliken & Company of fault in the first wrongful death case to go to trial over a Georgia plane crash that killed five employees of a vascular practice.
Heidi McCorkle, 28, an employee of the Vein Guys, died along with four coworkers in a February 2013 crash after the small jet in which they were traveling struck a utility pole on Milliken land adjoining the Thomson-McDuffie Regional Airport.
The land was part of an aviation easement Milliken had granted the airport before the pole was placed as part of a Georgia Power utility expansion Milliken requested. McCorkle's family claimed Milliken violated its duties under the easement by allowing Georgia Power to place the pole, which stood 72 feet off the ground.
The two-week trial focused on whether Milliken violated its responsibilities under the easement and whether that caused the fatal crash.
The defense, which maintained pilot error caused the crash, contended the pole was not subject to a 50-foot height limitation. However, even if such a limitation applied, Milliken claimed it was irrelevant.
While plaintiffs alleged the plane hit the pole 58-59 feet above ground, Pete DeMahy, of DLD Lawyers, countered by walking jurors through testimony and calculations concluding the collision occurred below 50 feet. "The highest that plane could have gotten [at the time of the collision] is 49.7 feet. That's just the math," DeMahy said. "Even if you buy this '50-feet [limitation]' stuff, he couldn't have gotten there."
***
#10: Herrera v. CertainTeed Corp.
Jury clears CertainTeed in $5M+ asbestos wrongful death lawsuit
Defense attorneys: Todd Suddleson (pictured), DeHay & Elliston LLP, Valerie Ross, Schiff Hardin LLP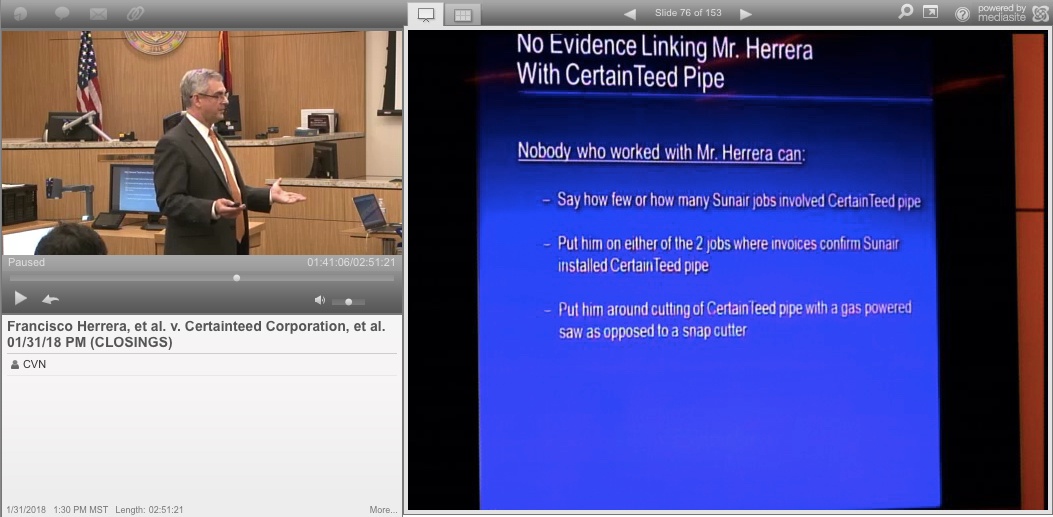 Link to video of the trial:
https://cvn.com/proceedings/francisco-herrera-et-al-v-certainteed-corporation-et-al-trial-2018-01-08
Why it made the list:
An Arizona state court jury delivered a defense verdict in February in favor of CertainTeed Corp. in an asbestos lawsuit, finding that the building materials company is not responsible for the death of a pipefitter whose family claimed he developed cancer after years of inhaling dust generated by sawing asbestos cement pipes.
The jury returned the verdict after roughly three hours of deliberation following a trial that began on January 9. They rejected allegations from Francisco Herrera's wife and three adult children that CertainTeed knew their asbestos-containing cement pipes posed a health risk but failed to adequately warn workers.
Attorneys for the Herrera family asked jurors to award approximately $5 million in compensatory damages and unspecified punitive damages, but CertainTeed successfully argued that jurors did not have sufficient evidence to identify CertainTeed's pipes as the primary cause of Herrera's mesothelioma.
Todd Suddleson of DeHay & Elliston LLP told jurors during his closing argument that CertainTeed explicitly warned customers not to cut asbestos cement pipes with power saws and to take steps to minimize the production of airborne asbestos dust.
Suddleson also argued that Herrera worked with asbestos cement pipes from other companies besides CertainTeed, but his co-workers couldn't testify about which pipes they saw him cutting.
"All they've shown is some co-workers that say CertainTeed was one of the pipe that they used," he said. "They never said how often, they never said where, they never said when, they never said, 'I saw Frank Herrera touching a piece of CertainTeed pipe."
***
E-mail David Siegel at dsiegel@cvn.com