Earlier this month the Brain Injury Association of California put on their popular annual TBI Med Legal Conference, which gathered plaintiff and defense trial attorneys, doctors, expert witnesses and other professionals for an educational forum on best practices for litigation involving traumatic brain injuries.
Conference attendees learned from some of the country's most elite trial attorneys in a seminar setting, and now via an exclusive coupon code for new subscribers provided by Courtroom View Network they can see many of those same attorneys in action in front of real juries in TBI-related trials.
CVN's online trial video library, the only video collection of its kind available, features many of the presenters from this March's conference, in addition to past presenters who couldn't make it this year. See firsthand how they frame and deliver opening and closing statements, how they cross-examine expert witnesses, and how they incorporate visual elements like demonstratives into their presentations. CVN films full trials gavel-to-gavel, so you get to see everything the jury saw.
If you attended this month's conference and don't have a current CVN subscription, email us for an exclusive coupon code providing a 50 percent discount on either a monthly or annual no-contract CVN membership. There is no more valuable an educational resource for trial attorneys than seeing the pros working in front of a jury. Didn't attend the conference? Our $99/month cancel-anytime options still provides affordable access to literally thousands of hours of unique trial video.
Here's just a small sampling of who you can see with a subscription, along with hundreds of other personal injury and malpractice trials involving TBI's and a wide range of other injuries from around the country.
***
BRIAN PANISH - Panish Shea Boyle Ravipudi LLP
REX PARRIS - Parris Law Firm
Watch plaintiff heavyweights Panish and Parris land a $52M+ truck crash TBI verdict (click here)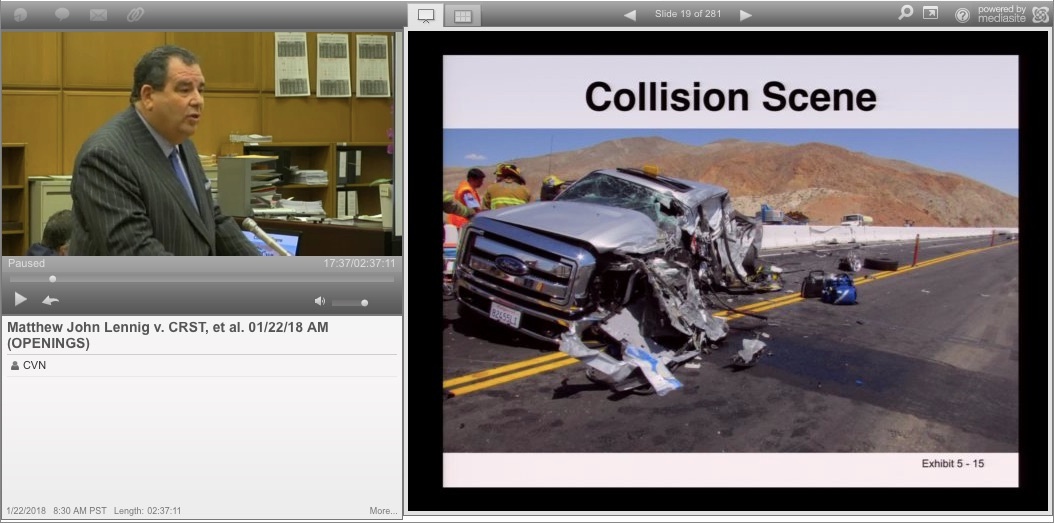 Via the CVN News Blog: "Plaintiffs Matthew and Michael Lennig sued CRST, Inc. following the collision in 2014 that they claimed left them with TBIs, PTSD, and serious back and arm injuries. CRST's driver, Hector Contreras, admitted liability for the accident, leaving the jury to determine only the appropriate amount of compensation. The jury's verdict far surpasses CRST's highest settlement offer of $11.5 million, according to the Lennigs' attorney Brian Parish of Panish Shea & Boyle LLP."
***
Debbie Chang, Zoe Littlepage, Charla Aldous - Athea Trial Lawyers
Hot tub brain injury trial also features top defense attorney Dana Fox of Lewis Brisbois (click here)

Via the CVN News Blog: "A Howard Johnson hotel avoided a potentially $68 million verdict in 2021 in a lawsuit over a child's near-drowning in a hot tub, when a unanimous California state court jury declined to award any damages in the case, which resulted in the parties reaching a late-trial confidential settlement.
***
NICK ROWLEY - Trial Lawyers For Justice
JOSEPH LOW - Law Firm of Joseph H. Low IV
You probably already saw clips of Rowley in the chicken suit. Now watch the rest of the trial (click here)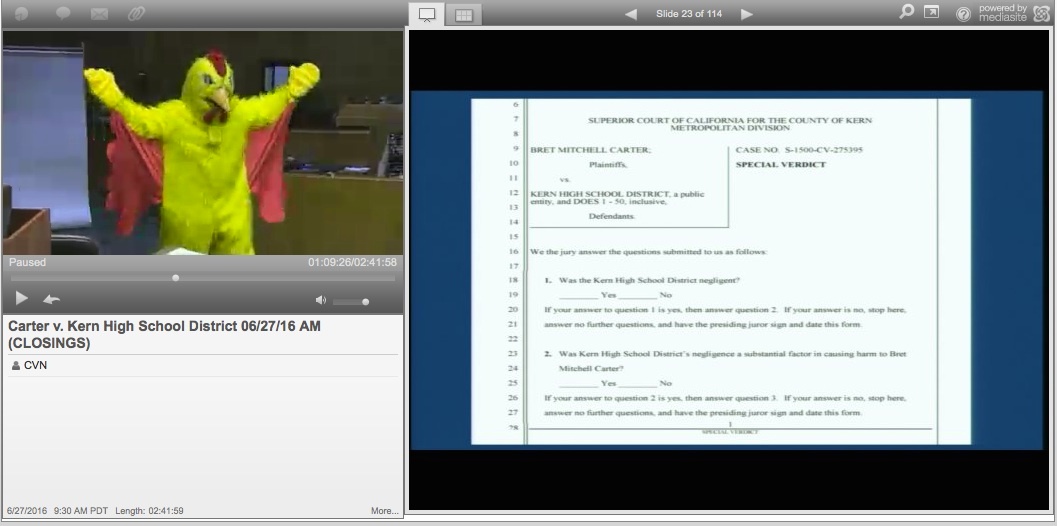 Via the CVN News Blog: "In what is likely a first at a trial in an American courtroom, a plaintiff's attorney delivered a portion of his closing argument wearing a full-sized chicken costume in a lawsuit filed by a former high school student who claims he suffered a brain injury, when he was attacked at a rowdy football rally while wearing a similar outfit."
***
JOHN ROMANO - Romano Law Group
Florida trial veteran John Romano takes on a med mal case involving a child's deadly brain swelling (click here)

Via the CVN News Blog: "Whether an ER doctor recklessly engaged in 'cell phone medicine' that caused a girl's death from diabetes complications ignited a fiery debate between attorneys as a trial opened in a suit by the girl's parents.
***
GARY DORDICK - Dordick Law
KEITH BREMER - Bremer Whyte Brown & O'Meara
See these two courtroom pros square off before reaching a mid-trial settlement (click here)

Via the CVN News Blog: "Two of California's top trial attorneys faced off in a Los Angeles County courtroom in 2021 over the damages owed to two women injured in a collision with a police patrol vehicle, and the trial will be webcast gavel-to-gavel by Courtroom View Network.
***
ARASH HOMAMPOUR - Homampour Law Firm
California trial pro lands $33.85 million wrongful death verdict over fatal shovel blow to head (click here)

Via the CVN News Blog: "Attorney Arash Homampour of The Homampour Law Firm, who represented the plaintiffs, told CVN after the trial that the jury's eventual award of $33.85 million exceeded the defense's highest settlement offer of $3.5 million."
***
These cases represent just a small fraction of CVN's online video library. Check out this list of top TBI trials that include some attorneys not present at the conference but still worth watching and learning from.
Also take a look at these top California plaintiff and defense verdicts, along with our top 10 plaintiff and defense verdicts nationally for 2022!
If you attended the TBI Med Legal Conference this year, e-mail us today for your exclusive 50 percent discount coupon code and get an instant virtual front row seat to courtrooms around the country.
E-mail David Siegel at dsiegel@cvn.com