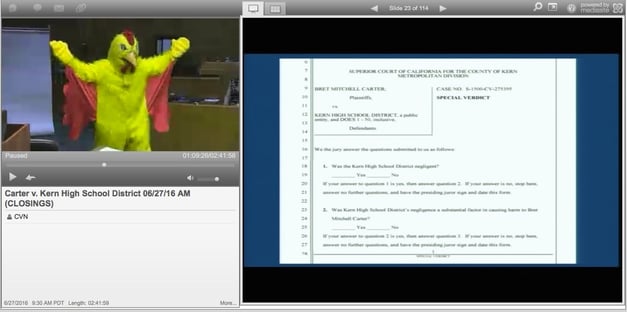 Plaintiff's attorney Nick Rowley delivers his closing argument.
Click here to see video from the trial.
UPDATE: The jury returned a verdict in the plaintiff's favor on Monday evening, and the trial will now proceed to a damages phase.
Bakersfield - In what is likely a first at a trial in an American courtroom, a plaintiff's attorney on Monday delivered a portion of his closing argument wearing a full-sized chicken costume in a lawsuit filed by a former high school student who claims he suffered a brain injury, when he was attacked at a rowdy football rally while wearing a similar outfit.
Attorney Nick Rowley of Carpenter Zuckerman and Rowley LLP began putting on the suit - complete with large orange webbed feet, gloves and a beak - about 20 minutes into his closing to show jurors the type of costume his client Mitch Carter wore in 2010 on the night he was mobbed by a group of students at a rally for a football game against a rival school. Carter, then student body president at Bakersfield High School, later sued the Kern County School District claiming a school administrator encouraged him to wear the costume to mock the opposing team's mascot, and that the school created an unsafe environment during the rally by providing inadequate security.
An attorney for the school district immediately objected, arguing that Rowley's chicken suit was "improper" and had not been admitted as evidence, according to a Courtroom View Network webcast of the trial. Judge David Lampe overruled the objection and allowed Rowley to continue suiting up, on the condition it was "done respectfully and as a rhetorical device."
Rowley only wore the suit for a few moments. He told jurors that Carter was supposed to dress as a chicken to mock the golden eagle mascot of arch rival Clovis West High School, but wanted to back out of the stunt after being attacked by two Bakersfield High students early in the evening. Bakersfield High's school activities director Anna Lovan allegedly pressured Carter to go in front of the team a second time, and he claims she threatened to make him pay the suit's $75 rental fee if he didn't.
When he did go back out, Carter was dog-piled by over a dozen Bakersfield High students and players in a 26-second melee that he claims caused a traumatic brain injury that has left him suffering with psychological problems and near-failing college grades.
"It's humiliating to be in something like this," Rowley said, while carrying the chicken head under his arm, "But [Carter] was willing to do it for the love of his school and the love of his fellow students."
KCSD should have known the skit could turn dangerous, Rowley argued, because five years earlier a Bakersfield High teacher dressed in a costume similar to another team's mascot had also been attacked at a rally and suffered serious back, neck and shoulder injuries.
Rowley didn't ask for a specific amount of damages during his closing argument, as the first phase of this bifurcated trial is only to determine if KCSD is liable for Carter's injuries. Rowley said the school district should be assigned 100 percent responsibility for the attack.
Representing KCSD, attorney Michael Keller told jurors that they had been "treated to an absurd and incredible story, which has been told by Mr. Carter and his counsel, that is not worthy of your belief."
Keller argued that school officials had not signed off on the stunt as performed, and that Carter pushed a Bakersfield HIgh student, causing other players to get involved out of fear for his safety. School officials had originally thought Carter would only wear the suit and not engage with members of the team, he claimed.
"Instead of just standing there rather passively in a chicken suit at center court, he decided to start picking on some football player, and it escalated," Keller said, asking the jurors to clear the school district of all liability.
The jury began deliberating early Monday afternoon. If they determine KCSD's negligence caused Carter's injuries, then a second phase of the trial to determine monetary damages will begin.
Rowley, author of Trial By Human, has a history of using aggressive trial tactics in personal injury cases. In March he made headlines by asking a Los Angeles jury to award up to $140 million in a wrongful death lawsuit filed by the widow of a Chinese immigrant who was struck and killed by an LA County MTA vehicle. The jury returned an $8.3 million award, which Rowley told CVN at the time surpassed the MTA's highest pre-trial settlement offer of $5 million.
Both trials were recorded by CVN gavel-to-gavel, and are available as part of CVN's video archive along with many other top trials from throughout California and the rest of the country.
The Bakersfield case is Mitchell Carter v. Kern County School District, case number S1500CV275395 in Kern County Superior Court.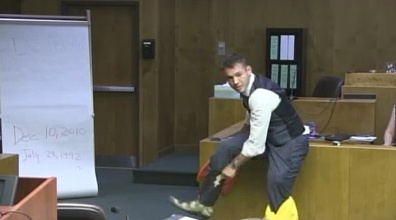 Rowley puts his boots back on while changing out of the chicken suit and continuing his closing statement.
E-mail David Siegel at dsiegel@cvn.com