Despite court systems throughout the country beginning to set plans for gradual re-openings (check out CVN's Court Status Tracker for the latest developments), the resumption of civil jury trials is likely still a few months away. Without the option of going to court in person, the only option available for civil trial attorneys looking to keep their skills sharp is Courtroom View Network's one-of-a-kind online video library of civil jury trials.
This week we're highlighting 10 of the most compelling trials in our archive involving traumatic brain injuries, or TBI's. TBI-related lawsuits are among the most difficult cases to win and defend in front of a jury, given the enormous range of potential injuries from mild to catastrophic that fall under the TBI umbrella.
These 10 TBI trials give subscribers the valuable opportunity to see how top plaintiff and defense attorneys frame these sensitive cases in openings and closings, present and cross-examine key expert witness testimony on critical topics like potential for future recovery and life care plans, and the incorporation of demonstratives and exhibits into the complex narratives these trials frequently involve.
Became a CVN subscriber for just $99/month today with no contract and get unlimited gavel-to-gavel access to all of these trials along with hundreds of others involving a wide range of practice areas. In normal times we'd say it's the next best thing to actually being in the courtroom, and until civil jury trials resume it's as close as you can get.
***
1.) Carl Thompson v. Lamplight Village Homeowners Association
Clark County Circuit Court (Las Vegas, Nevada)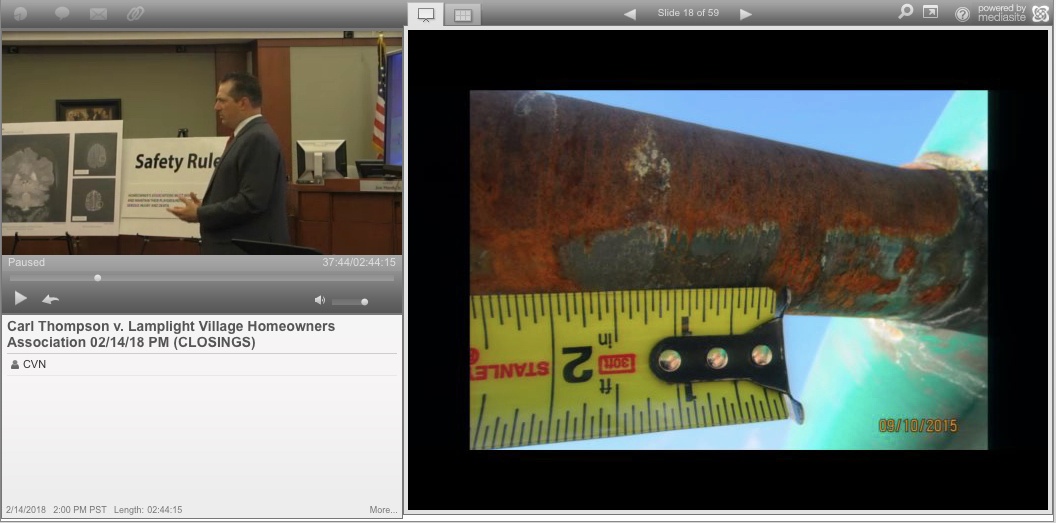 CVN screenshot of plaintiff attorney Sean Claggett delivering his closing argument
Link to gavel-to-gavel video of the trial:
https://cvn.com/proceedings/carl-thompson-v-playland-international-inc-trial-2018-02-05
Trial outcome: $20 million ($10 million compensatory, $10 million punitive)
Why you should watch: Most TBI trials that end with multi-million awards to a plaintiff involve future damages stemming from injuries that will take years to even partially recover from, if it all. That wasn't the case at this trial involving teenager who suffered a traumatic brain injury when a swing set's metal bar broke and landed on his head.
The lead plaintiff attorney in the case, Sean Claggett of the Claggett & Sykes Law Firm, secured this verdict for his client, who claimed the accident caused his persistent headaches, memory loss, movement problems with his right arm and a substantially increased risk of developing dementia, based entirely on pain and suffering, with no life care plan presented to the jury and no claims for lost future earning capacity.
"I've never put on a trial like this," Claggett told CVN after the jury returned this unique verdict.
The homeowner's association that managed the playground argued at trial that the plaintiff's injuries were not as severe as he described, and that a property management company was responsible for maintenance of the neighborhood's playground.
The verdict far surpasses the HOA's (represented by Kevin Brown of Brown Bonn & Friedman LLP) highest pretrial settlement offer of $125,000, according to Claggett.
***
2.) Carter v. Kern County School District
Kern County Superior Court (Bakersfield, California)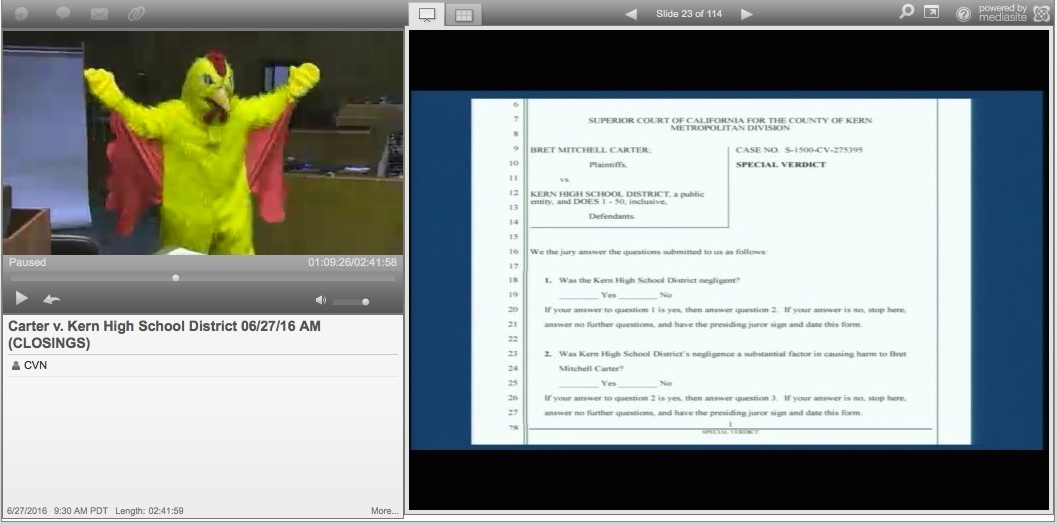 CVN screenshot of plaintiff attorney Nick Rowley delivering his closing argument
Link to gavel-to-gavel video of the trial:
https://cvn.com/proceedings/carter-v-kern-high-school-district-trial-2016-06-13
Trial outcome: $10.5 million settlement following liability phase of bifurcated trial
Why you should watch: Although this trial drew widespread attention in the legal news media after lead plaintiff attorney Nick Rowley of Carpenter Zuckerman & Rowley donned a full-size chicken suit during his closing argument (beak and all), that dramatic moment probably had less to do with the ultimate outcome than the meticulous examination and cross-examination of medical expert witnesses in the case.
Plaintiff Mitch Carter sued KCSD after being assaulted in 2010 by Bakersfield High School students while wearing a chicken suit meant to mock the mascot of rival Clovis West High School. Carter accused school officials of encouraging the stunt and failing to break up the brawl quickly enough.
Rowley asked for $45 million in his opening statement, telling jurors that Carter suffered with migraine headaches, psychological problems and a hormone deficiency as a result of the injury. He said the attack transformed Carter, who was student body president at the time, from a successful student to having near-failing grades in college.
Defense attorney Michael Keller told jurors during his opening statement in the damages phase that Carter wasn't diagnosed with a brain injury until three years after the incident and after suing the school district. He argued that during those three years Carter was treated by physicians multiple times but never displayed symptoms consistent with a head injury.
Jurors sides with the plaintiff experts who testified otherwise in the liability phase of the trial, teeing up a payout far exceeding a $50,000 settlement offer made before the trial began and later increased that to $1 million once the trial was underway (increased further by the school district's insurer to $1.5 million during jury deliberations), according to Rowley.
***
3.) Faircloth v. Cantina 101, et al.
Leon County Circuit Court (Tallahassee, Florida)

CVN screenshot of plaintiff attorney Mark Avera delivering his closing argument
Link to gavel-to-gavel video of the trial:
https://cvn.com/proceedings/faircloth-v-cantina-tallahassee-llc-et-al-trial-2019-08-19
Trial outcome: $30.8 million following initial mistrial due to hung jury
Why you should watch: CVN recently featured this trial, which resulted in one of the largest personal injury verdicts we covered in 2019, as part of our popular "Trial in 20 Minutes" series (available free with registration here: https://pages.cvn.com/faircloth-cantina-trial-in-20-minutes-sponsored-by-chartsquad)
Following a week-long trial, jurors hit two Florida bars with a $30.8 million verdict for the devastating brain damage a woman suffered in a hit-and-run that followed a night of underage drinking. They awarded the amount after finding Devon Dwyer's drunk driving caused him to hit Jacquelyn Faircloth on Tallahassee's West Pensacola Street in November 2014.
Dwyer, then 20, had left Potbelly's, a bar near the Florida State University campus, moments before the crash, while Faircloth, then 18, had left Cantina 101, another area bar. Both had been drinking. The collision left Faircloth with severe brain damage, unable to communicate verbally or care for herself.
This TBI trial didn't involve any dispute over the severity of the plaintiff's injuries, but rather which party bore responsibility for them. Faircloth's attorney Mark Avera of Avera & Smith contended that the bars that served the underage drinkers were responsible for the wreck. Cantina 101 admitted liability for the incident.
However, Main Street Entertainment, the owner of Potbelly's, argued Dwyer was not drunk when he hit Faircloth, and that he could not have avoided hitting her after she supposedly ran out into the street.
***
4.) Villa v. City of Long Beach
Los Angeles County Superior Court (Long Beach, California)

CVN screenshot of city attorney Chelsea Trotter delivering her closing argument
Link to gavel-to-gavel video of the trial:
https://cvn.com/proceedings/fermin-villa-v-the-city-of-long-beach-trial-2019-02-19
Trial outcome: defense verdict (plaintiff sought $40 million in damages)
Why you should watch: Although large plaintiff verdicts generate more news coverage, defense verdicts in cases involving catastrophic TBI's are equally newsworthy for the attorneys and stakeholders involved in these trials. In this case, defense attorneys for the City of Long Beach had to convince jurors to reject any award of damages for a man suffering from serious brain damage along with multiple spinal injuries that left him with incomplete quadriplegia.
The jury jury cleared the City of Long Beach in 2019 in a $40 million lawsuit alleging that unsafe road conditions caused a single vehicle rollover accident resulting in a passenger's permanent brain damage.
The jury determined that large boulders placed on the median of an on-ramp from Appian Way to east-bound 2nd Street did not cause the 2012 accident. Plaintiff Fermin Villa accused the city of creating an unsafe road condition with the placement of the boulders.
Attorneys for the city blamed the accident entirely on the driver of the vehicle Villa rode in, maintaining the car hopped a curb, launched off a boulder and then rolled over in the on-ramp's median due to the negligence of an intoxicated driver and not because of the boulders themselves or the design of the ramp.
The city was represented at trial by Principal Deputy City Attorney Monte Machit and Deputy City Attorneys Ted Zinger and Chelsea Trotter. The plaintiff was represented by Balaban & Spielberger.
***
5.) Hardin-Ploetz v. NCAA
Dallas County District Court (Dallas, Texas)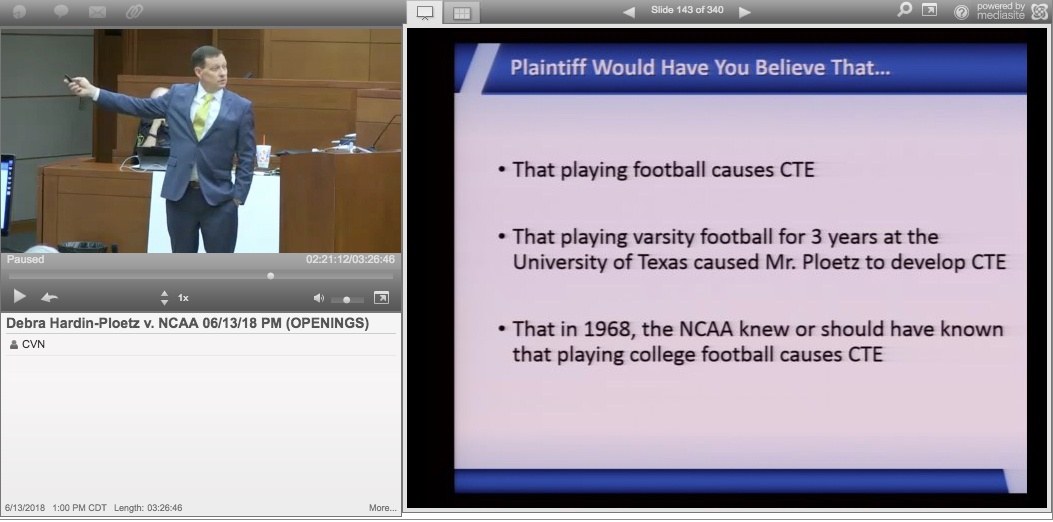 CVN screenshot of defense attorney Chris Watt delivering his opening statement
Link to gavel-to-gavel video of the trial:
https://cvn.com/proceedings/debra-hardin-ploetz-v-ncaa-trial-2018-06-11
Trial outcome: confidential settlement after 3 days of trial
Why you should watch: This landmark case in 2018 marked the first time a lawsuit seeking to hold the NCAA responsible for a college football player's chronic traumatic encephalopathy, or CTE, went to trial.
Although the parties reached a confidential settlement three days in, the opening statements and initial witness testimony provide an important roadmap for the myriad other current or potential CTE-related suits pending nationwide.
Plaintiff Debra Hardin-Ploetz claimed the NCAA knew as far back as 1906 that repeated head impacts could cause long-term neurological damage but took no action to adequately protect players or warn them of the risks. Her husband, Greg Ploetz, played for the University of Texas in the late 1960's and early 1970's. He was posthumously diagnosed with severe CTE after suffering from worsening neurological problems for years.
The NCAA argued that full-contact football is an inherently dangerous sport, and that Ploetz voluntarily chose to participate in a high-risk activity.
Hardin-Ploetz was represented by Shrader & Associates LLP, Baron and Blue, and Goldberg Persky & White PC.
The NCAA was represented by Reed Smith LLP, Bryan Cave LLP and Levinger PC.
***
6.) Beltran v. The Home Depot Inc.
Kern County Superior Court (Bakersfield, CA)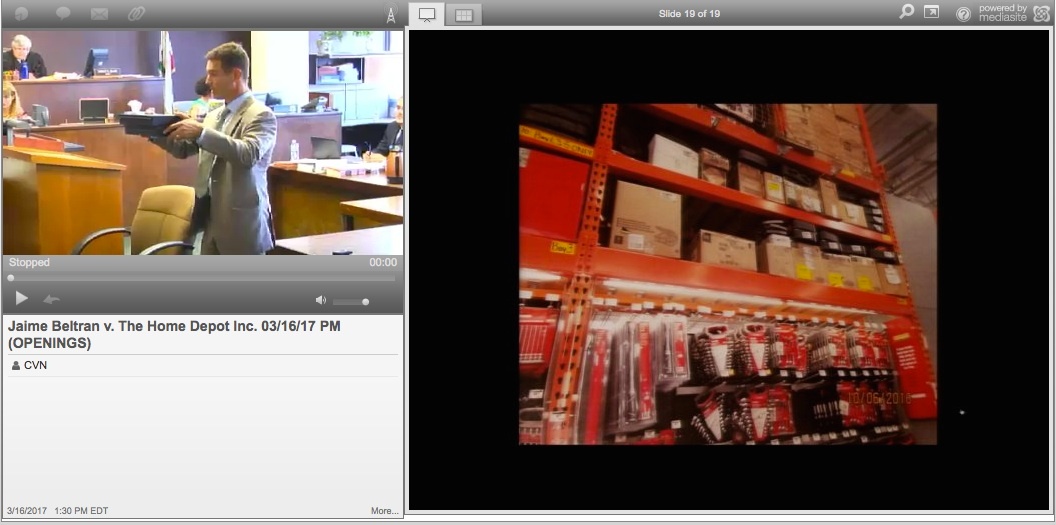 CVN screenshot of plaintiff attorney Nick Rowley delivering his opening statement
Link to gavel-to-gavel video of the trial:
https://cvn.com/proceedings/jaime-beltran-v-the-home-depot-inc-trial-2017-03-14
Trial outcome: settlement reached after opening statements (plaintiff sought up to $50 million)
Why you should watch: Sometimes an opening statement is so effective that parties who were otherwise fully prepared to grind out a lengthy trial reach a hasty settlement. That was the case here, in a premises liability lawsuit filed by man hit by falling metal boxes in a Home Depot who claimed the accident injured his brain and left him struggling each day to "keep from losing his mind."
If you watch one opening statement out of this list of TBI trials, this should probably be it.
Nick Rowley of Carpenter Zuckerman & Rowley told jurors during his opening statement that Jaime Beltran, 54, is unlikely to further recover from the traumatic brain injury that he sustained while shopping, and that his medical expenses alone could reach $8 million. He claimed Beltran suffers from pain, anxiety, depression, memory problems and a decreased capacity for "executive function."
Home Depot, which has admitted liability for the accident, maintains that Beltran suffered a less serious brain injury than Rowley described, and that Beltran's current symptoms are the result of untreated psychological issues from which he can recover, and that he would be fairly compensated with an award of $1.3 million.
Paul Caleo of Burnham Brown represented Home Depot.
***
7.) Lennig v. CRST, et al.
Los Angeles County Superior Court (Los Angele, CA)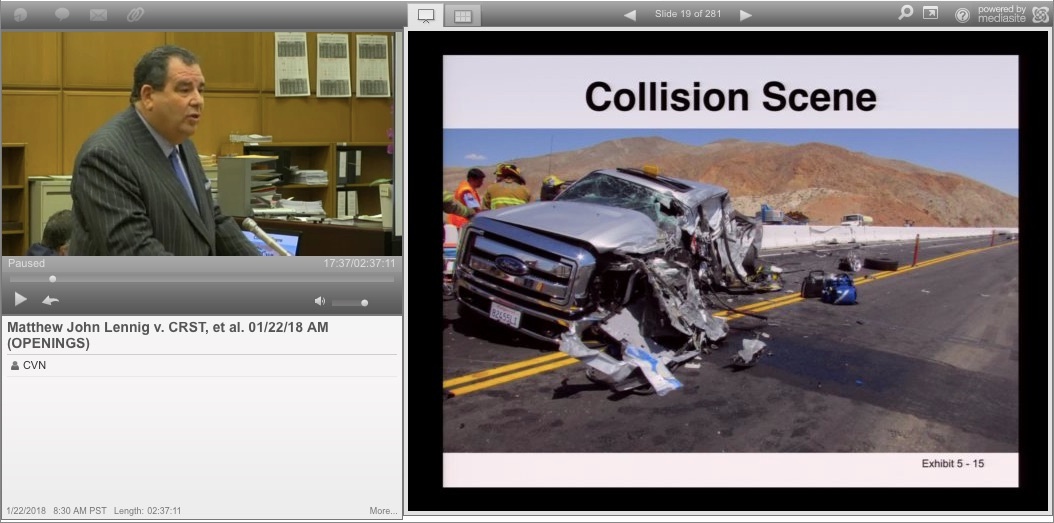 CVN screenshot of Brian Panish delivering his opening statement
Link to gavel-to-gavel video of the trial:
https://cvn.com/proceedings/matthew-john-lennig-v-crst-et-al-trial-2018-01-16
Trial outcome: $52.84 million
Why you should watch: Most plaintiff attorneys have their hands full dealing with the complexities and nuance in presenting a case involving just one TBI. At this trial Brian Panish of Panish Shea & Boyle LLP and Rex Parris and Bruce Schechter of the Parris Law Firm had to deal with two.
A California state court jury slapped a trucking company with a $52.84 million verdict on in 2018 in a lawsuit filed by two brothers who suffered traumatic brain injuries when a big rig truck crossed a road's centerline and hit their car head-on.
Plaintiffs Matthew and Michael Lennig sued CRST, Inc. following the collision in 2014 that they claimed left them with TBIs, PTSD, and serious back and arm injuries. CRST's driver, Hector Contreras, admitted liability for the accident, leaving the jury to determine only the appropriate amount of compensation. The jury's verdict far surpasses CRST's highest settlement offer of $11.5 million, according to Panish.
During the trial the defense showed undercover video of the Lennigs taken by private investigators, which they claimed showed that the two men supposedly made significant recoveries since 2014. The brothers' attorneys maintained that their injuries would last a lifetime, would require substantial future medical care and would significantly reduce their quality of life.
CRST was represented by Michael Gallagher and Fred Blum of Bassi Edlin Huie & Blum LLP.
***
8.) Johnson v. MARTA
Fulton County Superior Court (Atlanta, Georgia)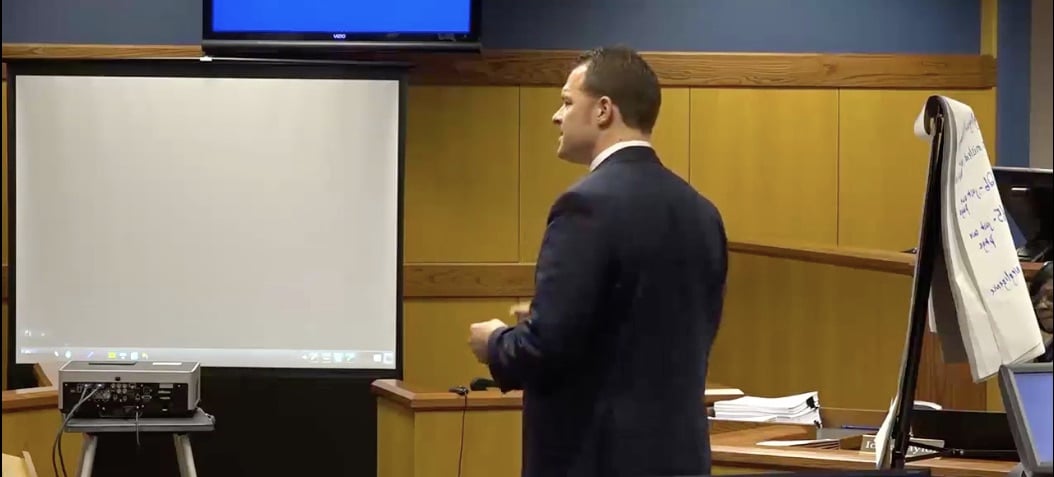 CVN screenshot of plaintiff attorney Mike Goldberg delivering his closing argument
Link to gavel-to-gavel video of the trial:
https://cvn.com/proceedings/johnson-v-marta-trial-2018-11-05
Trial outcome: $25 million
Why you should watch: In 2018 a Georgia state court jury handed down a $25 million verdict at trial against MARTA, the Metropolitan Atlanta Regional Transit Authority, for a 2016 fall that left a paratransit bus passenger in a permanent vegetative state.
The decision, reached after a four-day trial and less than 3 hours of deliberations, apportions 75% of responsibility to MARTA, and 25% to the rider, Jaccolah Johnson, reducing the award to $18.75 million.
Johnson, who suffered from mobility problems before the accident, fell while exiting the MARTA "Mobility" bus in January 2016. Attorneys for Johnson and Rachel Tyler, Johnson's guardian, contended a severely angled exit step, combined with the bus driver's failure to shadow Johnson, caused the accident.
MARTA countered that Johnson, who had ridden the bus previously, was responsible for the fall because she declined the driver's offer of assistance and ultimately overstepped the bus's step.
Johnson was represented by Fried Rogers Goldberg LLC and the Singleton Law Firm.
MARTA was represented by Mabry & McClelland LLP.
***
9.) Adams, et al. v. The Imported Car Store Inc.
Brevard County Circuit Court (Melbourne, Florida)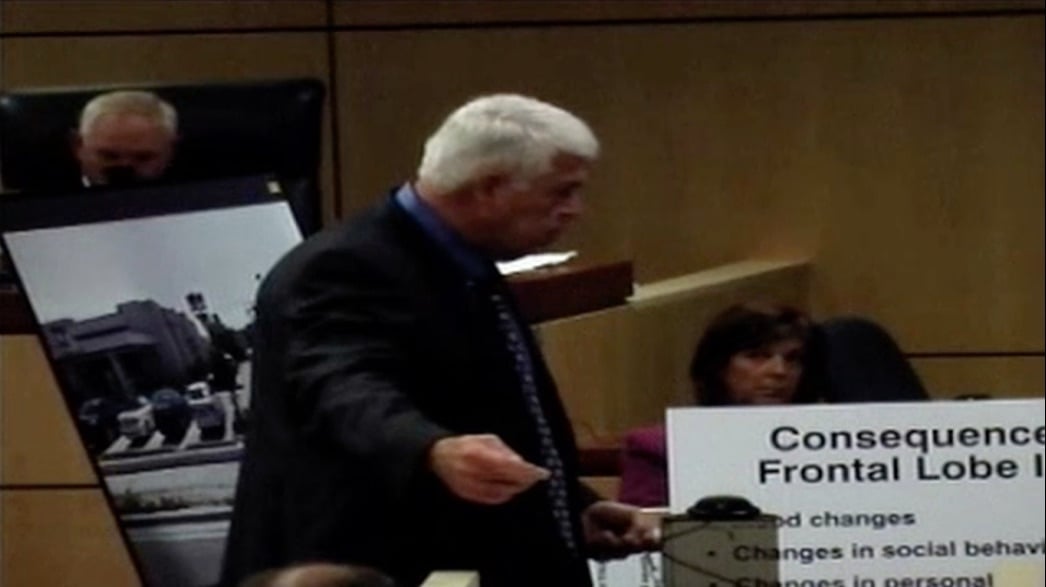 CVN screenshot of plaintiff attorney John Romano delivering his closing argument
Link to gavel-to-gavel video of the trial:
https://cvn.com/proceedings/shawn-j-adams-et-al-v-the-imported-car-store-inc-trial-2012-10-01
Trial outcome: $28.5 million
Why you should watch: (Via The Brevard Times) In 2005, Shawn Adams was a 43-year old married man and father of three working as a US military computer engineer with top secret security clearance. On the morning of October 17, 2005 Shawn Adams was driving to work and witnessed a car crash between two vehicles. The man and the elderly woman involved in the crash pulled off the road and into the nearby parking lot of The Imported Car Store in Melbourne, Florida with Adams following as an eyewitness.
The man who was at fault for the accident, Jason Neal, turned out to be the General Sales Manager of The Imported Car Store and began to yell at the elderly woman to get off "his lot" or have her car towed. Concerned with the health and safety of the elderly woman Adams approached the two drivers and identified himself as an eyewitness. Mr. Neal became enraged and head-butted Mr. Adams knocking him unconscious.
According to eyewitness testimony, Mr. Adams fell to the ground with his head bouncing off the concrete "like a hollow coconut." Mr. Neal continued to attack Mr. Adams though his body lay unconscious on the ground while an audio recording of the entire encounter was captured by a 911 call.
Shawn Adams suffered a traumatic brain injury and was left permanently brain damaged as a result of the attack. He also developed a neurological disorder called dystonia, producing involuntary muscle contractions causing the body to twist and contort into abnormal postures.
His attorneys say that Mr. Adams continues to suffer from cognitive difficulties while living in severe pain on a daily basis. Though currently undergoing evaluations for a cervical fusion and deep brain stimulation, Beth his wife and three children have become his care takers.
Adams was represented byThe Romano Law Group, Law Offices of Elizabeth Zwibel, and Douglas R. Beam PA.
The defendants were represented by Quintairos, Prieto, Wood & Boyer, P.A.
***
10.) Chularee v. The Cookson Company
Los Angeles County Superior Court (Los Angeles, California)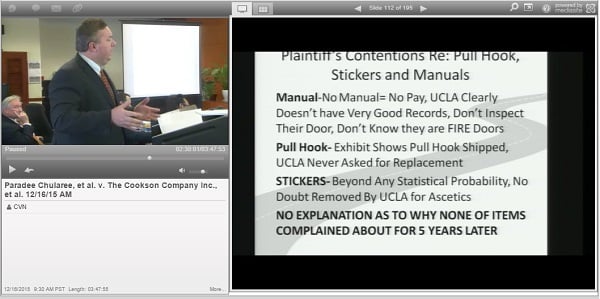 CVN screenshot of defense attorney Christopher Faenza delivering his closing argument
Link to gavel-to-gavel video of the trial:
https://cvn.com/proceedings/paradee-chularee-et-al-v-the-cookson-company-inc-et-al-trial-2015-09-21
Trial outcome: defense verdict (plaintiff sought $32 million)
Why you should watch: Jurors in 2015 cleared a door company of liability for the brain damage a former UCLA staff member claims she suffered when a rolling fire door struck her head.
The jury deliberated for about three hours before finding the fire door sold and installed by McKendry Door Sales, Inc., which allegedly struck Paradee Chularee in 2011, was not defectively designed, negligently sold, installed, or accompanied by insufficient warnings.
Chularee, a UCLA staff member, allegedly suffered permanent brain damage when the large rolling door, which led to a campus file closet, struck her head as she stood on a chair and tried to close it. Although she did not complain of any injuries beyond a headache immediately after the injury, she became incoherent three days later, and doctors concluded she suffered a stroke and bleeding in the brain.
The defense claimed the door met the specifications for the room's original design as a rarely used emergency response room with an eight-foot entryway, but UCLA ultimately used the room to store files after the door's installation. They argued evidence of 30 years of the door's use established its safety record, while procedures and records proved the door was shipped with the appropriate warning stickers, instruction manual, and pull-hook.
The plaintiff was represented by The Homampour Law Firm. The defense was represented by Yoka & Smith
***
Know about any TBI trials CVN should cover when courts open back up? Let us know!
Email David Siegel at dsiegel@cvn.com