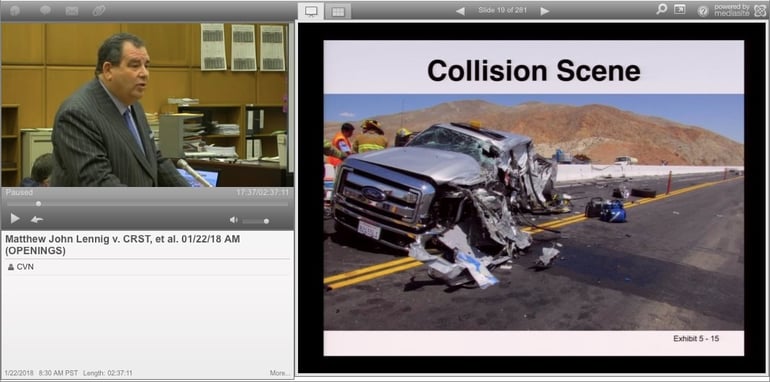 CVN screenshot of plaintiff attorney Brian Panish showing jurors the aftermath of the collision
Los Angeles - A California state court jury slapped a trucking company with a $52.84 million verdict on Wednesday in a lawsuit filed by two brothers who suffered traumatic brain injuries when a big rig truck crossed a road's centerline and hit their car head-on.
Plaintiffs Matthew and Michael Lennig sued CRST, Inc. following the collision in 2014 that they claimed left them with TBIs, PTSD, and serious back and arm injuries. CRST's driver, Hector Contreras, admitted liability for the accident, leaving the jury to determine only the appropriate amount of compensation. The jury's verdict far surpasses CRST's highest settlement offer of $11.5 million, according to the Lennigs' attorney Brian Parish of Panish Shea & Boyle LLP.
Panish told Courtroom View Network that there was no high/low agreement in place. He and his co-counsel Rex Parris and Bruce Schechter of the Parris Law Firm asked jurors to award the Lennigs roughly $105 million, while CRST argued an award of roughly $12 million would be fair compensation for their injuries.
CRST's settlement offer is also far below the $101 million in insurance coverage that Panish said CRST had available from a range of carriers including AIG, Crum & Forster, Zurich and Fireman's Fund Insurance Co.
The full trial, which began on January 22, was webcast and recorded gavel-to-gavel by CVN.
Attorneys for CRST did not respond to a request for comment.
Jurors heard testimony from 20 expert witnesses, including numerous medical and accident reconstruction experts. They also heard from 20 fact witnesses, including many of the Lennigs' treating physicians. Defense attorneys argued that the Lennigs' injuries were being exaggerated by their paid witnesses.
During the trial the defense showed undercover video of the Lennigs taken by private investigators, which they claimed showed that the two men supposedly made significant recoveries since 2014. The brothers' attorneys maintained that their injuries would last a lifetime, would require substantial future medical care and would significantly reduce their quality of life.
The Lennings argued in court papers that CRST was negligent in hiring Contreras, who they told jurors had numerous prior safety violations and a criminal record that should have prevented him from driving a semi-truck.
"Trucking companies need to properly screen their employees or they will be held accountable," Panish told CVN.
CRST was represented by Michael Gallagher and Fred Blum of Bassi Edlin Huie & Blum LLP, and the trial took place before Los Angeles County Superior Court Judge J. Stephen Czuleger.
Visit CVN.com for a full breakdown of the verdict, along with gavel-to-gavel video from the full trial accessible to CVN subscribers.
The case is captioned Lennig v. CRST, docket number MC025288.
E-mail David Siegel at dsiegel@cvn.com