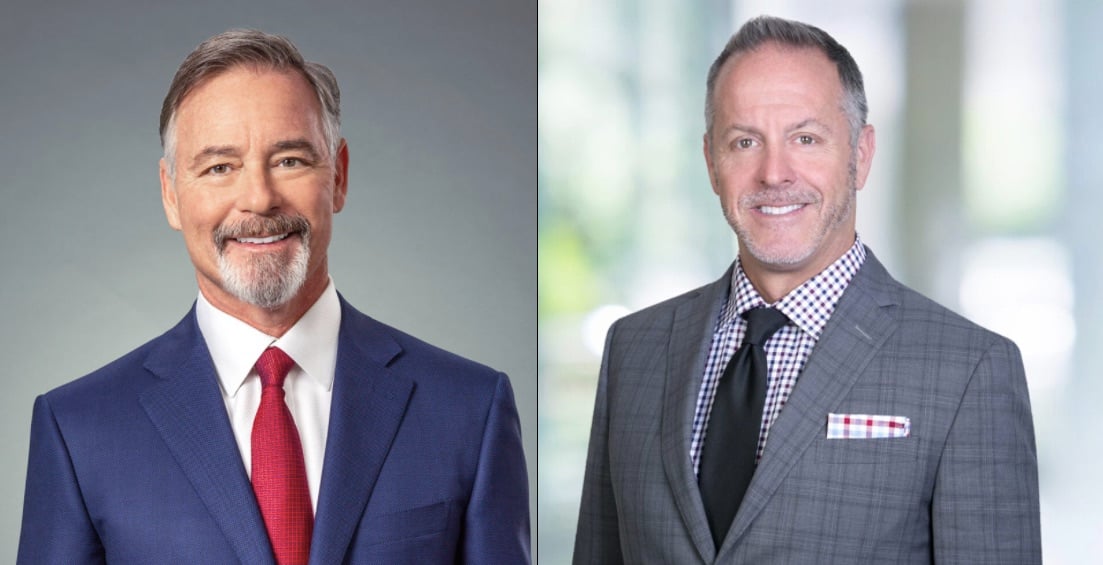 Plaintiff's attorney Gary Dordick, left, and defense attorney Keith Bremer, right
Los Angeles, CA - Two of California's top trial attorneys will face off in a Los Angeles County courtroom on Thursday over the damages owed to two women injured in a collision with a police patrol vehicle, and the trial will be webcast gavel-to-gavel by Courtroom View Network.
Gary Dordick of Dordick Law Corporation represents plaintiffs Farnaz Vojdani and Soror Azizgolshani, who claim a 2017 crash with a City of Beverly Hills police vehicle responding to a call resulted in substantial medical expenses and associated pain and suffering.
Defense attorney Keith Bremer of Bremer Whyte Brown & O'Meara LLP represents the City of Beverly Hills and Alfredo Eudave, the police officer who drove the vehicle in question.
The defendants admitted liability for the accident, leaving the trial solely focused on what amount of damages to award to Vojdani, 40 and her mother Azizgolshani, 72.
The full trial will be webcast gavel-to-gavel by Courtroom View Network, the only news organization in the country dedicated to uninterrupted video coverage of civil trials. Video of the trial will be available to CVN subscribers both live and on-demand, and will commence with Thursday's opening statements.
Both Dordick and Bremer are widely recognized as being among the most accomplished civil trial attorneys currently practicing in California with reputations that extend well beyond The Golden State's borders.
In an order approving CVN's request to film the trial, Los Angeles County Superior Court Judge Frederick Shaller recognized the professional and educational benefits of seeing such highly-credentialed trial lawyers take a case to a jury.
"The live-streaming of this trial will be of interest to the legal community due to the high quality of trial attorneys, their degree of preparation and the expertise of the witnesses to be called," Judge Shaller wrote.
Dordick was recognized as the Consumer Attorneys Association of Los Angeles (CAALA) "Trial Lawyer of the Year" in 2001 - one of the most prestigious awards in the California personal injury legal community - and has received an unmatched 11 additional nominations for the coveted honor.
He was also the Consumer Attorneys of California (CAOC) 2009 Trial Attorney of the Year and has had over 100 trials in his career, including a record-breaking $125 million drunk driving verdict in 2016. This current trial marks the first time gavel-to-gavel video of Dordick arguing in front of a jury will be available via CVN.
Keith Bremer is a member of the prestigious American Board of Trial Advocates (ABOTA), in addition to the Litigation Counsel of America, which describes itself as, "a close-knit, peer-selected, and aggressively diverse honorary society of 3,500 of the best trial lawyers you will find anywhere." Bremer's peers voted to award him a "Super Lawyer" designation for 11-years in a row.
In addition to this pending trial, CVN subscribers will also get unlimited on-demand access to the hundreds of other trials in CVN's video library - the only online archive of civil trial videos available anywhere in the world. Check out these 10 "Must Watch" California plaintiff and defense verdicts for a small sample of what's included.
The plaintiffs are also represented by Alaa Yasin of Dordick Law Corporation, and the defendants are also represented by Rachel Mihai and Ryan Tikker of Bremer Whyte Brown & O'Meara LLP.
The case is captioned Farnaz Vojdani and Soror Azizgolshani v. City of Beverly Hills and Alfredo Eudave, case number BC710001 in the Superior Court of California for the County of Los Angeles.
E-mail David Siegel at dsiegel@cvn.com