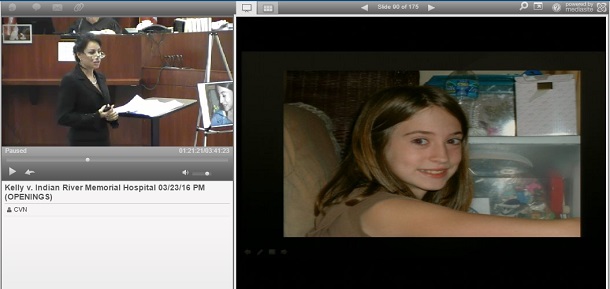 Elizabeth Zwibel delivers the opening statement in trial against Dr. Dudley Teel and Indian River Memorial Hospital, accused of reckless conduct in their treatment of Shannon Kelly, who died from diabetes-related complications.
---
Vero Beach, FL—Whether an ER doctor recklessly engaged in "cell phone medicine" that caused a girl's death from diabetes complications ignited a fiery debate between attorneys Wednesday as trial opened in a suit by the girl's parents. Kelly v. Indian River Memorial Hospital, 2010-CA-073141.
Shannon Kelly, 12, died in 2008, two days after being admitted to Indian River Memorial Hospital's emergency room suffering from new onset diabetes and diabetic ketoacidosis, a complication that increases the acid level in the blood. Kelly's parents, Terrance and Sandra Kelly, claim the hospital and its attending physician, Dr. Dudley Teel, lacked the resources to care for their daughter and recklessly treated her, causing fatal brain swelling.
During Wednesday's opening statements, Swope Rodante's Elizabeth Zwibel, representing the Kelly parents, told jurors the hospital lacked appropriate hard copy resources for Teel to refer to when treating Kelly, leading him to look up treatment options on the Internet, a practice she termed "cell phone medicine."
Zwibel told jurors that staff, led by Teel, injected Kelly with almost four cups of fluid in 40 minutes, the proper amount for a 150-pound adult, Zwibel claimed, but not a 61-pound child. "No child with this situation, with this new onset, in this condition, should ever be treated like an adult. Ever, under any circumstances. Because to do so is deadly," Zwibel said, contending the speed and amount of the fluid caused Kelly's brain to swell.
Zwibel added evidence would show the error was compounded by staff's failure to properly monitor Kelly and discover her brain swelling in time to provide medicine that may have saved her life. "The very hospital there in the community that says 'Come to us. We help with emergencies,' they killed this little girl."
However, the defense argued Teel and the hospital staff followed appropriate protocol in treating Kelly's complications, and Hall Booth Smith's John Hall took umbrage at Zwibel's allegations against Teel. Imagine, Hall said, "First [you go to] undergraduate school, then medical school for four years then excess training, then go to practice for 37 years and have somebody stand up and point their finger at you in a courtroom and say that you killed a patient. Can you imagine?" Hall asked. "That is patently and totally ridiculous."
Hall called plaintiffs' claim that too much fluid caused Kelly's fatal brain swelling a "hired theory," and contended expert testimony would discredit it. "Fluids causing cerebral edema has been disavowed by the medical profession," Hall said.
Instead, Hall argued evidence would show Teel worked to stabilize Kelly when she arrived and ordered appropriate tests and consultations during a period Hall compared to the length of Zwibel's opening statement. "Almost as long as (Teel) had to [treat Kelly] you heard the lawyer get up here and scream that he killed Shannon, and that nobody was doing anything during that period of time, and that they just already made a decision to just ignore her," Hall said. "But they did [tests, consultations, and treatment] in about that period of time."
Attorneys were not immediately available for comment.
Trial in the case is expected to last 2-3 weeks.
Email Arlin Crisco at acrisco@cvn.com.
---
Related Information
Terrance and Sandra Kelly are represented by the Romano Law Group's John Romano and Corey Friedman and Swope Rodante's Elizabeth Zwibel.
Dr. Dudley Teel and Indian River Memorial Hospital are represented by Hall Booth Smith's John Hall and Duane Cochenour and by Roy Watson.
Watch the trial live and on demand.
Not a subscriber?
Learn how you can watch CVN Florida's unparalleled coverage of the state's key trials.