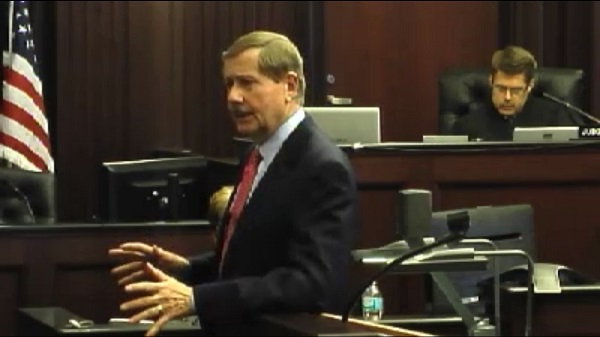 Robert Shields details the smoking history of Rayfield Brown, who died of lung cancer in 1995. Shields is representing Brown's widow as trial opened on damages Thursday.
---
With damages alone at issue, opposing counsel sparred over millions in potential punitive liability as trial opened Thursday in Mary Brown's suit for the lung cancer death of smoker Rayfield Brown.
Doffermyre Shields' Robert Shields, representing the Browns, told jurors in openings that Philip Morris participated in a decades-long campaign to hide the dangers of smoking that helped keep Brown and other smokers hooked on cigarettes throughout their lives. "Claiming that there is doubt about the science (that smoking is dangerous), reassuring the smoker that if we ever find anything harmful we'll take it out, plays into that need for a rationale to continue to smoke," Shields said. "It reassures that it's OK to continue smoking, because after all, before you get any (health) problem, we'll figure out the answer."
Rayfield Brown died of lung cancer in 1995, after more than 40 years of smoking. His widow, Mary, and daughter, Jennifer, are seeking both compensatory and punitive damages in the wrongful death suit.
The trial will determine only the amount of damages the Browns should receive. In August 2013, a jury found Rayfield Brown was a member of the Engle class and that Philip Morris was liable on the Browns' conspiracy claim. However, the jury failed to answer questions on damages and punitive liability.
In Thursday's openings, Shook Hardy's Kenneth Reilly, representing Philip Morris, told jurors that the evidence did not support imposing punitives because there was no link between the tobacco maker's concealment of smoking's dangers and Brown's smoking.
Reilly noted that his client's 1953 agreement with other tobacco makers to conceal the health effects and addictiveness of cigarettes occurred at least three years after Brown had become a regular smoker. Reilly also told jurors that there was no evidence Brown would have quit smoking earlier if Philip Morris acknowledged that smoking was hazardous.
This is the case's fourth trip in front of CVN cameras. In 2012, Circuit Judge A.C. Soud was disqualified during the case's first CVN trial when he compared former Philip Morris CEO Joseph Cullman to Nazi war criminal Josef Mengele. Judge Aaron Bowden then declared a mistrial in a January 2013 proceeding when the jury was unable to reach a verdict. Judge Harvey Jay, who presided over the September 2013 trial that yielded an incomplete verdict, presides over the current proceeding.
Next week: Brown's attorneys will continue their case in chief.
---
Verdict: For the defense.
The nation's two largest tobacco makers prevailed Thursday morning in a wrongful death suit brought by the daughter of a decades-long smoker who claimed the companies' deception fueled her mother's nicotine addiction, leading to her respiratory disease and death. Read the article.
---
Verdict: $46.5 million, including $25 million in punitives, for the plaintiff.
Jurors found R.J. Reynolds liable for $25 million in punitive damages early Tuesday afternoon in a couple's suit against the tobacco manufacturer for the respiratory disease they contend was caused by the company's cigarettes and fraud. Read the article.
---
Arlin Crisco can be reached at acrisco@cvn.com.
Our weekly review is curated from our unequaled gavel-to-gavel coverage of Florida's Engle progeny cases.
Not a subscriber?
Click here to learn more about our expansive tobacco litigation library.