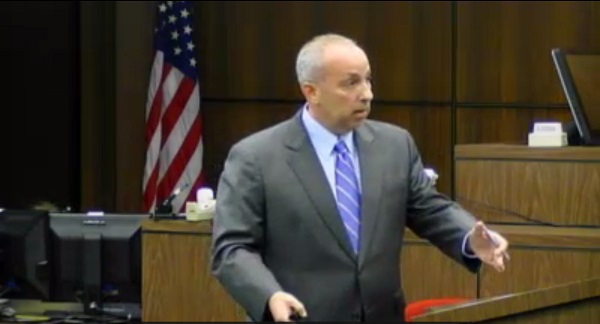 Gary Paige argues that changes to R.J. Reynolds should not mitigate against punitive damages in a suit by his clients, Thomas and Bettye Ryan. Jurors ultimately awarded $25 million in punitives, bringing the total award to $46.5 million in the Engle progeny case. Click here to watch gavel-to-gavel coverage on demand.
---
Fort Lauderdale, FL—Jurors found R.J. Reynolds liable for $25 million in punitive damages early Tuesday afternoon in a couple's suit against the tobacco manufacturer for the respiratory disease they contend was caused by the company's cigarettes and fraud. Ryan v. R.J. Reynolds Tobacco Co.
The punitive verdict came four days after the six-member jury awarded $21.5 million in compensatories in Thomas and Bettye Ryan's Engle progeny suit against Reynolds for its concealment of smoking's health effects. The Ryans claim Thomas Ryan's chronic obstructive pulmonary disease, diagnosed in 1997, was caused by the company's concealment, which fueled a nicotine addiction that led him to smoke up to four packs a day for more than 40 years.
During closings Tuesday morning, attorneys debated how much the tobacco maker's changes in leadership and marketing since the 1990s mitigated against punishing it for its participation in a decades-long conspiracy to hide the health effects of smoking. King & Spalding's W. Ray Persons, representing Reynolds, described the tobacco maker today as a "changed company," with new corporate leadership and a focus on educating the public regarding the dangers of cigarettes and ways to quit smoking completely.
"If you want to quit, they'll sell you something to help you quit smoking and get away from tobacco products altogether," Persons said. "How much more can you do than provide somebody with a product that enables them to quit using your product?"
However, Gordon & Doner's Gary Paige, representing the Ryans, argued that the tobacco manufacturer's corporate makeover did not weigh against imposing punitive damages. Referring to the company's sale of a moist tobacco product called SNUS that is sold as an alternative to cigarettes, Paige told jurors, "They're going to migrate the smokers, all the smokers, to SNUS, a nicotine-delivery device that causes mouth cancer.... That's their great transformation."
Jurors took less than two hours to reach their punitive verdict, which was more than the $21.5 million in punitives that Paige and The Alvarez Law Firm's Alex Alvarez requested during closings. The decision on punitives brought the trial's total award to $46.5 million.
Neither the parties' attorneys nor Reynolds representatives could be immediately reached for comment.
Arlin Crisco can be reached at acrisco@cvn.com.
---
Related information:
Alex Alvarez, of The Alvarez Law Firm, and Gary Paige, of Gordon & Doner, represented Thomas and Bettye Ryan. W. Ray Persons, of King & Spalding, represented R.J. Reynolds.
Watch gavel-to-gavel coverage of Ryan v. R.J. Reynolds.
Not a subscriber?
Click here to learn more about our expansive tobacco litigation library.