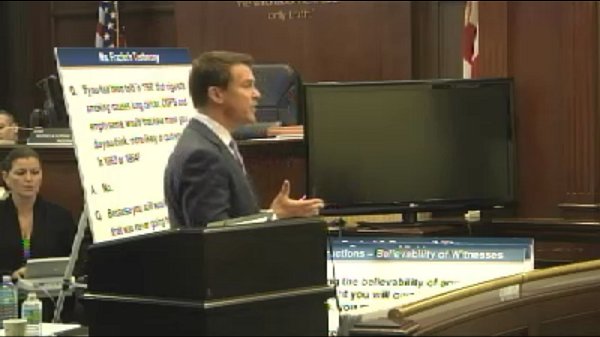 William Geraghty delivers closing arguments in Tina Russo's wrongful death suit against R.J. Reynolds and Geraghty's client, Philip Morris. The tobacco makers prevailed against Russo's claim that their deception about the dangers of smoking led to her mother's nicotine addiction, respiratory disease, and death. Click here to watch the trial on demand.
---
Miami—The nation's two largest tobacco makers prevailed Thursday morning in a wrongful death suit brought by the daughter of a decades-long smoker who claimed the companies' deception fueled her mother's nicotine addiction, leading to her respiratory disease and death.
Jurors found that, although Phyllis Frazier was addicted to nicotine, her addiction was not the legal cause of her chronic obstructive pulmonary disease and the string of health problems that turned fatal. The decision cleared tobacco giants R.J. Reynolds and Philip Morris of liability in the Engle progeny suit, brought by Tina Russo, Frazier's daughter.
Russo sought $14 million in damages, including $10 million for herself and $4 million for her sister, Cherie Westgate.
Frazier, a smoker for more than three decades, quit in 1992, one year after doctors diagnosed her with chronic obstructive pulmonary disease. She ultimately underwent a lung transplant before dying from skin cancer that spread to her brain in 2012. Russo contended that drugs Frazier took to combat her body's attempted rejection of the new lungs weakened her immune system and allowed the cancer to spread.
The issue of causation linking Frazier's health problems to nicotine addiction, on which the verdict ultimately turned, became a key focus during the two-week trial. During closings Wednesday, Gerson & Schwartz's Philip Gerson, representing Russo, reminded jurors of evidence that Frazier was addicted to cigarettes, including records from one of her treating physicians. Gerson said that addiction led to more than 2 million exposures to the dangerous chemicals in cigarettes over her 32-year smoking history. "Does cigarette smoke cause these diseases (such as COPD)?" Gerson asked. "Of course it does."
However, the defense countered by arguing that Frazier's failure to make a concerted effort to quit smoking before 1992 caused her respiratory disease and the complications that followed it. In Wednesday's closings, Shook Hardy's William Geraghty, representing Philip Morris, reminded jurors of deposition testimony in which Frazier admitted that she continued smoking for decades after knowing the its dangers. "It is Ms. Frazier's decision to smoke cigarettes for many years in the face of all of those warnings (about cigarettes), and her decision not to make a determined and committed effort to quit until 1992," Geraghty said. "That is the one and only legal cause in this case."
The suit is one of thousands of similar Engle progeny lawsuits filed against tobacco companies in Florida. The cases arise from a 2006 Florida Supreme Court decision decertifying Engle v. Liggett Group Inc., a class-action tobacco case originally filed in 1994. Although the state's supreme court ruled Engle cases must be tried individually, it found qualifying Engle progeny plaintiffs could rely on certain jury findings in the original case, including the conclusion that tobacco companies sold a dangerous, addictive product. To qualify, however, smokers must prove they were addicted to nicotine and that their addiction caused certain smoking-related injuries.
This is not the Russo case's first time before a jury. Despite the defense win in this trial, the Russo case will likely have a wider impact as the basis of a Florida Supreme Court opinion rendering it easier for plaintiffs statewide to recover on Engle fraud claims. A 2010 defense verdict in Russo, covered by CVN, was reversed by the state's Third District Court of Appeal, which also found that Florida's statute of repose for fraud claims did not require plaintiffs prove reliance on fraud within the law's 12-year period. Earlier this month, the Florida Supreme Court upheld that decision on the repose issue, settling a split between the state's appellate courts on the matter.
Neither the parties' attorneys nor tobacco company representatives could immediately be reached for comment.
---
Related Information
Gerson & Schwartz's Philip Gerson represents Tina Russo. Shook Hardy's William Geraghty represents Philip Morris USA. Jones Day's Geoffrey Beach represents R.J. Reynolds Tobacco Co.
Watch gavel-to-gavel coverage of Russo v. Philip Morris.
Not a subscriber?
Click here to learn more about our expansive tobacco litigation library.