Normally Courtroom View Network wraps up one year and begins the next with our popular "Top 10" lists of most impressive plaintiff and defense verdicts. Since the pandemic scuttled most of our live trial coverage in March, and we're rolling over into a new decade, we decided instead to revisit some of the trials that stand out from the hundreds of others that CVN webcast and recorded over the last 10 years.
After more than 10 years being the only web-based news service dedicated to gavel-to-gavel video coverage of civil jury trials, CVN filmed a lot of hours in the courtroom! To close out 2020 and start off 2021, take a look at some of the more memorable trials we covered in a few different categories. CVN has the largest (and only) online video collection of civil jury trials anywhere in the world, so we had a lot to consider! Stay tuned throughout January as we highlight many more memorable, unique and impressive moments from the trials we covered beyond these six.
Want to see these most-watch moments from the courtroom yourself? Become a CVN subscriber! For less than many cable television subscriptions you can get unlimited access to hundreds of civil jury trials involving some of the best trial attorneys in the country. Now let's start our walk down memory lane…
***
Most unconventional, creative and effective opening/closing arguments
Many of the opening and closing arguments in CVN's archive fit into the conventional box that many attorneys use - and often with great success. However two trials clearly stand out where the attorneys made bold, creative and maybe even risky choices during their openings and closings that paid off in a big way.
The chicken suit - Nick Rowley - Bakersfield, California
Going into this trial, Nick Rowley of Carpenter Zucker & Rowley already had a well-earned reputation thanks to his hard-charging and affable style in the courtroom, but even his opposing counsel couldn't have predicted how Rowley closed out a trial involving a former high school mascot who suffered a traumatic brain injury during a football rally.
Rowley represented Mitch Carter, who sued a California school district after school administrators supposedly pressured him to wear a chicken suit mocking an opposing team's mascot, which resulted in rival students dog-piling onto him causing a brain injury that left him with psychological problems and near-failing grades.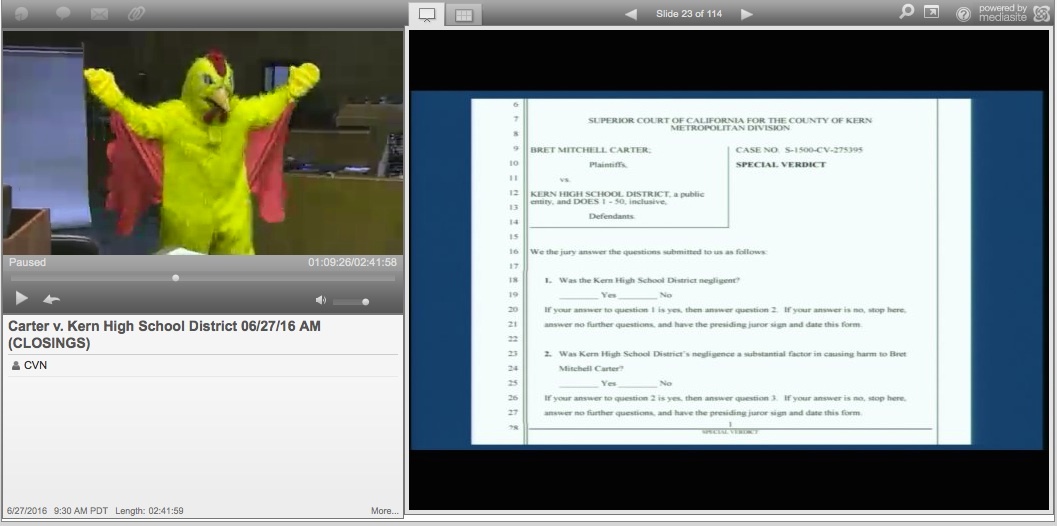 During his closing, to the surprise of everyone in the courtroom, Rowley put on the actual chicken suit - beak, webbed feat and all. An attorney for the school district immediately objected, arguing that Rowley's chicken suit was "improper" and had not been admitted as evidence, however the judge overruled the objection and allowed him to continue suiting up, on the condition it was "done respectfully and as a rhetorical device."
At first glance it may seem like a playful or silly moment, but in reality Rowley's wildly unconventional move drove home for the jury the horrifying experience for Mitch Carter during the 26-second melee that caused his injury. The jury found the school district 100 percent liable for Carter's injuries and agreed to a $10.5 million settlement before the damages phase of the trial began.
The sailor's hat - Karen Koehler - Seattle, Washington
Before Karen Koehler of Stritmatter Kessler Koehler Moore gave her opening statement in a trial stemming from a deadly multi-fatality accident involving an amphibious "duck boat" sightseeing vehicle, the trial was already a highlight for CVN. It's not every day that 43 individual plaintiffs have their claims considered by the same jury without being part of a class action, but that's the work Koehler and her team had cut out for them in a Seattle courtroom.
Koehler already had to balance the myriad elements of this sprawling trial - from the technical aspects of the products liability claims involving the allegedly defective duck boat to the emotional intangibles of conveying a wide range of injuries from 43 different people. Still, nobody in the courtroom expected it when she did something most attorneys never do in trial - she put on a hat.

And not just any hat. Throughout her opening Koehler donned a white nautical hat to take on the persona of a duck boat pilot, telling jurors the crash was caused by a broken axle on the duck boat that could have been prevented, and the lack of a median divider on the road.
By literally stepping into the defendant's shoes - or in this case hat - Koehler made the connection she needed with the jury to sway them for her clients. The jury awarded a staggering $123 million.
If this trial sounds like fascinating high-wire act, it is. Stay tuned in February (date TBD) for an upcoming CVN webinar, where Koehler will curate video clips from key moments in the trial and walk viewers through the logistics of navigating litigation on this scale.
Most impressive "come from behind" defense wins
The outcome of a jury trial is never certain. That's why so many attorneys on both sides try to avoid them and reach settlements instead. While nobody truly knows a trial's outcome until the attorneys get the actual evidence in front of the jurors, sometimes the process is clearly more of an uphill climb that makes an eventual verdict even more remarkable.
U-Haul overcomes pretrial ruling that their tow dolly violated state law - J. Banks Sewell - Phoenix, Arizona
J. Banks Sewell of Lightfoot Franklin & White already faced a challenge defending U-Haul in a potentially $30 million product liability lawsuit alleging that the lack of brakes on a tow dolly caused a car accident that left a man permanently paralyzed.
Facing a high-exposure lawsuit with a seriously injured plaintiff represented by a firm with a national footprint, Sewell's team had to contend with another challenge that seemed to tilt the scales in the plaintiff's favor even before the trial began, namely a pre-trial ruling from the judge that the tow dolly in question violated an Arizona law requiring any vehicle trailer in excess of 3,000 pounds to have independent brakes.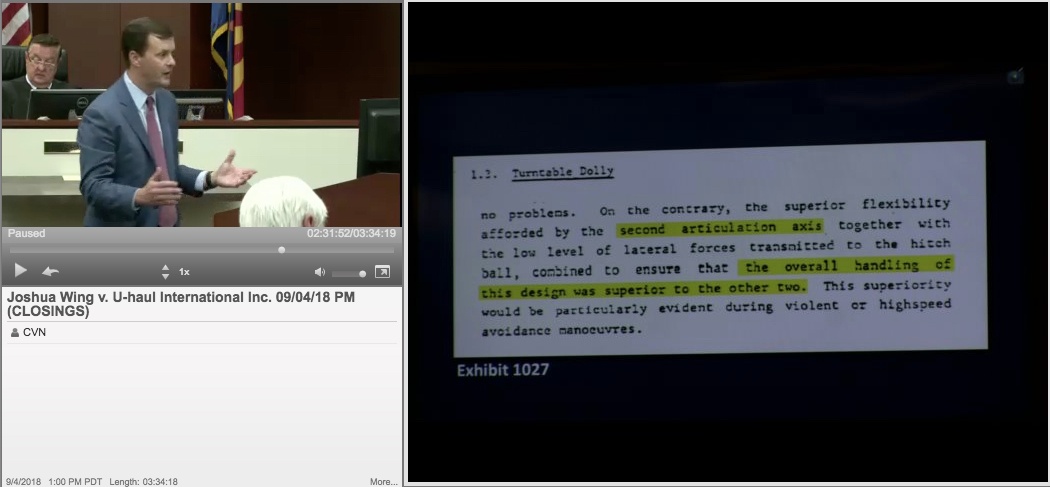 CVN screenshot of Sewell delivering his closing argument
So the plaintiff argued the lack of brakes caused the accident, and the judge rules the dolly violated a state law requiring towed vehicles to have their own breaks. Seems like checkmate, right? Wrong.
Undeterred, Sewell characterized the ruling in his closing argument as a one-off finding which hadn't been subject to appellate review, and the first such decision in the statute's 40 year history. He stressed that tow dollies were generally not classified as trailers in the rental truck industry.
The argument stuck and resulted in one of the most impressive "rabbit out of a hat" defense verdicts covered by CVN over the last 10 years.
Insulation company lands asbestos trial win despite sanctions - Mark Wall - Spartanburg, South Carolina
Whether or not a plaintiff was actually exposed to a defendant's products is usually one of the key factual disputes in an asbestos trial. Sometimes the jury's verdict can rest on that one question alone.
That makes the defense win scored by Mark Wall of Wall Templeton & Haldrup PA even more noteworthy, after the judge sanctioned his client with an instruction to the jury effectively answering the exposure question in the plaintiff's favor.
The plaintiff's team filed a motion for sanctions on the eve of trial accusing pipe insulation company Covil of intentionally destroying key company records and supposedly falsely claiming they were destroyed in a warehouse fire.
The judge found that Covil's claims about the missing documents were not supported by the evidence presented, and as a result instructed jurors prior to the start of opening statements that, "Jerry Crawford was exposed to asbestos insulation supplied and installed by Covil Corporation Celanese between 1970 and 1974."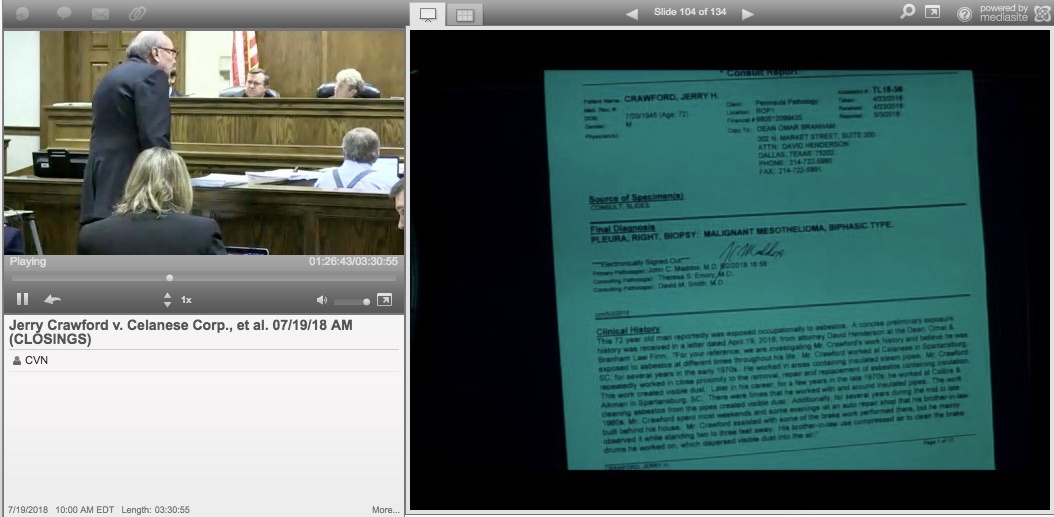 CVN screenshot of Wall delivering his closing argument
Wall overcame that hurdle by arguing that enough unanswered questions remained in the case to find in his client's favor, and he successfully convinced jurors to reject a request by Crawford's team for more than $7 million in damages.
"That instruction did not set forth any particular date of exposure. It did not set forth the location of exposure except Celanese, and never set forth the amount of exposure," Wall argued to the jury. "Those issues are still up to you." Empowered by Wall's statement, the jury returned a defense verdict.
Most impressive trial outcomes that beat out settlement offers
Details about settlement negotiations aren't always publicly available, so we realize that many of the trials CVN covered likely involved settlement offers known only to the attorneys and the parties.
However when attorneys are willing and able to disclose settlement information it can provide a critical window into how much was truly at stake in a case and can make an eventual verdict even more impressive.
$3.38 million trucking verdict leapfrogs $20k offer - Sean Claggett - Las Vegas, Nevada
A Nevada state court jury slapped truck manufacturer Navistar International Corp. and a local towing company with a $3.38 million verdict in 2018 in a products liability lawsuit filed by a woman injured after a tow truck parked at a gas station rolled down an incline onto a busy street.
The award far surpasses Navistar's highest settlement offer of $20,000 according to attorney Sean Claggett of the Claggett & Sykes Law Firm, who represented plaintiff Zuhey Cobos.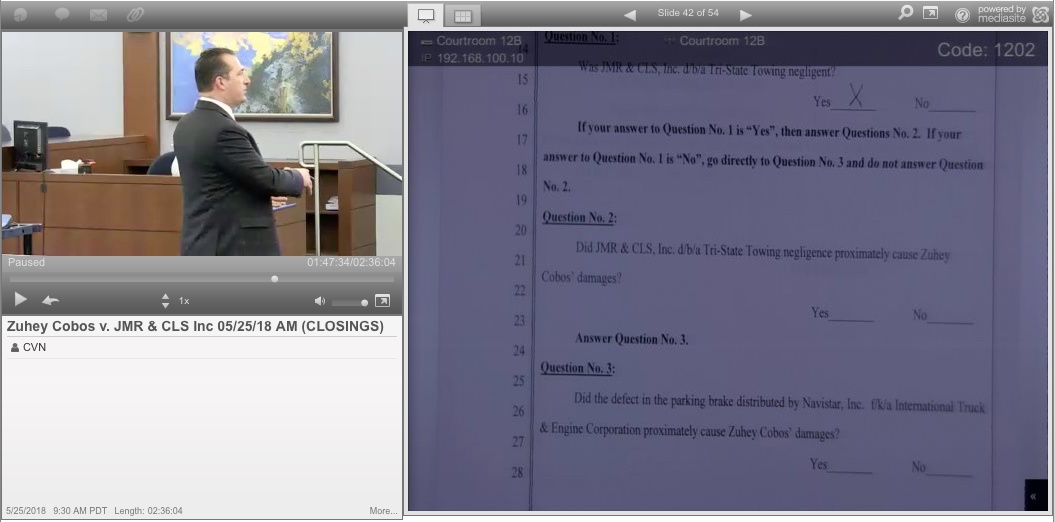 CVN screenshot of Claggett delivering his closing argument
Cobos claimed she suffered serious back, neck and shoulder injuries in 2013 after the out-of-control Navistar 1998 4000-series flatbed truck caused another car to rear-end her vehicle, while Rubbico was inside a nearby gas station. She accused Navistar of failing to act on multiple reports of at least six similar brake failures that preceded the accident.
Navistar suffered a major setback during the trial, when Judge Joanna Kishner granted Claggett's motion for a directed verdict on the question of whether or not Navistar's parking brake was defective.
$1.63 verdict against BNSF defeats $50k offer - Jarod Krissman - San Bernardino, California
A California state court jury hit BNSF Railway Co. with a $1.63 million verdict in 2019 in a lawsuit filed by a former maintenance worker who suffered injuries after an 83-pound rail rack that lacked necessary safety pins to hold it in place fell from a truck and struck him.
The jury deliberated over the course of two days in a trial that began on December 6 before determining that BNSF is responsible for plaintiff David Arizaga's injuries. Arizaga accused the company of failing to act after a previous accident involving the rail rack's safety pins and claimed injuries to his leg, back and head would prevent him from ever returning to work in the railway industry.

CVN screenshot of Krissman delivering his closing argument
Arizaga sued BNSF after the 2015 accident under the Federal Employers Liability Act, or FELA, a federal law that protects and compensates railroaders injured on the job and allows them to file claims for compensation in state courts.
BNSF conceded during trial that the missing safety pins in question were supposed to be in place, but they argued their absence didn't cause the rail rack to fall on Arizaga, and that his injuries weren't as severe or long-lasting as he claimed.
Jurors found BNSF fully liable for the accident, and the $1.63 million they awarded far exceeds the company's pre-trial settlement offer of $50,000, according to Arizaga's attorney Jarod Krissman of Krissman & Silver LLP.
***
Check back for more decade highlights over the first few weeks of the new year! With all the great trials in CVN's archive these first few just scratch the surface.
Was your firm involved in a trial filmed by CVN in the last 10 years you think deserves recognition? Let us know why! Email CVN editor David Siegel at dsiegel@cvn.com