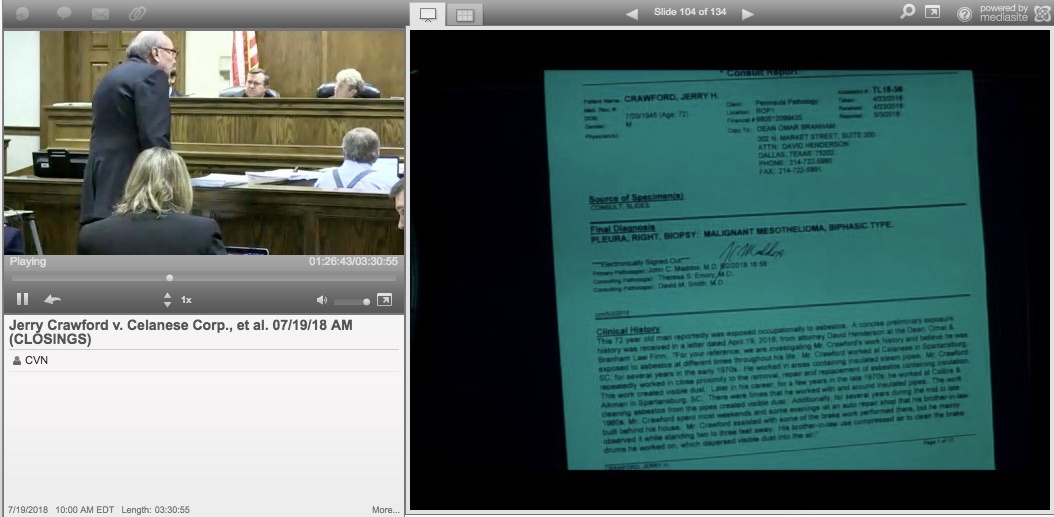 CVN screenshot of defense attorney Mark Wall delivering his closing argument
Spartanburg, SC - Attorneys for a defunct pipe insulation company notched a defense verdict Thursday in an asbestos lawsuit in South Carolina state court, despite the judge instructing jurors the plaintiff was exposed to their asbestos as part of a pre-trial sanctions order.
Jurors deliberated for just a few hours before determining that Covil Corporation, which went out of business in 1991, was not responsible for plaintiff Jerry Crawford's mesothelioma. Crawford claimed exposure to asbestos in Covil's pipe insulation while working at a Celanese Corporation plant in the early 1970's caused his fatal cancer.
Crawford's attorneys filed a motion for sanctions on the eve of trial accusing Covil of intentionally destroying key company records and supposedly falsely claiming they were destroyed in a warehouse fire.
Former South Carolina Supreme Court Chief Justice Jean Toal, who came out of retirement to preside over the state's asbestos docket, found that Covil's claims about the missing documents were not supported by the evidence presented, and as a result instructed jurors prior to the start of opening statements that, "Jerry Crawford was exposed to asbestos insulation supplied and installed by Covil Corporation Celanese between 1970 and 1974" - an issue that otherwise would have been a major factual dispute during the trial.
Covil's attorneys overcame that hurdle by arguing that enough unanswered questions remained in the case to find in their client's favor, and they successfully convinced jurors to reject a request by Crawford's team for more than $7 million in damages.
"That instruction did not set forth any particular date of exposure. It did not set forth the location of exposure except Celanese, and never set forth the amount of exposure," said Mark Wall of Wall Templeton & Haldrup PA, according to Courtroom View Network's webcast of the trial. "Those issues are still up to you."
The full trial, which began June 16, was webcast gavel-to-gavel by CVN.
Wall maintained Celanese and the construction company that built the plant were responsible for Crawford's exposure, not Covil, which Wall characterized as merely a supplier who provided materials in common use at the time.
"It was not Covil that made any decision about putting asbestos in the Celanese plant," Wall told jurors, while also discussing Crawford's potential exposure to asbestos from other sources like brake dust while doing automotive work.
Crawford's lawsuit originally named Celanese and other defendants including Carrier Corp., Fluor Enterprises and Honeywell, but only Covil remained an active defendant when the case went to trial.
Wall did not respond to requests for comment from CVN.
Trey Branham of the Texas-based firm Dean Omar & Branham LLP, who represents Crawford and his wife Evelyn, told CVN the jury either misunderstood or ignored Justice Toal's pre-trial instruction, and that his team is evaluating possible post-trial motions to address the issue.
"This was about as clean a case as I've seen," he said, claiming that Justice Toal was on the verge of granting a directed verdict in favor of Crawford but ultimately decided to let the jury render judgement.
Branham said that despite Covil being out of business for nearly three decades, Crawford still could have recovered damages due to insurance coverage from Travelers and Zurich during the years in question.
"Those policies can be attacked," Branham said.
Branham's firm will have a new opportunity to attack those policies soon. He said another asbestos case with Covil as a defendant is set for trial in September in Spartanburg.
Gavel-to-gavel video of the full Crawford trial is available with a subscription to CVN's video archive, which includes numerous other talc, asbestos, toxic tort and product liability cases from throughout the country.
The case is captioned Jerry Howard Crawford and Evelyn Kay Crawford v. Celanese Corporation, et al., case number 2017-CP-42-4429 in the South Carolina Court of Common Please, Seventh Judicial Circuit.
E-mail David Siegel at dsiegel@cvn.com