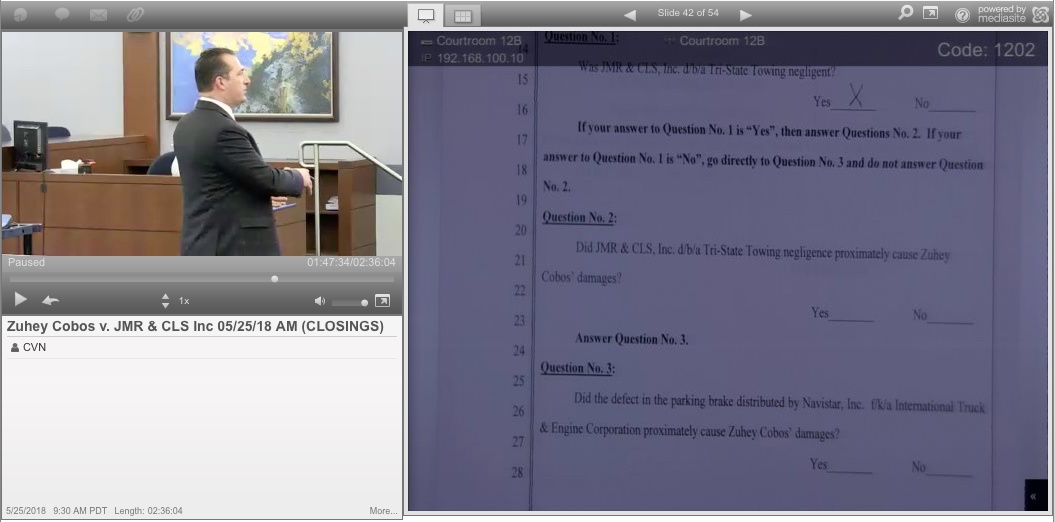 CVN screenshot of plaintiff attorney Sean Claggett walking jurors through the verdict form during his closing argument
Las Vegas - A Nevada state court jury slapped truck manufacturer Navistar International Corp. and a local towing company with a $3.38 million verdict on Tuesday in a products liability lawsuit filed by a woman injured after a tow truck parked at a gas station rolled down an incline onto a busy street.
The award far surpasses Navistar's highest settlement offer of $20,000 according to attorney Sean Claggett of the Claggett & Sykes Law Firm, who represented plaintiff Zuhey Cobos.
Jurors found Navistar 75 percent responsible for the accident while assigning the remaining liability to Tri-State Towing in a trial that began on May 9. The full trial was webcast and recorded gavel-to-gavel by Courtroom View Network.
Navistar blamed the crash on Tri-State's driver, James Rubicco, and Tri-State argued Rubicco was unknowingly sold a defective emergency brake by Navistar.
A Navistar spokesperson told CVN the company is disappointed in the jury's verdict and is evaluating their legal options. An attorney for Tri-State did not respond to a request for comment.
Cobos claimed she suffered serious back, neck and shoulder injuries in 2013 after the out-of-control Navistar 1998 4000-series flatbed truck caused another car to rear-end her vehicle, while Rubbico was inside a nearby gas station. She accused Navistar of failing to act on multiple reports of at least six similar brake failures that preceded the accident.
Claggett told CVN in an interview after the trial that Navistar has an "absolute culture" of not testing their products.
"This company is a menace," he said. "If you're not going to test your products, and you put them on the street and somebody gets hurt, then you're going to be paying full value for that injury."
Navistar suffered a major setback during the trial, when Judge Joanna Kishner granted Claggett's motion for a directed verdict on the question of whether or not Navistar's parking brake was defective.
Her decision hinged on testimony from Navistar engineer Roy Zeitlow regarding a screw that broke inside the parking brake. Navistar argued the screw broke because Rubicco repeatedly slammed it down with too much force, while the plaintiffs maintained it broke because of vibrations in the truck.
Claggett got Zeitlow to concede that regardless of the cause, the screw was not supposed to break and therefore did not work as intended, which he told CVN automatically rendered the brake defective under Nevada's products liability law.
"When he conceded that it doesn't matter why it broke, whether it was vibration or foreseeable misuse, then the case is over," he said.
Claggett expressed shock that Navistar didn't revisit their $20k settlement offer after the directed verdict and instead pursued a strategy of convincing jurors that despite the brake being defective the accident was still caused entirely by the truck's driver.
"They were steadfast in their ignorance," he said. "I can't even begin to understand it."
Claggett cited his extensive use of pre-trial focus groups in determining how he questioned Zeitlow, explaining that his firm uses focus groups to craft their trial strategy in each case they take to a jury.
"If somebody comes to us with a case they want us to take on, we'll focus group it before we even consider it," he said.
Claggett claimed his focus groups indicated $3.4 million would be a reasonable award, but said he didn't want to disclose the "secret sauce" of how they determined that. He asked jurors to award between $3.4 and $5.3 million.
"We knew that people were really comfortable based upon the fact pattern with a number in that range," he said.
Besides Claggett, Cobos was also represented by Samuel Harding, another partner at Claggett & Sykes.
Navistar was represented by Daniel Rodman of Snell & Wilmer LLP.
Tri-State was represented by Gordon Park of McCormick Barstow LLP.
The case is captioned Zuhey Cobos v. JMR & CLS Inc., et al., case number A-15-724639-C in Nevada's Eighth Judicial District Court.
Email David Siegel at dsiegel@cvn.com