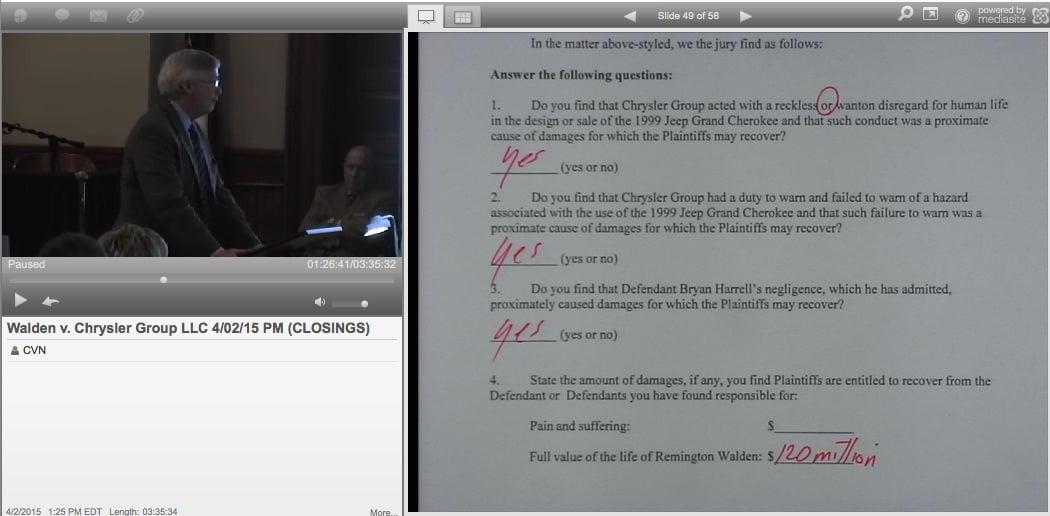 CVN screenshot of Jim Butler delivering his closing argument in Walden v. Chrysler
On Thursday, October 15th at 1pm Eastern, Courtroom View Network will present a webinar featuring nationally renowned plaintiff attorney Jim Butler of Butler Wooten & Peak and a veritable "all-star" panel of fellow plaintiff product liability specialists breaking down one of the most important automotive product liability verdicts of the last decade, the $150 million award in the case of Walden v. Chrysler.
Free Zoom registration link:
https://remotecounsel.zoom.us/webinar/register/WN_Ja7gCtgATNigk5z1TUeOSw
This is the first time the Walden case will be the subject of a webinar, and Jim Butler of Butler Wooten & Peak LLP, his son and co-counsel Jeb Butler of the Butler Law Firm and three more of the most respected product liability attorneys practicing today will analyze real video filmed by CVN from this historic case that marked the first plaintiff verdict involving supposedly defective gas tanks in Jeep SUV's that are allegedly prone to explode in rear-impact collisions.
Joining the Butlers will be a true supergroup of plaintiff attorneys with substantial product liability expertise: Brian Panish of Panish Shea & Boyle LLP, Christine Spagnoli of Greene Broillet & Wheeler LLP, and Tab Turner of Turner & Associates PC.
The case was brought by the parents of four-year-old Remington Walden, who died in a fire that engulfed the 1999 Jeep Grand Cherokee he was riding in after being struck from behind. At the time in 2015, it was the first case of its kind to go to trial in the United States.
During the trial attorneys for Remington's parents claimed that Fiat Chrysler knew a fuel tank mounted only 11 inches from the rear bumper of the Jeep could explode if impacted, but failed to properly alert consumers. They argued the company knew in 1998 that the fuel tank on the 1999 vehicle would be safer if placed near the center of the vehicle, a change Fiat Chrysler made in subsequent Jeep models.
Although a judge later reduced the award to $40 million, the verdict is still considered one of the most important auto-defect-related trial outcomes in recent years. The original verdict is believed to be the largest of its kind ever returned by a Georgia state court.
Jim and Jeb will curate a series of video clips from critical portions of the trial (which included testimony from Fiat Chrysler CEO Sergio Marchionne), highlighting moments in the courtroom they feel other attorneys can learn from. They'll dig into key selections of the trial's opening and closing statements as well as the direct and cross-examination of both fact and expert witnesses.
The panel of outside experts will then weigh in on what they thought was effective about the tactics employed by the Butlers, what they might have done differently, and what you can learn from seeing this high-stakes trial for yourself firsthand. There will be ample time for Q&A, and webinar attendees will receive an exclusive discount code for a CVN subscription.
Having the chance to see any of these attorneys react to video of such a significant trial would be compelling, but having all five together bringing decades of products liability experience to bear in one free webinar makes this a must-watch event for an attorney involved in civil jury trials, regardless of whether or not you handle auto-defect cases. Following the free live webcast, the webinar will be available for on-demand viewing for CVN subscribers, along with previous CVN webinars.
Jim Butler is a founding partner of Butler Wooten & Peak LLP, a nationally known civil trial practice firm which has litigated cases in 30 states – from Massachusetts to California, Montana to Florida. Jim has been lead counsel in six cases where the verdict exceeded $100 million. He has won record-setting verdicts in several states. He has set the record for largest verdict in Georgia history on four separate occasions – in four completely different kinds of civil cases (medical malpractice, trucking, auto products liability, and business torts/breach of fiduciary duty). No other lawyer has done that more than once.
At the University of Georgia School of Law, Jeb Butler published on the Law Review, argued for the National Moot Court Team, finished near the top of several Mock Trial tournaments, and graduated in the top 10% of his class with magna cum laude honors. Since graduating, he has been named Georgia's Young Litigator of the Year, a Daily Report "On The Rise" Lawyer, a SuperLawyers Rising Star, one of Georgia Trend's Legal Elite, and one of the National Trial Lawyers' Top 100. He regularly speaks at seminars and writes in legal publications, and has been interviewed on legal issues by news organizations such as the Wall Street Journal, CBS News, Fox News, the Daily Report, and Al-Jazeera America.
Los Angeles personal injury lawyer Brian Panish has obtained some of the most significant jury verdicts in United States history on behalf of plaintiffs. His courtroom victories include a $4.9 billion record verdict in the landmark products liability case Anderson v. General Motors, over 100 verdicts and settlements in excess of $10 million, six verdicts in excess of $50 million, and more than 500 verdicts and settlements over one million dollars in personal injury, car accident, wrongful death and business litigation cases.
Christine D. Spagnoli specializes in representing plaintiffs in product liability, personal injury and legal malpractice actions. She has obtained many multimillion-dollar verdicts, including the 1999 General Motors case in which a defective fuel tank was found responsible for the burn injuries of two adults and four children. The jury returned with a landmark $4.9 billion verdict. She was co-counsel in the largest personal injury verdict in California, which resulted in a $58 million verdict for a man severely burned by a defective O-ring.
Tab Turner is a trial attorney who specializes in representing consumers injured by defective automotive products, environmental litigation, anti-terrorism litigation, and commercial litigation. In the field of automotive safety, his primary focus is on vehicle handling and stability and catastrophic tire failures as well as representing families of children injured by defective safety systems. He has won verdicts for clients in multiple cases where the verdict was in excess of $20,000,000.00, including a $132,000,000.00 jury verdict against Ford Motor Company relating to the death of Brian Cole, a young outfielder with the New York Mets organization, which remains the largest single verdict in a wrongful death claim in the U.S.
This webinar is open to all participants. Please email dsiegel@cvn.com with any questions.
Free Zoom registration link:
https://remotecounsel.zoom.us/webinar/register/WN_Ja7gCtgATNigk5z1TUeOSw
Check out CVN's past webinars, available on-demand!
Watch Free On-Demand: Legendary Trial Consultant David Ball and Trial Pro Sean Claggett Analyze $16.4M TBI Slip & Fall Verdict
Watch On-Demand: A Video Deep Dive into Best Practices for TBI Trials w/ Zoe Littlepage, Lisa Blue and Bethany Schneider