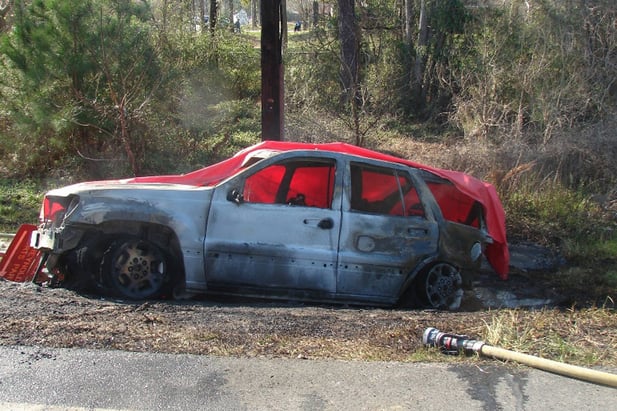 The 1999 Jeep Grand Cherokee in which four-year-old Remington Walden burned to death after its fuel tank exploded following a rear-impact collision.
Bainbridge — A Georgia state court judge has reduced a record-setting $150 million verdict against Fiat Chrysler Automobiles over exploding Jeep fuel tanks to $40 million, while also slapping away the automaker's request for a new trial in the case.
The decision came at the same time Fiat Chrysler was whalloped with a $105 million fine by federal regulators over the company's failure to recall millions of older-model Jeeps with rear-mounted fuel tanks that can explode in the event of a collision. The penalty is the largest ever issued by the National Highway Traffic Safety Administration related to an automobile recall, according to the agency.
Judge J. Kevin Chason denied Fiat Chrysler's bid for a new trial in an order issued July 24 after attorneys for the automaker and the parents of four-year-old Remington Walden, who burned to death while strapped in his carseat after his family's 1999 Jeep Grand Cherokee was rear-ended, presented oral arguments at a hearing 10 days prior. He rejected claims that the jury's verdict was a result of "passion and prejudice" or that the award amounted to punitive damages that weren't permitted in the case.
"This Court listened carefully to the entirety of the trial, including those examinations, statements, and arguments now criticized by FCA, and has reviewed the trial transcript, and finds that FCA's criticisms are unfounded," Judge Chason's order states.
(Click here to read a copy of Judge Chason's ruling. Click here to see gavel-to-gavel video of the July 14 hearing on Fiat Chrysler's motion, and here for video of the trial.)
Attorneys for the Walden family had indicated that they were open to a "reasonable" reduction in the award but also urged Judge Chason to deny a request for a new trial in the case. The reduced award consists of $30 million for Walden's wrongful death and $10 million for the pain and suffering he experienced in the fire, down from the original verdict's $120 million for wrongful death and $30 million for pain and suffering.
Fiat Chrysler spokesman Michael Pallese suggested to CVN that the company doesn't consider Judge Chason's ruling a final resolution of the Walden's lawsuit.
"The reduction in the damage awards does not cure the many errors that tainted this verdict and denied FCA US a fair trial," Pallese said. "We are considering our legal options."
Attorneys for the plaintiffs were not available for comment.
Fiat Chrysler announced a recall of roughly 1.5 million Jeeps in 2013 following pressure from federal regulators, due to the fire risk from leaking fuel tanks in the event of a rear-end collision, but the 1999 Jeep Grand Cherokee was not recalled. Instead the company offered to install trailer hitches on the vehicles to provide better crash protection.
The Walden case was the first to make it to trial after Fiat Chrysler settled numerous other claims related to fuel tanks in older Jeeps. The verdict, which was the largest of its kind ever returned by a Georgia state court jury, helped spur renewed scrutiny of the 2013 recall and whether or not the company met its obligations, which resulted in Sunday's record NHTSA fine.
The agency found that the trailer hitch option was inadequate, and in addition to the monetary penalty ordered Fiat Chrysler to contact owners of more than one million Jeeps that weren't subject to an initial recall and offer either a trade-in or a monetary incentive to upgrade their existing vehicle.
U.S. Transportation Secretary Anthony Foxx said in a statement that the fine will hold Fiat Chrysler accountable for past failures and also help to get unsafe vehicles off the road.
"This civil penalty puts manufacturers on notice that the Department will act when they do not take their obligations to repair safety defects seriously," Foxx said.
The second trial over Jeep fuel tanks is scheduled to start next January in California, according to court records.
The Walden family is represented by Jim Butler and David Rohwedder of Butler Wooten Cheeley & Peak and James Butler of Butler Tobin LLC.
Fiat Chrysler Automobiles is represented by Thomas Dupree of Gibson Dunn & Crutcher.
The case is James Bryan Walden and Lindsay Newcombe Strickland, on behalf of Remington Cole Walden v. Chrysler Group LLC, case number 12-CV-472, in the Superior Court of Decatur County in the State of Georgia.
David Siegel can be reached at dsiegel@cvn.com.