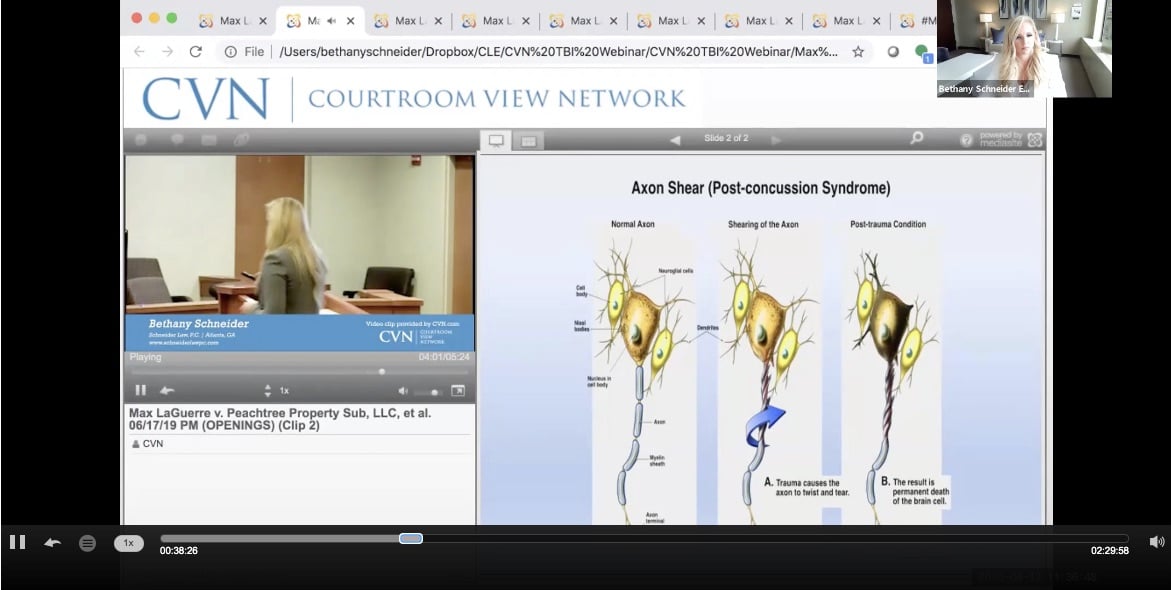 Webinar screenshot of Bethany Schneider breaking down her opening statement that helped secure a $5.5 million TBI verdict
In August Courtroom View Network and TBI Med Legal presented a first-of-its-kind webinar featuring real video clips from a traumatic brain injury trial ending in a $5.5 million verdict and expert analysis from top trial attorneys on how to present these difficult cases to a jury.
If you weren't among the thousands of people who watched live at the time, you now have the chance to take advantage of this unique educational opportunity by watching the webinar on-demand with a CVN subscription for just $99/month with no contract.
Besides full access to this 3 hour+ webinar with Zoe Littlepage, Lisa Blue and Bethany Schneider, you get unlimited gavel-to-gavel access to the trial they analyze, dozens more trials involving a wide variety of TBI-related injuries, and hundreds of other trials ranging from slip and falls to bellwether product liability cases.
In addition to unlimited on-demand access to this webinar and thousands of hours worth of real courtroom video from civil jury trials, you'll also get on-demand access to future webinars, like an upcoming session with trial pro Sean Claggett and legendary trial consultant and "reptile theory" expert David Ball on September 17 analyzing a truly unique TBI trial in Las Vegas that ended in a $20 million verdict.
Following that on Sept. 25, renegade trial master Nick Rowley joins attorney Joseph Wilson to dig into video from a trial involving a collision with an armored truck that ended in a substantial plaintiff's verdict…and we've got even more exciting webinar offerings in the works beyond that. Don't have time to watch these webinars live? Then watch them on-demand at your convenience with a CVN subscription.
If you've considered becoming a CVN subscriber in the past but were on the fence, the addition of on-demand access to these webinars should give any attorney involved in civil trial work a good reason to come aboard.
The response from people who watched these webinars live has been overwhelming. Simply put, hundreds of trial attorneys have told us that watching some of the top attorneys in the country actually show you what works and what doesn't in the courtroom in front of a jury, based around real-world trial video and not boilerplate hypotheticals, is one of the most powerful training tools they've encountered.
With this new on-demand access, that tool is now right at your fingertips for less than most monthly cable television subscriptions. Sign up today, start learning from the best, and step into the courtroom at your first jury trial post Covid shutdown even sharper than you were back in March.
Have any questions about a subscription? Email us at sales@cvn.com.
Have any questions about what's in the CVN archive, upcoming CVN coverage, or potential tips for trials CVN should have on our radar? Email David Siegel at dsiegel@cvn.com.