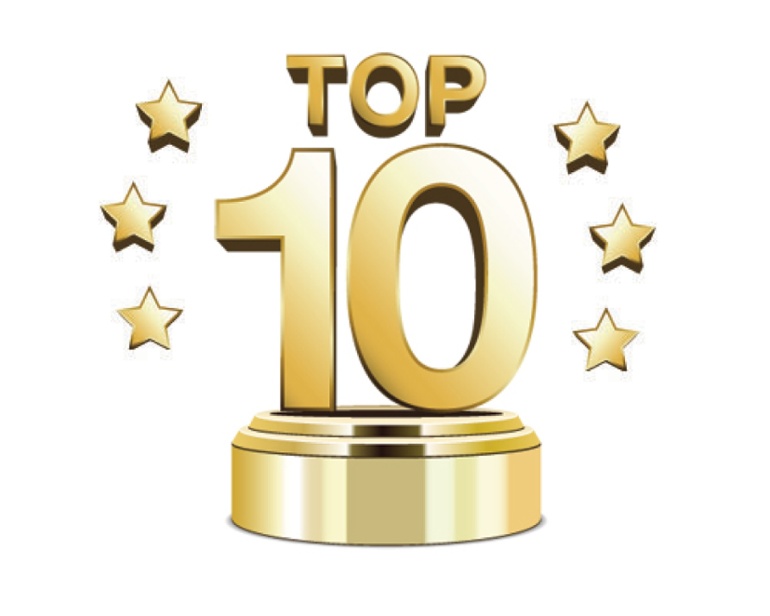 As the new year begins, it's time for Courtroom View Network to look back on the trials we covered in 2018. Our cameras captured some of the country's top trial attorneys in action, and we filmed gavel-to-gavel video of trials that ended in some of the year's most significant verdicts in practice areas ranging from products liability, to medical malpractice, to premises liability and many more.
Here are our picks for the Top 10 Most Impressive Plaintiff Verdicts that CVN covered in 2018. These aren't ranked solely by amount awarded. We also took into consideration the facts of the case, the parties and attorneys involved, and the potential broader impact of the verdict.
CVN is the only news media organization in the country dedicated to gavel-to-gavel video coverage of high-stakes civil trials that matter to the legal, educational and business communities. Subscribe to CVN's one-of-a-kind trial video archive, and you get instant access to all of these trials, plus our Top 10 2018 Defense Verdicts, along with our top plaintiff and defense picks from 2017, 2016, 2015 and literally hundreds more trials.
Besides the trial attorneys, CVN's video archive also includes hundreds of prominent expert witnesses testifying live on the stand, and many of our trials include the unique benefit of digital images of exhibits and demonstratives, as you can see in the screenshots below.
CVN is the only place in the world to learn from top-tier civil trial attorneys practicing their craft, in action in front of real juries, just like you'd see if you drove down to the courthouse in person. You just get a much more comfortable seat to watch, and there's no fee for parking.
Now lets get to the verdicts!
***
#1: Ingham v. Johnson & Johnson
$4.69 billion verdict in 22-plaintiff ovarian cancer talc powder trial
Plaintiff attorney: W. Mark Lanier, The Lanier Law Firm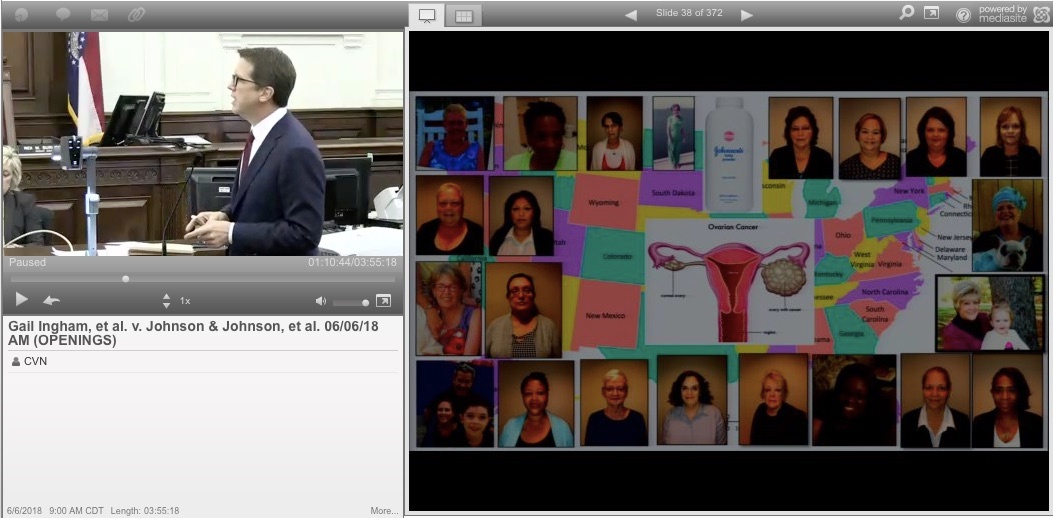 Link to video of the trial:
https://cvn.com/proceedings/gail-ingham-et-al-v-johnson-johnson-et-al-trial-2018-06-04
Why it made the list:
Going into this trial Mark Lanier already had a well-established reputation as a giant killer. The Sunday school teaching Texan's affable demeanor in front of juries landed billions of dollars in verdicts in litigation involving products like Vioxx and metal hip implants.
The landmark verdict in this case demonstrated why that fearsome reputation is warranted. Lanier represented 22 women, who all took their claims to trial simultaneously, alleging that asbestos supposedly present in Johnson & Johnson's popular cosmetic talc products like Baby Powder and Shower to Shower caused them to develop ovarian cancer.
Talc-related verdicts reaching into the hundreds of millions had already made waves in previous cases (including one further down on this list), but none came close to the $4.69 billion that a St. Louis, Missouri jury returned after a six-week trial. As is his practice in all of his trials, Lanier conducted the examination and cross-examination of each witness personally, taking on a phalanx of top-flight attorneys representing J&J.
The legal high wire act of simultaneously presenting claims from 22 plaintiffs is impressive enough, but the case also marked the first time jurors heard arguments that asbestos supposedly present in talc products caused ovarian cancer. Previous ovarian cancer talc trials involved claims that talc particles themselves caused cancer, and asbestos-related arguments had only been presented in mesothelioma cases.
While the verdict still must survive the appeals process, it is our clear #1 pick for the most impressive plaintiff verdict CVN covered in 2018.
***
#2: Johnson v. Monsanto
$289 million verdict in bellwether trial involving popular "Roundup" weedkiller
Plaintiff attorneys: Brent Wisner (pictured), Pedram Esfandiary, Baum Hedlund Aristei & Goldman PC, Michael Miller, Curtis Hoke, David Dickens, The Miller Firm LLC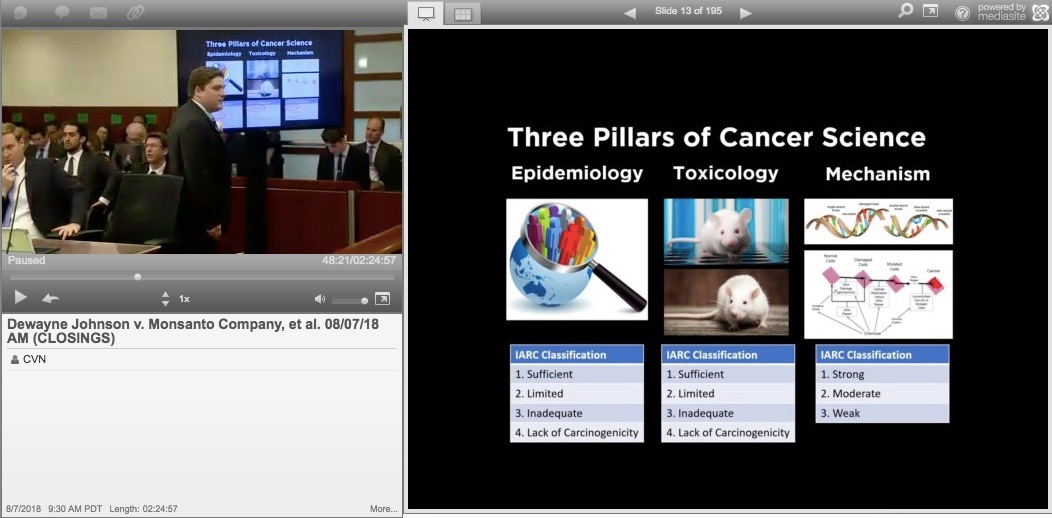 Link to video of the trial:
https://cvn.com/proceedings/dewayne-johnson-v-monsanto-company-et-al-trial-2018-06-18
Why it made the list:
In August a California state court jury awarded a former groundskeeper stricken with fatal cancer $39 million in compensatory damages and $250 million in punitive damages in the first lawsuit to go to trial over cancer risks allegedly associated with agrochemical giant Monsanto's popular Roundup weed killer.
The jury's landmark verdict came after weeks of testimony in a closely-watched trial that could have an impact on thousands of similar cases pending throughout the country, including a key trial starting in February. Monsanto faces numerous claims that they concealed information from consumers that glyphosate, a key chemical in Roundup, is carcinogenic.
During his closing argument, plaintiff DeWayne Johnson's attorney R. Brent Wisner of Baum Hedlund Aristei & Goldman argued that Monsanto should pay $39 million in compensatory damages and $373 million in punitive damages.
"That's a number that sends a signal to Monsanto and everybody who works there: 'We will not tolerate this kind of conduct,'" Wisner said, according to CVN's webcast. "When you return a verdict, we're going to make it right. And your verdict will be heard around the world. And Monsanto will have to finally do something."
While the judge later substantially reduced the award post-trial, this verdict involving an extremely common product found in garages and garden sheds in homes and businesses throughout the country earned a slot as the 2nd most impressive verdict CVN covered in 2018.
***
#3: McGinnis v. C.R. Bard Inc.
$68 million verdict in first C.R. Bard pelvic mesh trial in New Jersey
Plaintiff attorney: Adam Slater, Mazie Slater Katz Freeman Roseland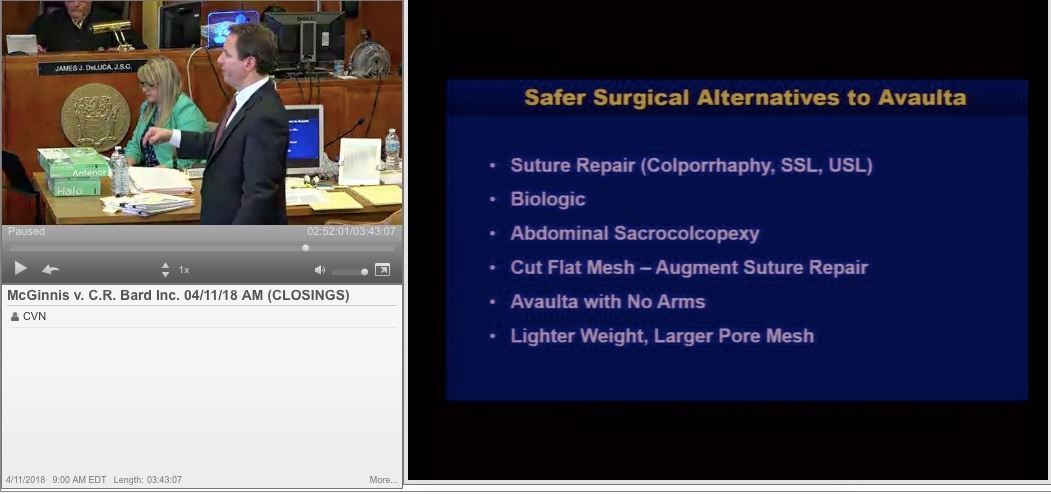 Link to video of the trial:
https://cvn.com/proceedings/mcginnis-v-cr-bard-inc-trial-2018-01-29
Why it made the list:
Despite New Jersey being one of the main hubs for pelvic mesh litigation in the United States, to date only three cases have gone to trial in the state.
Adam Slater delivered plaintiffs verdicts in all three cases, and the third, a $68 million verdict for a woman alleging that Bard's "Avaulta" and "Align" transvaginal mesh implants were defectively designed and left her suffering from chronic pain, earns the number three spot on our list.
Out of the roughly 30 pelvic mesh cases to go to trial in state and federal court since the first trial in 2012, only three have involved C.R. Bard implants. This first New Jersey trial, taking place a short distance from Bard's headquarters, helps to further solidify Slater's reputation as one of the top pelvic mesh plaintiff attorneys in the country.
Slater, a New Jersey native, took on a team of out-of-state attorneys representing Bard, and he convinced jurors to award $33 million in compensatory damages and $35 million in punitive damages, overcoming Bard's arguments that the plaintiffs' injuries were the result of other underlying medical issues.
***
#4: Carl Thompson v. Lamplight Village Homeowners Association
$20 million verdict beats homeowners association's $125k settlement offer
Plaintiff attorneys: Sean Claggett (pictured), Samuel Harding, Claggett & Sykes Law Firm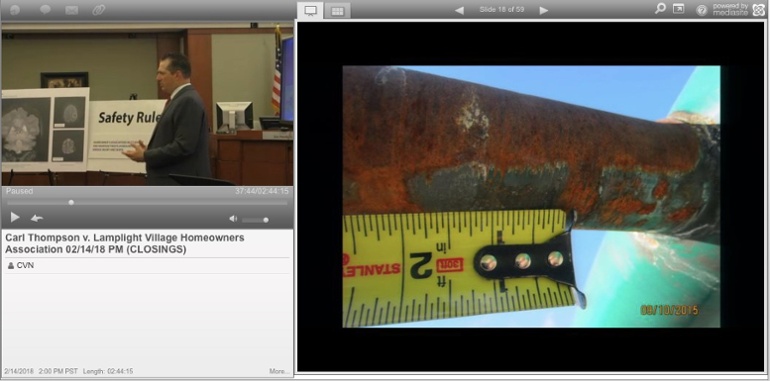 Link to video of the trial:
https://cvn.com/proceedings/carl-thompson-v-playland-international-inc-trial-2018-02-05
Why it made the list:
A $20 million verdict in Nevada state court, including $10 million in punitive damages, could prompt homeowners association's throughout the country to re-evaluate the maintenance and inspection plans for their playground equipment.
The lawsuit was filed by a teenager who suffered a traumatic brain injury when a swing set's metal bar broke and landed on his head. The jury found the Lamplight Village at Centennial Springs Homeowners Association responsible for injuries sustained by Carl Thompson in 2013.
Thompson sued in 2014 claiming that the accident caused his persistent headaches, memory loss, movement problems with his right arm and a substantially increased risk of developing dementia. He accused the HOA of failing to adequately inspect and maintain their playground.
The verdict far surpasses the HOA's highest pretrial settlement offer of $125,000, according to Thompson's attorney Sean Claggett of the Claggett & Sykes Law Firm. Claggett told Courtroom View Network that offer increased to $2 million, the maximum policy limit under coverage provided by Lamplight's insurer, Community Association Underwriters, after the jury heard closing arguments.
Claggett told CVN the verdict is significant because it is based entirely on pain and suffering, with no life care plan presented to the jury and no claims for lost future earning capacity.
"I've never put on a trial like this," he said.
***
#5: Lanzo v. Johnson & Johnson
$117 million verdict in first J&J cosmetic talc trial in company's home state of New Jersey
Plaintiff attorneys: Moshe Maimon (pictured), Levy Konigsberg LLP, Joseph Satterly, Kazan McClain Satterly and Greenwood LLP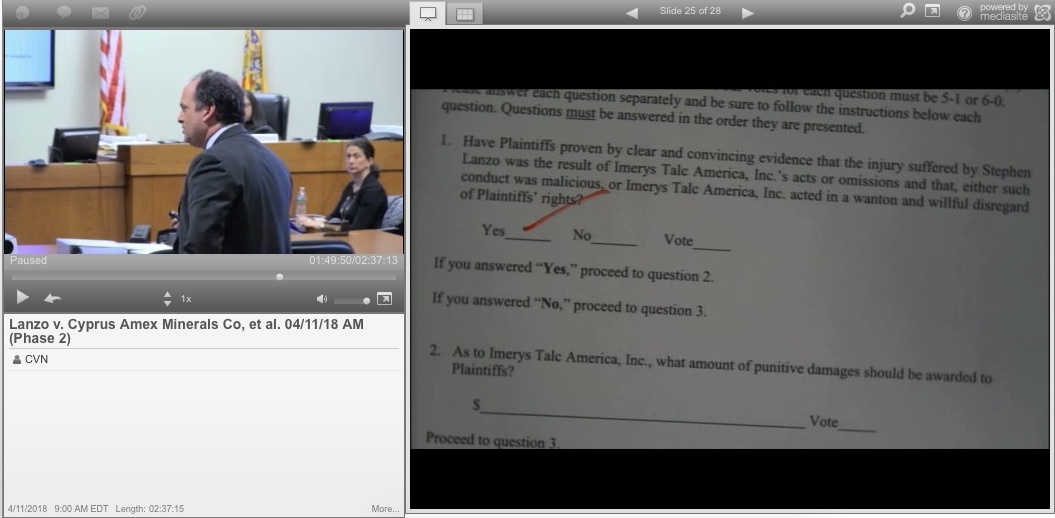 Link to video of the trial:
https://cvn.com/proceedings/lanzo-v-cyprus-amex-minerals-co-et-al-trial-2017-11-20
Why it made the list:
Jurors in a New Jersey state courtroom just miles away from Johnson & Johnson's US headquarters slammed the company and their talc supplier Imerys with an $80 million punitive damages verdict last year, in a lawsuit over the alleged presence of asbestos in talc-based products like Baby Powder and Shower to Shower.
The Middlesex County jury's punitive award came in addition to $37 million in compensatory damages and at the time marked just the second occasion J&J faced a trial over claims that its talc-based products caused mesothelioma, a lethal form of cancer frequently linked to asbestos inhalation.
Jurors found J&J liable for $55 million in punitive damages and Imerys liable for $25 million, bringing the total award in the case to $117 million, an amount that drew increased attention to a possible link between mesothelioma and J&J's talc products, after a series of trials in 2016 and 2017 involving an alleged link between ovarian cancer and talc exposure created national headlines.
The verdict would be significant anywhere, but it came in as #5 on our list due to the fact that a "hometown jury" hit J&J with such a substantial punitive award. It is also sharply contrasted with a defense verdict reached after relatively brief deliberations at the next J&J talc trial in the same court later in 2018, which we will highlight in our upcoming coverage of top 2018 defense verdicts.
Both J&J and Imerys stated they plan to appeal.
***
#6: Lennig v. CRST
$52.84 million awarded to brothers injured in head-on collision with semi-truck
Lead plaintiff attorneys: Brian Panish (pictured), Panish Shea & Boyle LLP, Rex Parris and Bruce Schecter, Parris Law Firm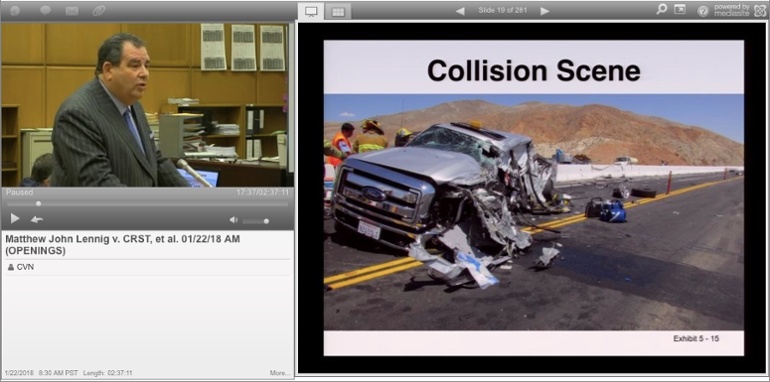 Link to video of the trial:
https://cvn.com/proceedings/matthew-john-lennig-v-crst-et-al-trial-2018-01-16
Why it made the list:
A California state court jury slapped a trucking company with a $52.84 million verdict in February in a lawsuit filed by two brothers who suffered traumatic brain injuries when a big rig truck crossed a road's centerline and hit their car head-on.
Plaintiffs Matthew and Michael Lennig sued CRST, Inc. following the collision in 2014 that they claimed left them with TBIs, PTSD, and serious back and arm injuries. CRST's driver, Hector Contreras, admitted liability for the accident, leaving the jury to determine only the appropriate amount of compensation. The jury's verdict far surpasses CRST's highest settlement offer of $11.5 million, according to the Lennigs' attorney Brian Parish of Panish Shea & Boyle LLP.
Panish told Courtroom View Network that there was no high/low agreement in place. He and his co-counsel Rex Parris and Bruce Schechter of the Parris Law Firm asked jurors to award the Lennigs roughly $105 million, while CRST argued an award of roughly $12 million would be fair compensation for their injuries.
CRST's settlement offer is also far below the $101 million in insurance coverage that Panish said CRST had available from a range of carriers including AIG, Crum & Forster, Zurich and Fireman's Fund Insurance Co.
***
#7: Khiabani v. Motor Coach Industries
$18.7 million awarded to family of a surgeon killed after being sideswiped on his bicycle by a bus
Lead plaintiff attorney: William Kemp (pictured), Eric Pepperman, Kemp Jones & Coulthard LLP, Peter Christansen, Kendelee Works, Christiansen Law Offices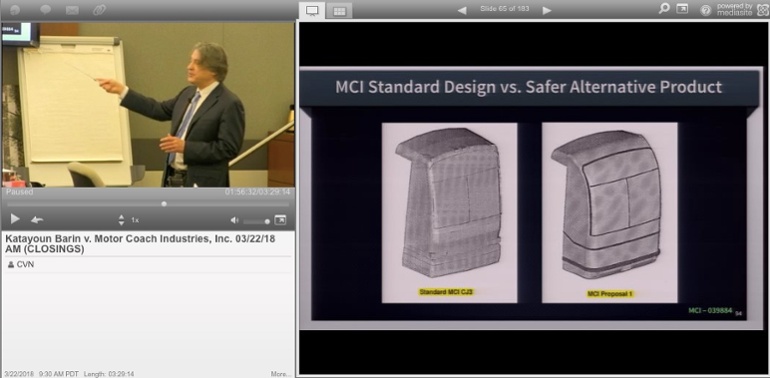 Link to video of the trial:
https://cvn.com/proceedings/katayoun-barin-v-motor-coach-industries-inc-trial-2018-02-12
Why it made the list:
A Nevada state court jury awarded $18.7 million in March to the family of a surgeon killed after being sideswiped on his bicycle by a bus, in the first products liability trial of its kind over claims that a bus' allegedly faulty aerodynamic design created a sucking force that caused the fatal accident.
Jurors deliberated for most of a day in a trial that began on February 23. They determined that Motor Coach Industries, the largest manufacturer of buses and motor coaches in North America, was responsible for the death of Kavyan Khiabani in 2017 at the age of 51. He was cycling alongside a 2008-model MCI tour bus before being drawn underneath it and crushed.
The jury determined that the MCI bus was was not defectively designed, but that MCI failed to provide adequate warning that could have been acted upon to avoid the accident. The award far surpasses the $1 million settlement offer from MCI's insurer, AIG, made just before the start of closing arguments, according to attorney William Kemp of Kemp Jones & Coulthard, who represented Khiabani's family.
***
#8: Johnson v. MARTA
$25 million awarded to para-transit bus passenger left in permanent vegetative state
Plaintiff attorneys: Michael Goldberg (pictured), Joseph Fried, Fried Rogers Goldberg, Donald Singleton, The Singleton Law Firm, Melanie Eyre, Eyre Law & Mediation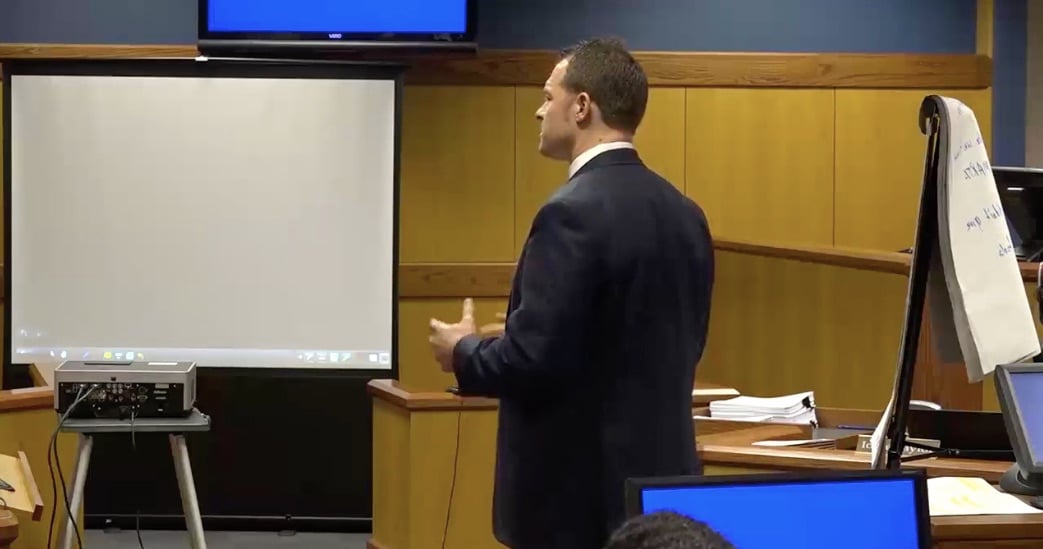 Link to video of the trial:
https://cvn.com/proceedings/johnson-v-marta-trial-2018-11-05
Why it made the list:
A Georgia state court jury in November handed down a $25 million verdict at trial against MARTA, the Metropolitan Atlanta Regional Transit Authority, for a 2016 fall that left a para-transit bus passenger in a permanent vegetative state.
The decision, reached after a four-day trial and less than 3 hours of deliberations, apportions 75% of responsibility to MARTA, and 25% to the rider, Jaccolah Johnson, likely reducing the award to $18.75 million. Johnson, who suffered from mobility problems before the accident, fell while exiting the MARTA "Mobility" bus in January 2016. Attorneys for Johnson and Rachel Tyler, Johnson's guardian, contended a severely angled exit step, combined with the bus driver's failure to shadow Johnson, caused the accident.
After the verdict, Fried Rogers Goldberg's Michael Goldberg, representing Johnson and Tyler, told CVN MARTA could have prevented the fall with different safety protocol. "We felt pretty strongly that the mobility bus was not designed well. This bus was for disabled people and had an interior angled step without sufficient handrails. MARTA could have avoided this tragedy if their bus drivers were required to always be out of their seats and near passengers who were exiting the bus, as stated in their written training materials," Goldberg said. "The jury saw the case the exact same way."
***
#9: Gray v. Iokovidis, et al.
$4.9 million medmal verdict over amputated leg beats $15k settlement offer
Plaintiff attorneys: Edward Ricci (pictured), Matthew Schwencke, Searcy Denney Scarola Barnhart & Shipley PA

Link to video of the trial:
https://cvn.com/proceedings/gray-v-iakovdis-et-al-trial-2018-06-25
Why it made the list:
Jurors, in Florida's 10th Circuit, in Polk County, deliberated for about four hours last year before concluding Dr. Panagiotis Iakovidis, a vascular surgeon, was negligent in treating Samuel Gray for a 2013 blood clot in his left leg. Gray, then 61, underwent a below-the-knee amputation days after being treated for the clot.
The award includes $4 million for Gray's pain and suffering and $300,000 to Gray's wife, Belva.
One of the the Grays' attorneys, Searcy Denney's Matthew Schwencke, did not request a specific total award during Tuesday's closing arguments, but instead suggested jurors award "millions" for Gray's pain and suffering.
The award far exceeded the defense's $15,000 pre-trial settlement offer, one of the Grays' attorneys, Searcy Denney's Edward Ricci, told CVN after the verdict. Ricci said his team had offered to settle the case for the insurance policy limit of $500,000, but the defense didn't respond by the 30-day deadline he set. Ricci added that, the night before trial, the defense ultimately reached out to discuss a potential high-low settlement. "I gave them a one word answer, which was 'No,'" Ricci said.
"They could have settled this case for $500,000, although we didn't feel that was anywhere near the full measure of Mr. Gray's damages," Ricci told CVN. "Given... the uncertainty of trials, [the Grays] were willing to take that, but, [the defense] never offered to pay more than $15,000.
"They forced us to try the case, which we were happy to do."
***
#10: Johns v. Suzuki Motor Corp., et al.
$12.5 million verdict awarded over motorcycles's brake defect
Plaintiff attorneys: Randy Edwards (pictured) and Paul Piland, Cochran & Edwards, John Sherrod, Sherrod & Bernard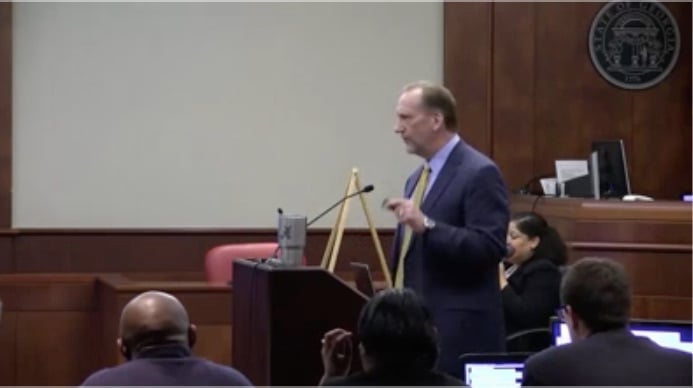 Link to video of the trial:

https://cvn.com/proceedings/johns-v-suzuki-motor-corp-et-al-trial-2018-01-29
Why it made the list:
A Georgia jury found Suzuki Motor Corp. and its American subsidiary responsible for the motorcycle crash that shattered a Georgia man's spine, handing down a $12.5 million verdict at trial against the companies.
Douglas County State Court jurors deliberated for less than five hours hours before concluding defective brakes on Adrian Johns' 2006 Suzuki GSX R-1000 motorcycle caused the wreck that broke Johns' back, left him with mobility problems, and rendered him unable to return to his postal career.
The jury's award includes $10.5 million to Johns and $2 million to his wife, Gwen Johns. However, the jury rejected a claim for potential punitives in the case and apportioned 49% of responsibility for the crash to Johns, likely reducing the post-verdict award.
Cochran & Edwards' Randy Edwards, representing the Johns family, requested just over $14 million in compensatory damages, plus a finding that punitives were warranted, during closing arguments.
Johns claims his crash was caused by a front brake defect that Suzuki knew about months before the August 2013 crash, yet the company failed to promptly warn its riders.
Suzuki ultimately recalled more than 200,000 motorcycles in October 2013, two months after Johns' wreck. The defect at the center of the recall affects GSX motorcycles made between 2004 and 2013.
***
Email David Siegel at dsiegel@cvn.com