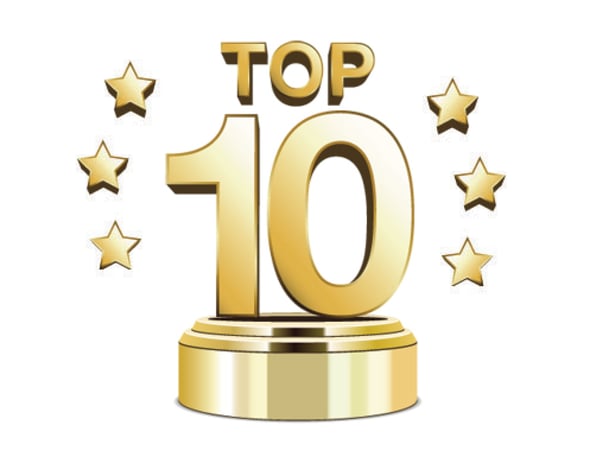 2016 was a busy year for Courtroom View Network! As the only news organization in the country exclusively focused on filming high-stakes civil trials, CVN covered everything from bellwether product liability trials to complex commercial cases, to slip-and-falls, and along the way filmed some of the nation's top trial attorneys in action.
To close out the year, here are our picks for the Top 10 most impressive plaintiff's verdicts of 2016. These aren't ranked solely by amount awarded. We also took into consideration the facts of the case, the parties and attorneys involved, and the potential broader impact of the verdict.
Remember you can get access to high-quality, gavel-to-gavel video of all of these trials and many more in CVN's one-of-a-kind trial video archive by becoming a subscriber for as low as $99/month.
Also make sure to check out our picks for Top 10 Defense Verdicts of 2016! Happy New Year!
***
#1: Giannecchini v. Johnson & Johnson - $70 million talc powder cancer verdict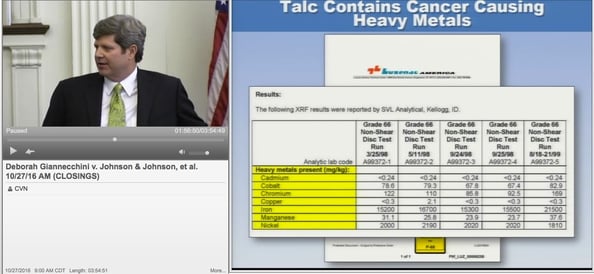 Plaintiff attorneys: Beasley Allen (Jere Beasley, Ted Meadows, David Dearing, Danielle Ward Mason, Ryan Beattie, Lauren Razick), The Smith Law Firm (R. Allen Smith Jr. - pictured) Onder Shelton O'Leary and Peterson LLC, Porter & Malouf

Link to video of the trial:
http://cvn.com/proceedings/gina-pfau-et-al-v-johnson-johnson-et-al-trial-2016-09-16
Why it made the list:
Litigation over the alleged ovarian cancer risks associated with talc powder use is exploding and could become one of the largest mass torts to sweep the country in decades. Three cases went to trial in 2016 against Johnson & Johnson and talc supplier Imery's Talc America, each with the same team of plaintiff firms.
All three ended in massive verdicts, but the $70 million awarded in October in Missouri to Deborah Giannecchini, who developed ovarian cancer after using Johnson & Johnson's baby powder for decades, tops our list for a few important reasons.
This was the first time plaintiffs managed to stick Imerys with a percentage of responsibility, after previous juries cleared them of all liability. Giannecchini's attorneys also went up against a fresh defense team, with Johnson & Johnson bringing in new representation after their first two talc trial losses. Finally the plaintiffs prevailed on an emergency motion to remand after the case was removed to federal court barely a week before jury selection without any delay in the original state court trial date. Winning any remand battle is no small feat, but doing so with opening statements just days away is some impressive under-the-gun lawyering.
The verdict gives plaintiffs a decided advantage as settlement discussions in thousands of pending cases progress, with the next talc powder trial scheduled for January 30 in St. Louis. CVN will be similarly streaming the trial live.
***
#2: Hulk Hogan v. Gawker Media - $140 million verdict bankrupts gossip site
Plaintiff attorneys: Harder Mirell & Abrams LLP (Charles Harder), Bajo Cuva Cohen Turkel PA (Kenneth Turkel, Shane Vogt).
Link to video of the trial:
http://cvn.com/proceedings/bollea-v-clem-trial-2015-07-06
Why it made the list:
When Gawker Media published excerpts of a sex tape involving professional wrestler Terry Bollea (known as Hulk Hogan) and the wife of a Florida radio DJ, their editors likely never imagined it would lead to the shuttering of the controversial gossip and tabloid news site in a case with potentially huge 1st Amendment implications for how deeply the news media delves into the private lives of celebrities.
With financial backing from Silicon Valley mogul Peter Thiel, who long resented Gawker after the site reported he was gay, Hogan brought in high-profile Hollywood attorney Charles Harder for one of the largest invasion of privacy cases in history.
In March a Florida state court jury hit Gawker and editors Nick Denton and A.J. Daulerio with a combined $140 million in damages, which forced the site into bankruptcy and raised the spectre of other media companies facing similar fates should they run afoul of powerful figures like Thiel.
The case was eventually settled while on appeal, but by that point Gawker had already entered Chapter 11 and ceased operations.
While Harder was already a well-known "attorney to the stars" this verdict cemented him as the go-to man for high-profile defamation and invasion of privacy cases. He is currently representing incoming First Lady Melania Trump in a $150 million lawsuit against a blogger.
***
#3: Carter v. Kern County School District - Attorney wears chicken suit and wins millions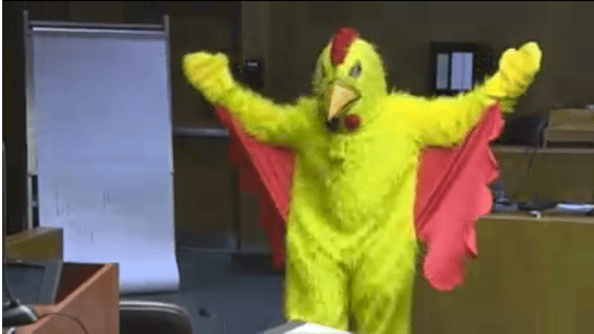 Plaintiff attorneys: Carpenter Zuckerman & Rowley LLP (Nick Rowley, pictured), The Law Firm of Joseph H. Low IV

Link to video of the trial:
http://cvn.com/proceedings/carter-v-kern-high-school-district-trial-2016-06-13
Why it made the list:

We've covered hundreds of trials here at CVN, and we thought we had seen everything.

That was until plaintiff's attorney Nick Rowley, during his closing argument in a traumatic brain injury case, began putting on a full body chicken costume complete with gloves, rubber webbed feet and a beak.
However this was no mere courtroom stunt. This was a shrewd maneuver employed by one of the most aggressive and sometimes unconventional plaintiff attorneys in the country to make jurors understand the circumstances that led to his client's injury and ultimately resulted in a liability verdict that set up a $10.5 million settlement, after an initial offer to resolve the case of only $50,000.
Rowley's client Mitch Carter was mobbed during a high school football rally after dressing up as the mascot of a rival school, using the same costume that Rowley put on in front of the jury. Rowley argued the school district was responsible for creating the unsafe conditions that caused Carter's head injury, and after the first phase of a bifurcated trial in June a California state court jury agreed.
A $10.5 million settlement, which Rowley told CVN was the school district's insurance carrier's full policy limit, was reached during testimony in the damages phase.
Rowley landed a number of other impressive verdicts that CVN filmed in 2016, but this likely "courtroom first" is the one that comes in at number 3 on our list.
***
#4: Hendrickson v. Lowe's - $16 million+ slip-and-fall verdict against national retailer
Plaintiff attorneys: Claggett & Sykes Law Firm (Sean Claggett, Samuel Harding, Matthew Granda) and Lasso Injury Law LLC (Al Lasso)
Link to video of the trial:
http://cvn.com/proceedings/hendrickson-v-lowes-home-centers-llc-trial-2016-03-28
Why it made the list:
Besides covering trials that make national headlines, here at CVN we also look out for trials in widely recurring practice areas with the potential for standout verdicts. Premises liability, and specifically slip-and-fall lawsuits are some of the most common causes of action, but this $16.4 million verdict reached last April in Nevada comes in as our Number 4 choice.
The case involved a woman who suffered head injuries after slipping on standing water in the outdoor garden section of a Lowe's, despite the presence of an orange safety cone in the area. While the jury awarded $16.4 million, they also assigned plaintiff Kelly Hendrickson 20 percent responsibility for the accident, reducing the actual amount of damages to just over $13 million.
The verdict stands out because in addition to being against a major national retailer, Lowe's also brought in one of the top defense firms in the country, Lewis Brisbois, for the 11-day trial. Despite the retailer's best efforts, Hendrickson's attorney Sean Claggett prevailed in a case that should make any retail location like Lowe's re-evaluate their safety procedures. Besides that, Claggett is known for employing so-called "reptile strategy" in his cases (getting jurors to use parts of their brains focused on safety and survival), making this video mandatory viewing for any attorney with an upcoming premises liability case going to trial.
***
#5: Ramirez v. MetLife - $15 million+ punitive verdict for Ponzi Scheme losses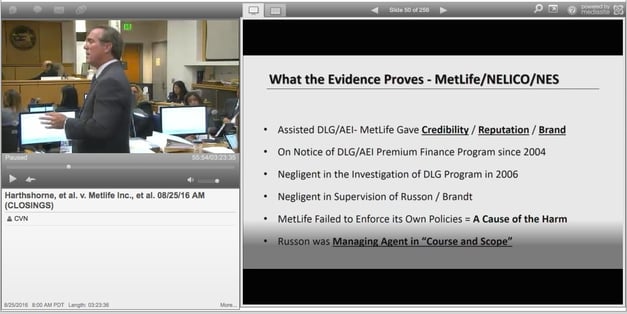 Plaintiff attorneys: Donahoo & Associates PC (Richard Donahoo, pictured), Foley Bezek Behle & Curtis LLP (Thomas Foley)

Link to video of the trial:
http://cvn.com/proceedings/harthshorne-et-al-v-metlife-inc-et-al-trial-2016-07-12
Why it made the list:

Punitive damage awards in any jury trial are rare, but a punitive award against insurance giant MetLife in a trial that ended with compensatory damages in the comparatively small amount of $230,000 is what earned this case the number 5 spot on our list.
Christine Ramirez, 75, claimed that she lost her life savings after a broker selling MetLife insurance encouraged her investment in a $200 million Ponzi scheme to finance her policies. Nearly 100 other investors who lost money made similar claims against MetLife, and Ramirez's was the first case to go before a jury.
The trial, which the New York Times said raised important questions about the extent of corporate liability for companies utilizing brokers, stretched on for weeks in a California state courtroom. In additional to allowing Ramirez to recoup her investment, the jury also slapped MetLife with $10 million in punitive damages and an additional $5 million split between two MetLife subsidiaries.
MetLife indicated at the time it would appeal, but for now the award stands as the largest verdict in a commercial case that CVN covered in 2016.
***
#6 Purdo v. R.J. Reynolds - $33.5 million is the largest "Engle" tobacco verdict of 2016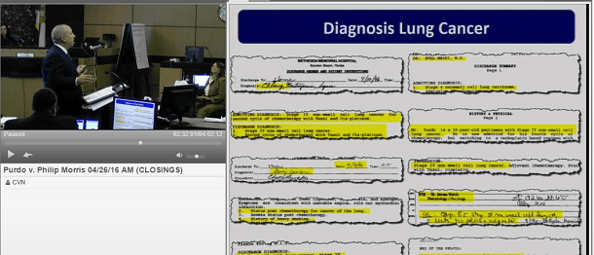 Plaintiff attorneys: The Alvarez Law Firm (Alex Alvarez), Gordon & Doner (Gary Paige)

Link to video of the trial:
http://cvn.com/proceedings/purdo-v-philip-morris-other-2016-04-08
Why it made the list:
No media outlet's coverage of the "Engle progeny" tobacco trials winding their way through Florida's courts has been as prolific as CVN's. So-called "Engle" cases are individual claims against tobacco companies filed after the Florida Supreme Court decertified a historic class action including thousands of smokers and their families, ruling that each plaintiff's claim needed individual consideration.
Since the first Engle progeny trial in 2009, CVN has recorded nearly every single case to go before a jury. This trial earned the number 6 spot on our list for being the largest Engle verdict of 2016, and for including punitive damages verdicts against both R.J. Reynolds and Philip Morris.
Plaintiff Linda Enochs sued on behalf of her late husband, Thomas Purdo. Purdo started smoking when he was about 13 and smoked up to three packs a day until he quit at age 36. Doctors diagnosed him with cancer about 15 years later. He died in 1997 at age 52.
Numerous Engle tobacco cases are set for trial in January and February of 2017 throughout Florida, and CVN plans on webcasting all of them.
***
#7: Williams v. Papa John's Pizza - $11 million award in vehicular negligence case
Plaintiff attorneys: Morgan & Morgan (Keenan Nix), The Summerville Firm (Darren Summerville)

Link to video of the trial:
http://cvn.com/proceedings/williams-v-papa-johns-pizza-trial-2016-04-18
Why it made the list:
Like slip-and-falls, vehicular negligence cases are also among some of the most common lawsuits working their way through court dockets across the country. This verdict reached by a Georgia state court in April stands out as a big win for a plaintiffs firm based mostly in Florida, Morgan & Morgan, against the third largest pizza chain in the world, Papa John's.

Glenda Williams, 51, claims she suffered permanent brain damage after a Papa John's delivery driver crossed the center line on a rain-slicked road and collided with her vehicle.
The verdict stands out because Papa John's disputed both the driver's liability for the accident and the extent of Williams' alleged injuries, which included post-concussion syndrome and brain damage that impairs her ability to concentrate. By clearing the liability hurdle and then successfully deploying medical expert witnesses to rebut defense claims, Williams' attorneys secured a substantial verdict in a routinely recurring practice area against a widely-known national brand, and that makes it our Number 7 choice.
***
#8: Quorum Management v. Frank's Pharmacy - $2.5 million verdict against compounding pharmacy
Plaintiff attorneys: Mejer Law PA (Alvaro Mejer), Cozen O'Connor (William Gericke), Aran Correa Guarch & Shapiro PA (Fernando Aran)
Link to video of the trial:
http://cvn.com/proceedings/quorum-management-v-francks-pharmacy-trial-2016-02-29
Why it made the list:
A trial that at times looked as much like a graduate level chemistry class as it did a legal proceeding comes in at Number 8 on our list.
In March a Florida state court jury awarded more than $2.5M to the owners and insurer of 21 horses fatally poisoned by a supplement during a 2009 polo championship tourney.
The horses died during the U.S. Open polo championship in Wellington, FL after receiving a supplement that contained 100 times the Selenium originally prescribed by veterinarian Dr. James Belden to compounding pharmacy Franck's Lab. The horses' owners, Quorum Management and polo players Juan Martin Nero, Guillermo Caset, and Nicolas Espain; as well as insurer Diamond State Insurance, claim the lab, pharmacist Anthony Campbell, and Belden were responsible for negligently producing the supplement and failing to discover the error before the horses were injected.
In addition to being a prime example of how to break down complex science for a jury of laypeople, the trial also touches on the emerging issue of liability for compound pharmacies making custom-order drugs, which some watchdogs have said deserve greater scrutiny from the FDA due to public safety concerns.
***
#9: Nelson v. Emory Healthcare - $15 million awarded for paralyzing fall from exam table
Plaintiff attorneys: Bell Law Firm (Lloyd Bell)

Link to video of the trial:
http://cvn.com/proceedings/nelson-v-emory-healthcare-trial-2016-04-18
Why it made the list:
This trial on damages only in a Georgia medical malpractice case comes in as our Number 9 pick mainly because of the facts of the case stemming from a situation that nearly all jurors have likely experienced - having blood drawn in a doctor's office. While many malpractice trials involve complex procedures or emergency situations that jurors might have a hard time relating to or even understanding, the near-universal memory of giving blood raised the stakes significantly in a case about a blood drawing that ended in a patient's paralysis.
Cris Nelson, now 55, passed out and fell from an Emory medical clinic exam table while having blood drawn as part of a routine wellness exam. Nelson, who was seated upright without support during the blood draw, fractured his neck, rendering him a quadriplegic. Although he can now drive and use crutches at times, he continues to need a wheelchair, suffers from ongoing muscle spasticity, and requires assistance performing basic self-care.
The hospital admitted liability for the accident, but clashed with Nelson's attorney over the appropriate amount of damages. The hospital suggested an award of $4.45 million, while Nelson sought between $22 million and $48.5 million, in a trial that showcased how heavyweight attorneys on both sides argue to a jury about the extent of a paralyzed plaintiff's disability.
***
#10 Lin v. LA County MTA - $8.35 million awarded to deceased immigrant's family
Plaintiff attorneys: Carpenter Zuckerman & Rowley LLP (Nick Rowley, Sark Ohanian)

Link to video of the trial:
http://cvn.com/proceedings/yaer-lin-et-al-v-la-county-mta-et-al-trial-2016-02-23
Why it made the list:
How much is a human life actually worth? It's a profound and some would even say insensitive question, yet it is one attorneys in wrongful death trials have to frequently ask jurors to grapple with.
This verdict, reached by a Los Angeles County jury in March, closes out our list at Number 10 and addressed how much the family of Yaer Lin, an immigrant from Vietnam, deserved after he was killed in a rear-end collision with an MTA vehicle.
The MTA admitted liability, but attorneys for the Lin family rejected their pretrial settlement offer of $5 million, which was later raised to $7 million after a jury had been seated. Lin's children were fully grown and had worked as cooks, leaving jurors to weigh that against the central role a patriarch plays in traditional Vietnamese families.
Nick Rowley, who previously made an appearance in the Number 3 spot on our list, relied on the family's traditional cultural values to beat the MTA's settlement offer by $1.35 million while walking the fine line involved in asking a jury to assign a hard dollar amount to a deceased person's life.
***
Email David Siegel at dsiegel@cvn.com