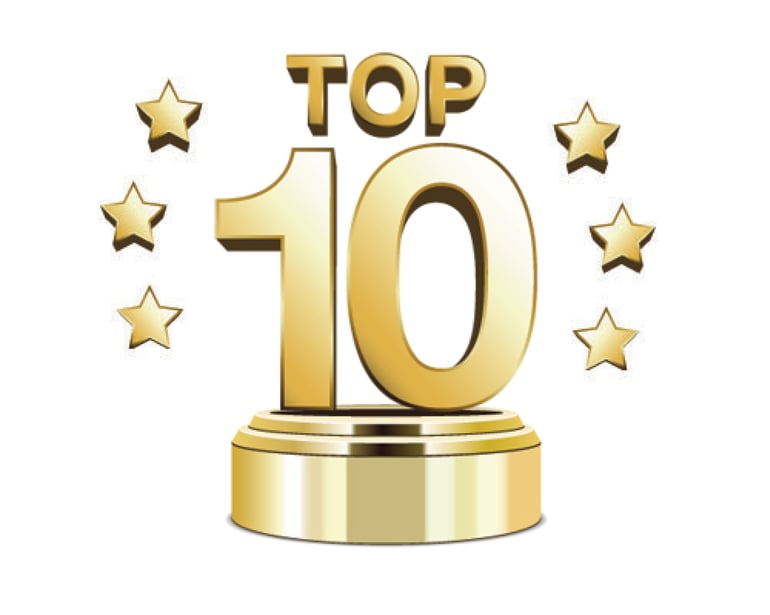 2017 was a busy year for Courtroom View Network! As the only news organization in the country focused on webcasting high-stakes civil trials, CVN covered everything from bellwether product liability trials, to medical malpractice trials, to complex commercial trials, and along the way filmed some of the nation's top trial attorneys in action, in their element, in front of a real live jury.
We also launched our exciting new "CVN Essentials" product, offering specially curated content like our popular "Trial in 20 Minutes" video summaries.
To start off the new year, here are our picks from those trials for the top 10 most impressive plaintiffs verdicts of 2017. These aren't ranked solely by amount awarded. We also took into consideration the facts of the case, the parties and attorneys involved, and the potential broader impact of the verdict.

Want to see the full trial? You can get access to high-quality, gavel-to-gavel video of a ALL of these trials and many more in CVN's one-of-a-kind trial video archive by becoming a CVN subscriber.

Also make sure to check out our picks for top 10 most impressive defense verdicts of 2017!

***

#1: Echeverria v. Johnson & Johnson

$417 million verdict in first ovarian cancer talc trial in California

Plaintiff attorneys: Allen Smith (pictured), (The Smith Law Firm) Mark Robinson, Scot Wilson, (Robinson Calcagnie) David Dearing (Beasley Allen Law Firm) Michelle Parfitt (Ashcraft & Gerel LLP)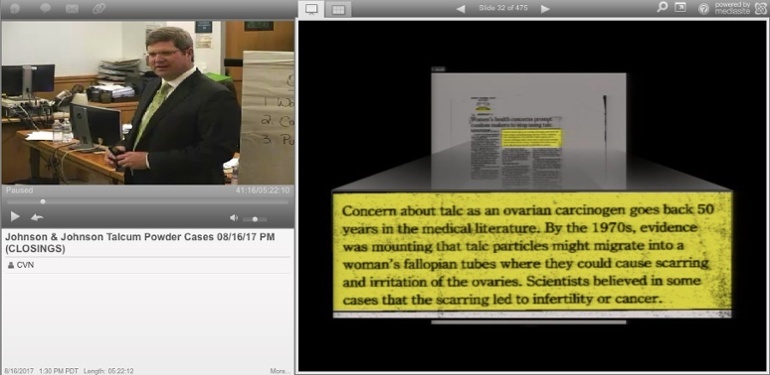 Link to video of the trial:

https://cvn.com/proceedings/johnson-johnson-talcum-powder-cases-trial-2017-07-10

Why it made the list:

By the time Eva Echeverria's case against Johnson & Johnson went to trial in July, juries in St. Louis, Missouri had already hit the company with headline-grabbing verdicts totaling more than $300 million in lawsuits alleging that talc-based products like Johnson's Baby Powder and Shower to Shower cause ovarian cancer.

The $347 million in punitive damages alone awarded to Echeverria surpassed all the previous ovarian cancer talc verdicts combined, and the total award of $417 million made it one of the largest plaintiff verdicts in the country last year.

Besides the dollar amount, the verdict showed massive awards in ovarian talc cases weren't a phenomenon specific to St. Louis. The trial also featured star defense attorney Bart Williams of Proskauer Rose LLP, who earlier that year led the team that secured J&J's only defense win in an ovarian cancer talc case in St. Louis.

Although J&J prevailed on a motion for a new trial (a decision the plaintiffs have appealed), the outcome still ranks at the top of our list of most impressive verdicts in 2017.

***

#2: Hrymoc v. Ethicon

$15 million verdict in the second pelvic mesh trial in New Jersey

Plaintiff attorneys: Adam Slater (pictured), David Mazie (Mazie Slater Katz & Freeman)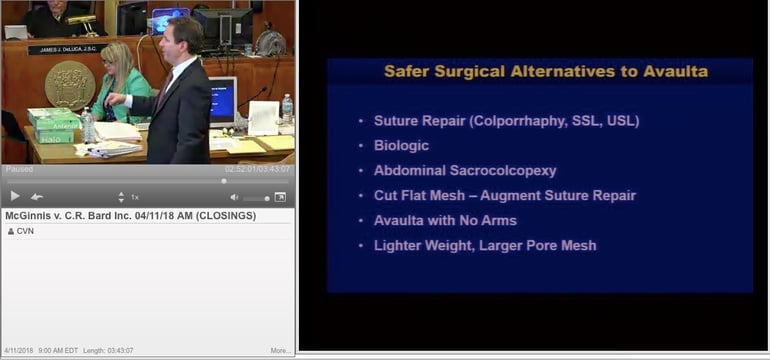 Link to video of the trial:

https://cvn.com/proceedings/hrymoc-v-ethicon-trial-2017-11-27

Why it made the list:

New Jersey, home of Ethicon's parent company Johnson & Johnson, is one of the largest hubs in the country for lawsuits involving transvaginal pelvic mesh implants. However as of last December, only one case out of thousands pending had actually gone to trial in New Jersey, and that was back in 2013.

In the current case, plaintiff Elizabeth Hrymoc claimed Ethicon's Prolift and TVT-O implants left her in constant pain and can't be fully removed despite numerous surgeries. The $15 million that jurors awarded to Hrymoc and her husband, which includes $10 million in punitive damages, demonstrated that the 2013 verdict wasn't a one-off. Notably, Mazie Slater Katz & Freeman represented plaintiffs in both trials.

Mesh manufacturers, including Ethicon, struck numerous mass settlements in recent years, but a second trial victory in Johnson & Johnson's backyard could mean that more women will opt out of those agreements and pursue trials.

Ethicon vowed to appeal the jury's decision, however a second win in a pelvic mesh case in a jurisdiction as significant as New Jersey state court makes this the second most impressive plaintiff verdict that CVN covered in 2017.

***

#3: Hilario Cruz, et al. v. Nissan North America

$25 million verdict over faulty brakes that caused wrongful manslaughter charge

Plaintiff attorneys: Brett Turnbull, Ryan Lutz, Jerome Tapley (Cory Watson Attorneys) Kirk Wolden (Carter Wolden Curtis LLP) Paul Kiesel, pictured (Kiesel Law LLP)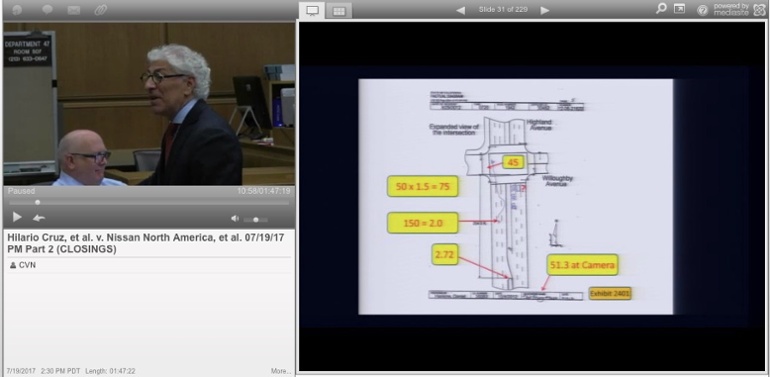 Link to video of the trial:

https://cvn.com/proceedings/araceli-mendez-et-al-v-nissan-north-america-et-al-trial-2017-06-20

Why it made the list:

When plaintiff Hilario Cruz first filed a lawsuit over the vehicular collision that took the life of his two children and their mother, he sued the driver of the Infiniti SUV that slammed into their car, 74-year-old Solomon Mathenge. Mathenge was later charged with vehicular manslaughter.

Mathenge maintained that the brakes on his vehicle failed, and after prosecutors learned that the same defect Mathenge alleged also served as the basis for a class action lawsuit against Nissan, which manufactures the Infiniti line, they dropped the charges. Cruz then sued Nissan with Mathenge as a co-plaintiff.

The litigation culminated in a month-long trial this summer in Los Angeles that featured the unusual circumstance of both sides involved in a two-vehicle collision suing an automobile manufacturer together at the same trial.

Nissan defended the case vigorously, claiming Mathenge caused the crash by hitting the gas pedal instead of the brake and bringing in a team of trial aces from the powerhouse firm Bowman & Brooke. Despite that top shelf defense effort, the jury awarded $14 million to Cruz, $7.4 million to one of his surviving daughters, and $3.5 million to Mathenge.

***

#4: Lois Slemp v. Johnson & Johnson, et al.

$110 million verdict in St. Louis ovarian cancer talc trial

Plaintiff attorneys: Allen Smith, pictured (The Smith Law Firm) Ted Meadows, Danielle Mason, David Dearing (Beasley Allen Law Firm)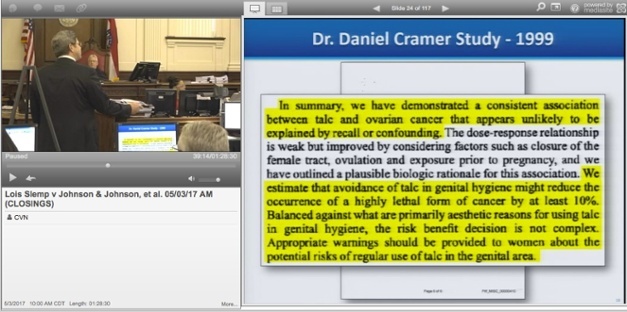 Link to video of the trial:

https://cvn.com/proceedings/valerie-swann-et-al-v-johnson-johnson-et-al-trial-2017-04-10

Why it made the list:

Before the Echeverria verdict in California, the $110 million (consisting mostly of punitive damages) awarded to 62-year-old Lois Slemp was the largest verdict to date after five previous ovarian cancer talc trials in St. Louis.

The verdict is notable because it came on the heels of J&J's first trial victory in an ovarian cancer talc trial in St. Louis, and also because a jury for the first time assigned liability to J&J's talc supplier, Imerys Talc America, albeit only one percent. Previous juries in St. Louis cleared Imerys, and the company prevailed on a pretrial summary judgment motion in the Echeverria case in California.

So far the verdict has fared better post-trial than Echeverria's. In November the trial judge upheld the verdict, finding that Slemp, a Virginia resident, could sue J&J in Missouri despite the U.S. Supreme Court's recent decision limiting the ability of plaintiffs to file lawsuits outside of the states where they live.

The trial featured the same lead attorneys as the Echeverria case, absent the local California counsel, making The Smith Law Firm and Beasley Allen Law Firm the only two firms to make two separate appearances each on our 2017 list of most impressive plaintiff verdicts.

***

#5: Trabue v. Atlanta Women's Specialists LLC

$45.8 million verdict awarded after mother suffered brain damage following a C-section

Plaintiff attorneys: William Stone (pictured), Ryals Stone, James Stone, Michael Regas (Stone Law Group Trial Lawyers LLC)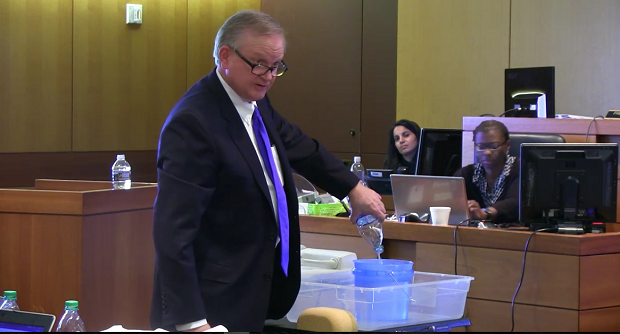 Link to video of the trial:

https://cvn.com/proceedings/trabue-v-atlanta-womens-specialists-other-2017-02-06

Why it made the list:

Plaintiff verdicts in medical malpractice cases are extremely difficult to achieve. Jurors often defer to the split second decisions made by medical professionals in crisis situations, and defense attorneys frequently and successfully argue that a patient can have an unfortunate outcome even with treatment that meets the standard of care.

To overcome that, plaintiff attorney William Stone took a decidedly hands-on and low-tech approach to explaining to an Atlanta jury medical events that he claimed caused Elizabeth Trabue to suffer a heart attack and severe brain damage after giving birth via C-section.

Stone argued that physicians failed to properly treat her fluid overload after childbirth, which caused a pulmonary edema that stopped her heart. During his opening statement, he poured bottles of water into a bucket each time Trabue's records showed that she received additional IV fluids. The water then overflowed into a larger bucket, which Stone said represented Trabue's lungs.

Stone told CVN he felt the demonstration had a "visceral" impact on the jurors, who delivered the largest medical malpractice verdict that CVN covered in 2017

"What we're talking about here in this case is not rocket science," he said.

***

#6: Wallace v. Philip Morris USA

$36 million "Engle progeny" tobacco verdict in Florida, the largest of 2017

Plaintiff attorneys: Gary Paige, pictured (Gordon & Doner PA), Randy Rosenblum (Dolan Dobrinsky Rosenblum LLP)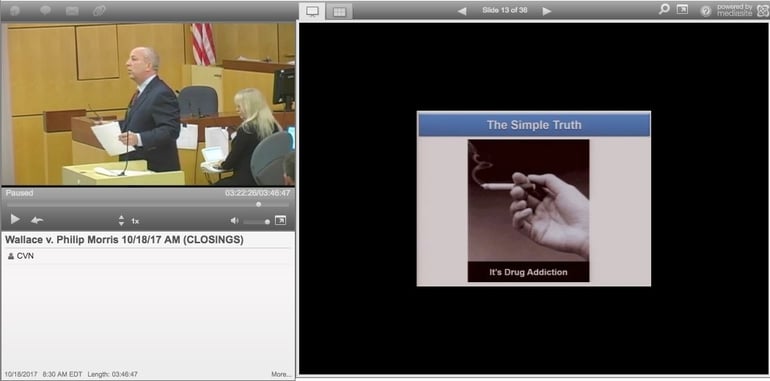 Link to video of the trial:

https://cvn.com/proceedings/wallace-v-philip-morris-trial-2017-10-02

Why it made the list:

In 2017 CVN continued our industry-leading coverage of the so-called "Engle progeny" lawsuits against the major tobacco companies that have been slowly winding their way through Florida's courts for years. We covered almost every Engle case that went to trial.

The largest verdict among those was the $36 million awarded to to the family of a smoker who died from lung cancer supposedly caused by a sweeping conspiracy to hide the dangers of cigarettes.

Besides the amount, the verdict stands out because jurors hit both defendants, Philip Morris and RJ Reynolds, with punitive damage awards of $16 million and $8 million, respectively.

The verdict marks a repeat performance for Gary Paige, who also notched the largest CVN-covered Engle award in 2016.

***

#7: Maria Gonzalez v. Kaiser Foundation Health Plan, Inc.

$492k awarded to fired medical assistant in disability discrimination lawsuit

Plaintiff attorneys: David deRubertis, pictured (deRubertis Law Firm), Aaron Olsen, Alreen Haeggquist (Zeldes Haeggquist & Eck LLP)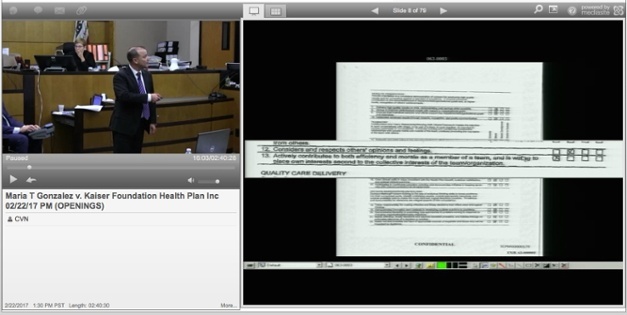 Link to video of the trial:

https://cvn.com/proceedings/maria-t-gonzalez-v-kaiser-foundation-health-plan-inc-trial-2017-02-21

Why it made the list:

At first glance an award of less than $500k may seem smaller than expected for this list, but this lengthy disability discrimination trial in San Diego featured a number of notable elements that earned it a slot amongst CVN's most impressive plaintiff verdicts of 2017.

Maria Gonzales, a former medical assistant, accused Kaiser of illegally firing her to avoid costly medical treatment for her disabled son, who was covered under her healthcare plan. The case stands out from standard disability discrimination lawsuits for being a so-called "association case" meaning the plaintiff isn't disabled. Trials in those types of cases are comparatively rare.

The trial took two weeks to complete, and the award ended up far surpassing Kaiser's highest settlement offer of $15k.

***

#8: Williams v. St. Francis Hospital

Hospital hit with $26 million verdict, agrees to pay judgment in full without an appeal

Plaintiff attorney: Lloyd Bell (Bell Law Firm)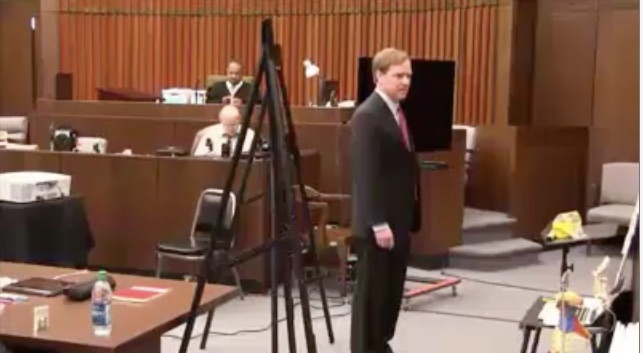 Link to video of the trial:

https://cvn.com/proceedings/williams-v-tidwell-et-al-trial

Why it made the list:

A multi-million jury verdict in a complex civil case usually portends a grueling appeals process. When the award gets as high as $26 million in a medical malpractice case, you'd almost certainly expect an insurance carrier to try to get it thrown out, or at the very least reduced.

That wasn't the case at a medical malpractice trial last November in Muscogee County, Georgia, where a hospital agreed to waive any appeal and pay out a $26 million verdict in full, provided plaintiff attorney Lloyd Bell agreed to drop a motion for attorney fees.

Jurors concluded a St. Francis Hospital staff physician failed to properly treat a woman for a post-operative neck hematoma, or blood clot, which closed off her trachea, and ultimately helped starve her brain of oxygen.
The hospital's highest settlement offer topped out at $5 million.
***
#9: Cobb v. County of Los Angeles
$10.8 million verdict more than twice county's highest settlement offer
Plaintiff attorney: Steve Vartazarian (The Vartazarian Law Firm)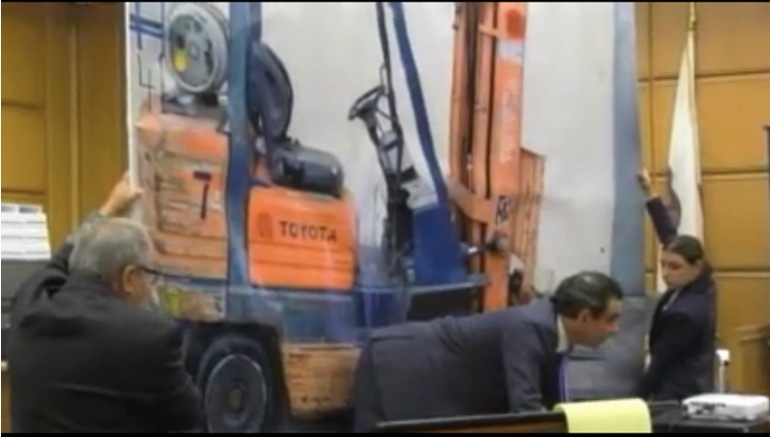 Link to video of the trial:

https://cvn.com/proceedings/james-cobb-v-county-of-los-angeles-trial-2017-07-18

Why it made the list:

James Cobb sued Los Angeles County after an employee at a county hospital ran over his legs with a forklift. Just before the trial began, the county made a $1.5 million settlement offer.

Cobb's attorney Steve Vartazarian rejected the offer, and the case went to trial. During the trial, Vartazarian brought in a near life-size photograph of the forklift that had to be held up by two assistants as Vartazarian, bent over at the waist, demonstrated how the vehicle hit his client.

The presentation was effective enough that during jury deliberations the county upped its settlement offer to $5 million. Vartazarian again rejected it, and the jury eventually awarded Cobb $10.8 million.

Afterwards, Vartazarian told CVN that the county should have accepted the $3 million settlement demand he made shortly after filing the case along with a mid-trial offer Vartazarian made to implement a "high/low" agreement that would set a floor and cap on potential damages, even if the jury agreed to award a higher or lower amount.

"They messed with the wrong trial attorney, and they got popped," Vartazarian said.
***
#10: Richards v. Total Transportation of Mississippi

$15 million awarded to woman who suffered brain injury in collision with tractor trailer

Plaintiff attorneys: Robert Cheeley, pictured (Cheeley Law Group), Billy Jones (Jones Osteen & Jones)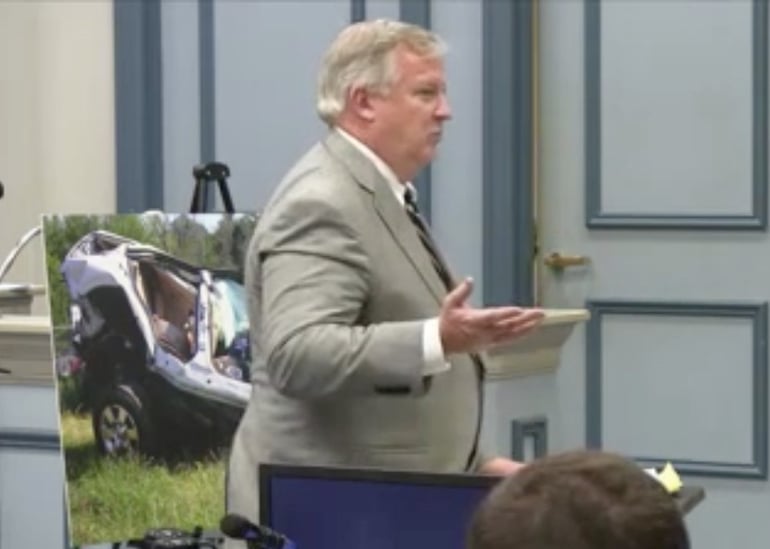 Link to video of the trial:
https://cvn.com/proceedings/richards-v-total-transportation-of-mississippi-llc-et-al-trial-2017-01-17

Why it made the list:

Last January jurors in Pembroke, Georgia awarded $15 million in compensatory damages to Megan Richards for the injuries she suffered in the 2015 trucking crash that killed five of her Georgia Southern University classmates.

Richards was injured when a tractor trailer driven at highway speed by John Wayne Johnson drove over the top of a Toyota Corolla carrying three Georgia Southern students before it struck a Ford Escape carrying Richards and three other classmates. The cars had been sitting in traffic stopped because of an earlier accident.

The verdict comes despite a high-powered defense that featured two heavyweight national firms, Weinberg Wheeler Hudgins Gunn & Dial and Hawkins Parnell Thackston & Young, which has 10 offices throughout the United States.

Notably, the jury determined the truck driver's actions showed conduct potentially warranting the imposition of punitive damages. However, Bryan County Superior Court Judge Charles Paul Rose told jurors the parties' attorneys agreed to accept the award "as-is" without a determination of punitives.

***
Email David Siegel at dsiegel@cvn.com