At the start of the year (which feels like decades ago), Courtroom View Network released our widely-read lists of CVN's Top 10 Most Impressive Plaintiff Verdicts and Top 10 Most Impressive Defense Verdicts of 2019.
While both lists highlight major trial victories for some of the country's most elite plaintiff and defense attorneys in CVN's video archive, many of the most interesting trials CVN filmed and webcast in 2019 don't fall neatly into either category because of mid-trial settlements, mistrials, or quirks in the verdict.
Here is a look at 10 high-stakes trials CVN covered last year that didn't qualify for either list, but that we still think deserve an honorable mention due to the potential for a verdict that would have made our year-end roundups.
You can get access to all of these trials, plus all the trials on our 2019 top 10 lists, plus all the trials from our last five year's worth of top 10 lists, plus hundreds more trials with a no-contract $99/month subscription to CVN's online video trial library - the only video collection of gavel-to-gavel civil trials anywhere in the world.
***
Merrimack College v. KPMG LLP
Plaintiff verdict in closely watched accounting malpractice trial that was also a defense win
Plaintiff counsel: Elizabeth Mulvey (Crowe and Mulvey LLP)
Defense counsel: Nelson Apjohn (pictured), Ian Roffman (Nutter McLennen & Fish LLP), George Salter (Hogan Lovells US LLP)

Link to video of the full trial:
https://cvn.com/proceedings/merrimack-college-v-kpmg-llp-trial-2019-10-28
Why it made the list:
This accounting malpractice trial, which took place last Fall in Suffolk County's (Boston) special business litigation court, drew close scrutiny from the accounting industry due to being among the first jury trials to address the quality of audits performed by a "Big 4" firm in a college financial aid office.
Merrimack, a private college in North Andover, sued KPMG in 2014 claiming that audits it carried out from 1998 to 2004 should have alerted school officials that the director of financial aid at the time, Christine Mordach, was fraudulently issuing student loans and falsifying records. They claimed KPMG's supposed negligence cost the school $7.4 million.
KPMG argued their audits were adequate, and that it was Merrimack's responsibility to detect and prevent fraud by its own employees.
While the jury did award Merrimack College $150,000, Massachusetts law prohibits a plaintiff from collecting damages if their share of liability exceeds that of a defendant. Jurors assigned KPMG only 15 percent liability, thus leaving them with an adverse verdict but no monetary penalty to accompany it.
***
Beyanca Martinez, et al, v. King Easley, et al
Potentially $100M suit against security company settles during jury deliberations
Plaintiff counsel: Chris Hamilton (pictured), Ray Khirallah (Hamilton Wingo LLP)
Defense counsel: Christopher White (Lewis Brisbois Bisgaard & Smith LLP)

Link to video of the full trial:
https://cvn.com/proceedings/beyanca-martinez-et-al-v-king-easley-et-al-trial-2019-09-16
Why it made the list:
A case in Dallas, Texas that could have resulted in one of the largest personal injury verdicts CVN covered in 2019 settled during jury deliberations following a weeklong trial.
The family of a motorcyclist who crashed into a turning armored truck sued security company GardaWorld over the accident.
Virgilio Garcia was riding alongside and slightly behind a Garda truck that suddenly attempted to make a left turn from the far right lane. He slammed into the side of the truck and died at the scene.
Police initially blamed Garcia for the accident, citing his excessive speed (an argument repeated by Garda at trial), but surveillance video discovered after the accident prompted his wife, Beyanca Martinez, to file a lawsuit and police to charge the truck's driver, King Easley, with negligent homicide - though a grand jury later declined to return an indictment.
Attorney Chris Hamilton, representing the plaintiffs, asked for between $80 - $100 million in damages during his closing statement.
During his closing statement on behalf of Garda, attorney Chris White conceded that the truck's driver made an illegal turn from the far right lane but argued Garcia also bore responsibility for the accident.
***
Richard Suen v. Las Vegas Sands Corp.
Potentially $347 million lawsuit over Macau gambling license settles after opening statements
Plaintiff counsel: John O'Malley (pictured) (Norton Rose Fulbright)
Defense counsel: Richard Sauber (Robbins Russel), Jim Jimmerson (Jimmerson Law Firm)

Link to video of the full trial:
https://cvn.com/proceedings/richard-suen-v-las-vegas-sands-corp-trial-2019-03-04
Why it made the list:
A Hong Kong businessman who claims Las Vegas Sands Corp. owed him $347 million for helping the company gain access to Macau's lucrative gambling market reached a confidential settlement with the casino chain last March in Nevada state court, shortly after opening statements.
Terms of the settlement were not disclosed when Clark County Circuit Court Judge Rob Bare dismissed the jury, but media reports claim the parties agreed to scuttle the trial for $96 million.
The trial would have featured testimony from LVS CEO Sheldon Adelson, however Judge Bare ruled Adelson's ongoing cancer treatments would prevent him from participating. LVS argued Suen only deserved $3.8 million for helping LVS expand into Macau, a Chinese territory near Hong Kong, in the early 2000's.
The settlement marked an end to long-running litigation that saw two previous jury verdicts thrown out by appeals courts. An initial trial in 2008 resulted in a $43.8 million verdict for Suen, and another in 2013 (also recorded by CVN and available to subscribers) ended in a $70 million award that later grew to more than $100 million with interest.
The Nevada Supreme Court threw out the most recent award, preserving a verdict in favor of Suen and his company Round Square Co. but ordering a new trial on damages, finding the previous trial only showed a "tenuous relationship" between Suen's efforts and the profits Las Vegas Sands ultimately generated in Macau.
***
Brower v. Johnson & Johnson
Hung jury after 1st cosmetic talc trial in Georgia
Plaintiff counsel: Allen Smith - pictured (The Smith Law Firm), Ted Meadows, Leigh O'Dell (Beasley Allen Law Firm)
Defense counsel: James Smith (Blank Rome LLP), Debra Pole (Sidley Austin LLP)

Link to video of the full trial:
https://cvn.com/proceedings/brower-v-johnson-johnson-trial-2019-09-09
Why it made the list:
Some venues like St. Louis, Missouri or Los Angeles, California have seen multiple cosmetic talc trials, but whenever a talc case goes to trial for the first time in a new state it's big news for the stakeholders who carefully track this litigation.
Such was the case with a lawsuit brought by the family of Diane Brower alleging that years of using Johnson & Johnson's Baby Powder caused the ovarian cancer that led to her death in 2016.
Fulton County State Court Judge Jane Morrison declared a mistrial in October following a 16-day trial, after jurors were unable to reach a verdict despite three days of deliberations.
Attorneys for Brower's family requested about $2 million in economic damages at trial, plus unspecified non-economic damages and a finding that punitive damages are warranted.
A retrial had been scheduled for late April, but was among the many civil trials canceled as courts shut down nationwide due to the ongoing coronavirus crisis.
***
Koretoff v. Johnson & Johnson
1st mid-trial settlement in a cosmetic talc/mesothelioma case
Plaintiff counsel: Jeffrey Simon (pictured), Stuart Purdy, Marissa Langhoff (Simon Greenstone Panatier PC)
Defense counsel: Mel Bailey, Peter Strotz (King & Spalding)

Link to video of the full trial:
https://cvn.com/proceedings/koretoff-v-arkema-inc-et-al-trial-2019-02-19
Why it made the list:
Since cosmetic talc cases began going to trial regularly in 2016, Johnson & Johnson adopted an aggressive trial strategy of defending claims all the way to a verdict and beyond. This netted the company a number of defense verdicts and appellate wins, but also resulted in numerous headline-grabbing plaintiff verdicts that helped balloon the nationwide caseload of talc claims.
This trial in Los Angeles last March marked the first time J&J elected to settle a talc case mid-trial. The judge announced the confidential settlement to the jury after opening statements and two days of witness testimony.
A small handful of public settlements in talc cases followed, but J&J characterized each agreement as one-off specific to that individual case and not a part of any broader settlement strategy to resolve the thousands of talc cases still pending.
Was there something about the opening statements in this particular case that prompted this first-of-its-kind settlement? Become a CVN subscriber for just $99/month or less and watch for yourself to decide.
***
Sales v. Summerlin Hospital
$63 million brain damage medical malpractice trial settles during jury deliberations
Plaintiff counsel: Sean Claggett (pictured), Jennifer Morales (Claggett & Sykes Law Firm), Carol Hay (Hay Law)
Defense counsel: Michael Prangle (Hall Prangle & Schoonveld)

Link to video of the full trial:
https://cvn.com/proceedings/elisa-sales-v-summerlin-hospital-medical-center-trial-2019-09-30
Why it made the list:
A Las Vegas hospital reached a settlement in November during jury deliberations in a potentially $63 million medical malpractice lawsuit brought by a woman alleging failure to begin emergency resuscitation quickly enough during surgery left her with permanent brain damage.
Attorneys for plaintiff Elisa Sales and Summerlin Hospital reached a confidential settlement shortly after the jury heard closing arguments on October 24 following 15 days of testimony. Sales' attorney Sean Claggett of the Claggett & Sykes Law Firm accused a team of Summerlin doctors and support staff of failing to act in a timely manner as she went into respiratory arrest during a routine outpatient pacemaker replacement.
Claggett claimed the lack of blood flow to Sales' brain left her with the mental capacity of a five-year-old, and he asked jurors to award her and her husband up to $63 million in damages during his closing argument.
Summerlin, represented by Michael Prangle of Hall Prangle & Schoonveld LLC, maintained their resuscitative efforts were consistent with the standard of care, and that Sales' supposed neurological impairment is the result of pre-existing medical conditions.
***
Puente v. Catholic Health Initiatives
Mid-trial settlement in medical malpractice trial over alleged failure to treat anemia
Plaintiff counsel: Nick Rowley (Carpenter Zuckerman & Rowley LLP)
Defense counsel: Kevin Kuhn - pictured (Wheeler Trigg O'Donnell), Connie Diekama (Finley Law Firm)

Link to video of the full trial:
https://cvn.com/proceedings/elizabeth-a-puente-v-catholic-health-initiatives-iowa-corp-et-al-trial-2019-01-07
Why it made the list:
In January of 2019 the parties in a medical malpractice lawsuit in Iowa reached a confidential settlement after opening statements and a day of witness testimony in a trial over a hospital's alleged failure to provide timely and appropriate treatment for a man's anemia, resulting in his death.
Both sides brought serious legal firepower to the courtroom, suggesting that if the case went to a verdict it could easily have landed on CVN's top plaintiff or top defense lists for the year.
The plaintiffs were represented by Nick Rowley of the California-based firm Carpenter Zuckerman & Rowley. Rowley, with his trademark vest and affable courtroom delivery, is known for his extremely aggressive trial strategy and willingness to swat away settlement offers that many plaintiff attorneys would take, resulting in him being named Trial Lawyer of the Year in 2018 by the Consumer Attorneys Association of Los Angeles.
Mercy Medical Center was represented by Kevin Kuhn, a Denver-based partner at the powerhouse defense firm Wheeler Trigg O'Donnell (which boasts 110 lawyers) with a national reputation for his defense practice.
***
Kelley v. R.J. Reynolds
"Engle" tobacco trial settles during punitive damages phase
Plaintiff counsel: James Clark - pictured (Alley Clark Greiew & Fulmer), Brent Bigger (Knopf Bigger), Eric Roslansky (The Ruth Law Team)
Defense counsel: Dennis Murphy, Kevin Riddles, Kaitlin Kline (Jones Day)

Link to video of the full trial:
https://cvn.com/proceedings/kelley-v-rj-reynolds-trial-2019-01-07
Why it made the list:
Days after Florida jurors handed down a $2 million compensatory verdict against R.J. Reynolds for its role in a Florida woman's cancer death, and shortly after punitive proceedings opened in the case last year, the tobacco giant settled with the woman's family.
The January 2019 settlement came shortly after punitive proceedings opened against Reynolds for the 1997 death of Helen Kelley, a smoker who favored the company's Pall Mall cigarettes for much of her life.
In the initial phase of the trial jurors concluded Helen Kelley died of lung cancer caused by a decades-long addiction to cigarettes and fueled by Reynolds' role in a scheme to hide the dangers of smoking for much of the 20th century. That decision awarded $2 million in compensatory damages to Kelley's husband, Dan, and found punitives potentially warranted.
***
Collar v. R.J Reynolds, Philip Morris
Death of plaintiff causes mistrial of retrial in Engle tobacco case
Plaintiff counsel: Jonathan Gdanski (Schlesinger Law Offices)
Defense counsel: Bill Geraghty - pictured) (Shook Hardy & Bacon), Dennis Murphy (Jones Day)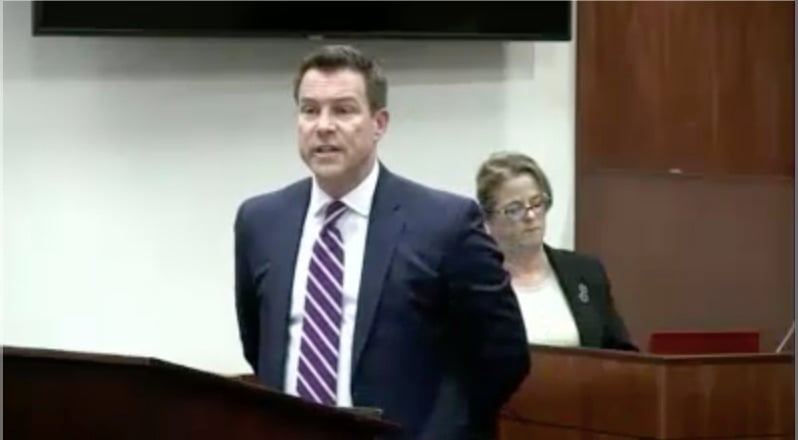 Link to video of the full trial:
https://cvn.com/proceedings/collar-v-rj-reynolds-et-al-trial-2019-04-29
Why it made the list:
A Florida state court judge last May declared a mistrial eight days into trial against the nation's two largest tobacco firms, following the death of the plaintiff in the case.
Judge Janet Croom, of Florida's 19th Judicial Circuit, granted a defense motion for mistrial about a day after the death of Fannie Collar, who had sued R.J. Reynolds and Philip Morris over the role she claimed the companies played in her cancer and respiratory disease.
In declaring the mistrial, Judge Janet Croom said she initially considered whether a personal representative could be substituted for Collar to allow the trial to move forward. "But... it's only proper where the claim is not extinguished by the death," Croom said. "Here the personal injury claim does appear to die with the plaintiff last night," Croom added, noting a personal representative, once appointed, could potentially move forward with the case on separate claims.
This was the second time the Collar case came before a jury. In a 2015 trial, jurors rejected Collar's $15 million claim against the tobacco companies. However, that verdict was ultimately reversed by the state's Fourth District Court of Appeal.
***
Faircloth v. Cantina Tallahassee
Hung jury tees up retrial that ends in $30.8 million brain injury verdict
Plaintiff counsel: Mark Avera - pictured (Avera & Smith), Donald Hinkle (Hinkle & Foran)
Defense counsel: Brian Chojnowski, Michael Carney (Kubicki Draper)

Link to video of the full trial:
https://cvn.com/proceedings/faircloth-v-cantina-tallahassee-llc-et-al-trial-2019-02-15
Why it made the list:
A Florida state court judge declared a mistrial last year in a case against two Tallahassee-area bars over the devastating brain injury a woman suffered in a late night hit-and-run, after jurors declared themselves hopelessly deadlocked.
Circuit Court Judge Kevin Carroll ordered the mistrial after jurors deliberated more than 10 hours across three days over responsibility for the November 2014 wreck that left Jaquelyn Faircloth with brain damage so severe she is unable to speak or care for herself.
Her attorneys sought more than $46 million in the initial trial, and a retrial also filmed by CVN produced a $30.8 million verdict the following August.
***
E-mail David Siegel at dsiegel@cvn.com