Courtroom View Network focuses on high-stakes civil jury trials the traditional news media normally wouldn't cover until after a verdict, if at all. Whether we're webcasting a bellwether mass tort trial or an eight-figure personal injury negligence case, the defendants in the trials CVN covers often bring in "the big guns."
Over the years CVN filmed many of the top senior trial partners and up-and-coming associates at some of the country's biggest powerhouse defense firms in action, in trial, in front of real jurors. We're kicking off our "BigLaw Spotlight" series this month to highlight some of the firms and attorneys in the CVN archive from the white shoe world.
Instead of driving to the courthouse to watch these top litigators at work, become a CVN subscriber today for unlimited on-demand gavel-to-gavel access to hundreds of trials. Subscribe to CVN and see for yourself what it looks like when a top partner at a prestigious firm delivers an opening statement or cross-examines an expert witness.
Whether you're a peer of one of these heavyweights, a newer associate, a plaintiff attorney, or corporate counsel trying to decide who to hire for your next high-exposure case, you will learn a lot by actually watching these litigators in court for less than most monthly cable television subscriptions.
To start our BigLaw Spotlight series, lets take a closer look at one of the most prolific defense firms in the country - Lewis Brisbois Bisgaard & Smith LLP.

***
Founded in 1979, Lewis Brisbois may not be as old as some of the other storied national defense firms, but the massive scope of their operation and extremely diverse range of corporate clients makes this formidable firm a "go-to" choice for companies facing trials in difficult, high-exposure cases tried by sharp-shooting plaintiff attorneys.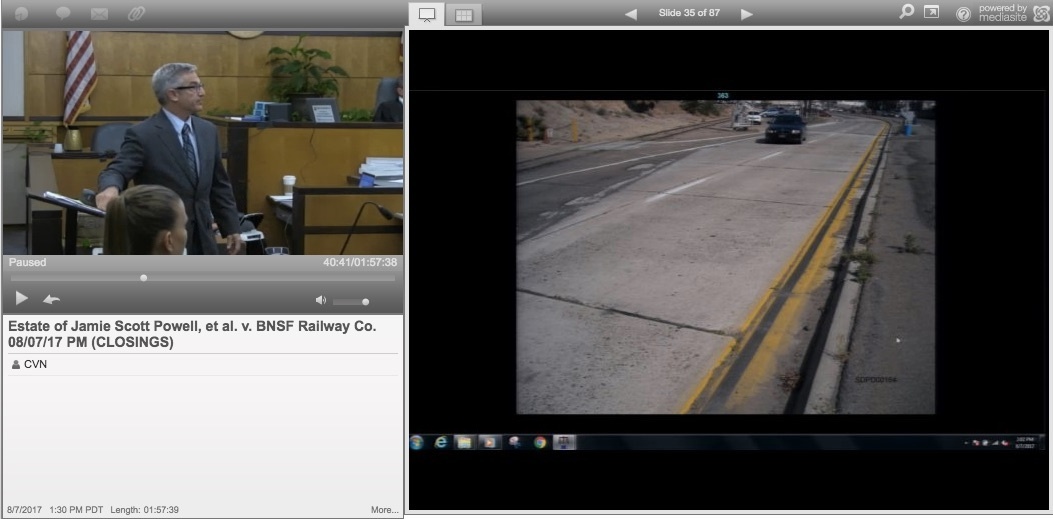 CVN screenshot of Lewis Brisbois partner Anthony Sonnett delivering a closing argument
Lewis Brisbois has its headquarters in Los Angeles, but boasts more than 1,400 attorneys in 52 cities throughout the United States. The firm clocks in at 9th largest in the United States in terms of number of attorneys. While traditionally focused on insurance defense litigation, Lewis Brisbois has since delved into a wide range of practice areas and is well-represented in CVN's trial video library.
Here's a look at some of the Lewis Brisbois attorneys in the CVN archive and the trials they were involved in…
- Watch Chris White, who serves as managing partner for the firm's Dallas office, defend a potentially $100 million case involving an armored truck that struck and killed a motorcyclist.
- Watch the chair of Lewis Brisbois' railroad practice, Anthony Sonnett, and fellow Los Angeles partner James Brooks defend BNSF Railway Co. in a $4.5 million wrongful death trial involving allegedly unsafe railroad tracks.
- Watch Scott Masterson, managing partner of the firm's Atlanta office and chair of the firm's asbestos practice and toxic tort and environmental litigation practice defend Union Carbide in an asbestos exposure lawsuit in New Jersey state court, one of the most important nationwide "hubs" for asbestos litigation.
- Watch Todd Ehrenreich, managing partner of the firm's Miami office and co-chair of the general liability practice and fellow Miami partner Noel Johnson defend a wrongful death lawsuit involving a cyclist who crashed into the back of a parked truck.
- Watch Orange County-based partner Esther Holm, who is co-chair of the firm's professional liability practice and vice-chair of the product liability practice and Las Vegas-based partner Jeffrey Olster defend retailer Lowe's in a slip-and-fall/traumatic brain injury case.
- Watch Fort Lauderdale-based partner Jeffrey Mowers defend Home Depot in a products liability lawsuit over an allegedly defective ladder.
- Watch Los Angeles-based partner and co-chair of the firm's general liability practice Dana Fox and Shawn Toliver, also a co-chair of the general liability practice, defend the Alameda Contra Costa Transit system in a personal injury trial involving one of California's top plaintiff attorneys.
- Watch Atlanta-based partners Michael Denney and Kate Cappleman team up with Baltimore-based partner Kathryn Bonorchis to defend an Atlanta jazz club in a $2 million trip-and-fall case.
***
Think your firm should be featured as part of CVN's BigLaw Spotlight series? Email CVN editor David Siegel at dsiegel@cvn.com