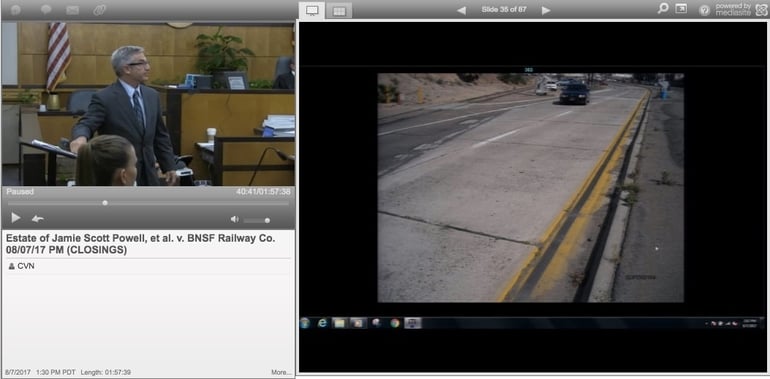 CVN screenshot of BNSF attorney Anthony Sonnett delivering his closing argument.
San Diego - A California state court jury has rejected claims from the family of a deceased U.S. Navy sailor that potholes and allegedly unsafe railroad tracks caused him to fly off his motorcycle and into oncoming traffic.
Jurors deliberated for 30 minutes following a two-week trial before determining on August 7 that the City of San Diego and BNSF Railway Co. bear no responsibility for the 2014 death of Jamie Scott Powell, who died at the age of 23.
His family sought $5.4 million in damages, but attorneys for the city and BNSF successfully argued the accident was caused by Powell driving an unsafe motorcycle at high speeds, and that the tracks met the inspection requirements of state and federal agencies.
The full trial was webcast and recorded gavel-to-gavel by Courtroom View Network.
San Diego City Attorney Mara W. Elliott praised the verdict in a statement released after the trial concluded.
"Jurors saw the truth in this case where a young man lost his life by riding at an excessive speed on a modified motorcycle," Elliot said. "It was a senseless tragedy that no city could prevent and for which taxpayers held no responsibility."
Attorneys for the Powell family told jurors that city officials had received numerous complaints about potholes around the area where Harbor Drive intersects the BNSF tracks. They described how road defects like potholes posed a specific danger to motorcyclists.
"The reality is this is a poorly-maintained road," attorney Ian Fusselman told the jury during his closing argument.
However Deputy City Attorney Joan Boardman characterized the pothole alleged to have caused Powell's accident as a "road blemish" and maintained there was no evidence proving Powell's bike actually rode over it.
In addition to speeding, Boardman said Powell's aftermarket modifications to his bike made it less stable.
Besides the potholes, Powell's legal team argued that gaps between the tracks and the road called phalanges were wider than BNSF's own safety guidelines allowed, due to the deterioration of rubber filling material.
"You have two contributing factors to the same accident," Fusselman said.
BNSF's attorney Anthony Sonnett made an argument similar to the city's, telling jurors that there was no clear evidence that Powell's bike ran over the specific section of the railroad tracks in question. This argument contradicted deposition testimony from witnesses who said they saw Powell lose control of his bike when he crossed the tracks.
Sonnett conceded the filling material within the gaps was "somewhat worn" but argued the tracks still complied with BNSF's internal safety guidelines, and that they had been inspected multiple times by state and federal agencies without being found to pose any danger.
Representatives for BNSF did not respond to requests for comment.
Rebecca Morrison, who also represented the plaintiffs, told CVN that she is disappointed in the verdict and will consider a possible appeal, though she did not specify on what grounds.
She said she suspected the fact Powell was riding a motorcycle was a "significant factor" for many jurors in reaching their conclusions.
"I continue to believe that we have an obligation to provide safer roads for the people who live here – particularly for the men and women who are stationed in our community," Morrison said. "Hopefully this case will continue that discussion."
The trial took place before Judge John Meyer, and gavel-to-gavel video of the full trial is available by becoming a CVN subscriber.
The plaintiffs are represented by Rebecca Blain Morrison of the Blain Morrison Law Corporation and by Ian Fusselman of Thorsnes Bartolotta McGuire.
The City of San Diego is represented by city attorney Jane Boardman.
BNSF is represented by Anthony Sonnett and James Brooks of Lewis Brisbois.
The case is The Estate of Jamie Scott Powell v. BNSF Railway Co., et al., case number 37-2015-00017317-CU-PO-CTL in the Superior Court of California for San Diego County.
E-mail David Siegel at dsiegel@cvn.com