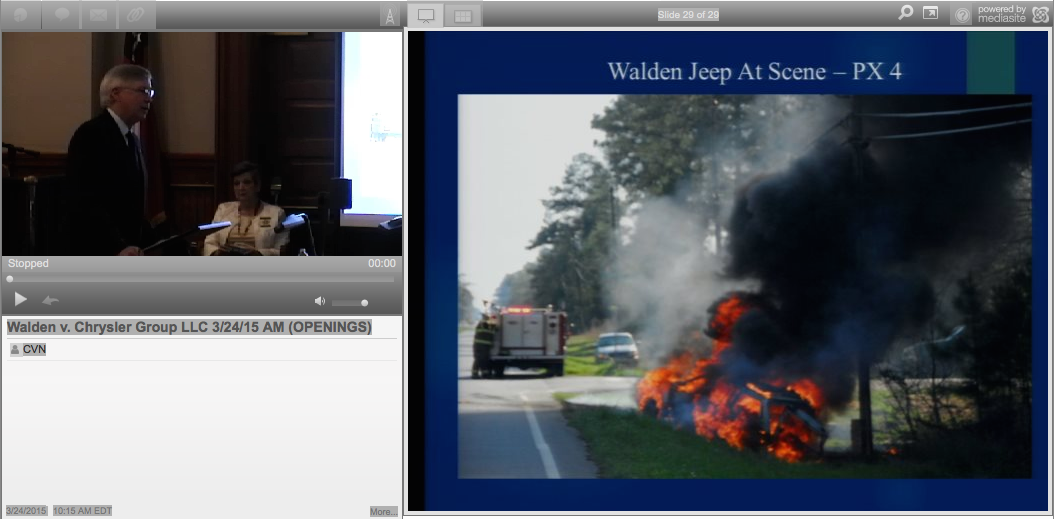 Plaintiffs' attorney Jim Butler shows jurors an image of the burning Jeep Cherokee in which Remington Walden died. Chrysler said Thursday that Butler's arguments made a jury return a verdict in excess of what Georgia law allows.

Click here

to see video from the trial.
Bainbridge—Fiat Chrysler Automobiles asked a Georgia state court judge on Thursday to throw out a $150 million verdict favoring the parents of a toddler who died after the fuel tank in the Jeep he was riding in exploded, arguing the award is excessive, and that the jury was improperly swayed by arguments that CEO Sergio Marchionne should be in prison.
Chrysler's motion for a new trial claims that the jury's verdict was the result of "passion and prejudice" after the plaintiffs' attorneys attempted to "stir up bias" against the company during a two-week trial earlier this year. The company claims attorneys for Remington Walden's parents shouldn't have been allowed to reference Marchionne's personal income or suggest that he should be incarcerated instead of the driver that rear-ended the Waldens' 1999 Jeep Grand Cherokee.
The wrongful death suit filed by James Walden and Lindsay Strickland was the first in the country to go to trial over allegations that rear-mounted fuel tanks in older Jeep models could explode after a collision, and that Chrysler withheld knowledge of the risks from consumers even after it adopted a safer fuel tank design in later models. The trial before Judge Kevin Chason was recorded gavel-to-gavel by Courtroom View Network.
"Georgia law vests trial courts with the power to order a new trial when a jury awards excessive damages or was swayed by passion and prejudice," a brief in support of Chrysler's motion states. "The astonishing size of the awards in this case, standing alone, requires that this court grant a new trial." (Click here for a copy of Chrysler's brief.)
The Decatur County jury decided in April that Chrysler acted with a "reckless or wanton disregard for human life" and failed to adequately warn of the potential hazards associated with the 1999 Jeep Grand Cherokee's rear-mounted fuel tank. It awarded $120 million for the death of four-year-old Remington and $30 million for his pain and suffering in the fire that killed him, according to a Courtroom View Network webcast of the proceedings.
The automaker announced a recall of roughly 1.5 million Jeeps in 2013 following pressure from federal regulators, due to the fire risk from leaking fuel tanks in the event of a rear-end collision. The 1999 Jeep Grand Cherokee was not recalled, although the National Highway Traffic Safety Administration announced in April following the verdict that it might reopen an investigation of the vehicles.
The agency has attributed 75 deaths to fires involving Jeep fuel tanks since 1998.
Chrysler argues in its brief that Jim Butler of Butler Wooten Cheeley & Peak improperly asked the jurors to punish the company, when he urged them to act as a national automobile regulator and deter future conduct, despite the fact there was no claim for punitive damages in the case.
"The theme that the jury should act as a regulator permeated plaintiffs' entire case," the brief states. "These improper arguments led to the punitive award because they motivated the jury to award an amount in damages that went well beyond the amount necessary to compensate plaintiffs."
Butler blasted Chrysler's motion in a statement released on Friday, calling the company's arguments "nonsense." He noted the jury included four teachers, and said the verdict was a response to information about the dangers posed by the Jeep tanks, that he said the automaker tried to keep hidden from the American public by confidentially settling each of the other 44 fuel tank-related lawsuits against Chrysler to date.
"That fact alone proves Fiat-Chrysler knows the Jeeps are indefensible," said Jeb Butler, co-counsel for the Walden family. "The jurors who heard the evidence did not buy what Fiat-Chrysler was trying to sell them."
Jim Butler said the jury found in favor of the Walden family even without being permitted to see internal Chrysler E-mails concerning rear-impact Jeep fires and suggested that a second trial would expose the company to the possibility of another mega-verdict.
"One thing is certain - the last thing Fiat-Chrysler really wants is a new trial," Butler said. "It cannot win because it has no defense."
A Chrysler spokesman declined to comment beyond the arguments made in the company's court filings.
The plaintiffs are represented by Jim Butler and David Rohwedder of Butler Wooten Cheeley & Peak, James Butler of Butler Tobin LLC, George Floyd of Floyd & Kendrick LLC and attorney L. Catharine Cox.
The defendants are represented by Terry Brantley, Alicia Timm and Anandhi Rajan of Swift Currie McGhee & Hiers LLP, Brian Bell, Anthony Monaco and Andrew Albright of Swanson Martin & Bell LLP, Brian Westenberg and Sheila Jeffrey of Miller Canfield Paddock and Stone PLC, Erika Jones of Mayer Brown LLP and by attorney Bruce W. Kirbo.
The case is James Bryan Walden and Lindsay Newcombe Strickland, on behalf of Remington Cole Walden v. Chrysler Group LLC, case number 12-CV-472, in the Superior Court of Decatur County in the State of Georgia.
David Siegel can be reached at dsiegel@cvn.com.
Related coverage:
Chrysler Smacked With $150M Verdict In First Jeep Fuel Tank Fire Trial
Ford Settles $31M Seat Belt Design Suit, Avoiding Mistrial
Click here to check out more product liability cases in CVN's one-of-kind video archive.