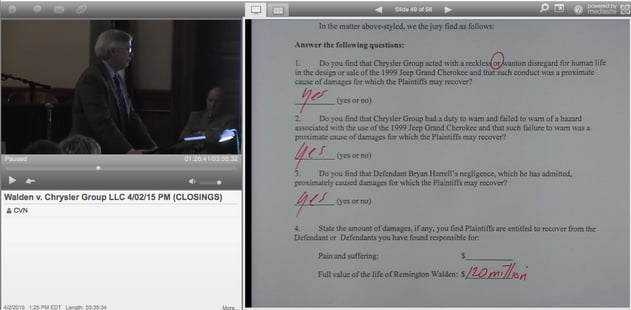 Plaintiffs' attorney Jim Butler tells jurors how to complete the verdict form during Thursday's closing arguments in the first trial over exploding Jeep fuel tanks. Click here to see video from the trial. Click here for a copy of the complaint.
Bainbridge, Ga. — A Georgia state court jury walloped Fiat Chrysler Automobiles with a $150 million verdict on Thursday in a suit brought by the parents of a child who burned to death after their Jeep Grand Cherokee was struck from behind, and the vehicle's gas tank exploded, in the first case of its kind to go to trial.
Jurors deliberated for barely two hours after closing arguments concluded following a trial that began on March 24. The verdict consists of $120 million for the death of four-year-old Remington Waldon and $30 million for his pain and suffering in the fire that killed him, according to a Courtroom View Network webcast of the proceedings.
The jury found that Fiat Chrysler acted with a "reckless or wanton disregard for human life" and failed to adequately warn of the potential hazards associated with the 1999 Jeep Grand Cherokee's rear-mounted fuel tank. It found the company 99 percent liable for Walden's death, and the driver of the car that struck the Walden's Jeep in 2012 to be one percent responsible.
During the trial attorneys for Remington's parents claimed that Fiat Chrysler knew a fuel tank mounted only 11 inches from the rear bumper of the Jeep could explode if impacted, but failed to properly alert consumers. They argued the company knew in 1998 that the fuel tank on the 1999 vehicle would be safer if placed near the center of the vehicle, a change Fiat Chrysler made in subsequent Jeep models.
Attorney Jim Butler of Butler Wooten & Fryhofer LLP, who represented Remington's parents, told CVN in a statement that he hoped the massive verdict would help raise the profile of the supposed dangers of Jeeps with rear-mounted gas tanks.
"Chrysler consciously chose to put American families at risk and gambled that juries would not figure it out," said Jeb Butler of Butler Tobin LLP, who also represented the Waldens. "Today a jury in Bainbridge, Georgia proved them wrong."
Fiat Chrysler spokesman Michael Palese told CVN in a statement that the company is disappointed by the verdict and considering an appeal. He claimed that Georgia law prevented jurors from hearing evidence regarding the National Highway Traffic Safety Administration's determination that the 1999 Jeep Grand Cherokee's fuel tank did not pose a safety risk.
The ground-shaking verdict could prompt calls for a broader recall of older model Jeeps than the one initiated by Fiat Chrysler in 2013. The automaker announced a recall of roughly 1.5 million Jeeps at the time following pressure from federal regulators, due to the fire risk from leaking fuel tanks in the event of a rear-end collision.
The 1999 Jeep Grand Cherokee at issue in the case was ultimately not part of the recall, although the NHTSA initially requested it be included along with model years 1993-1998. The agency has attributed 75 deaths to fires involving Jeep fuel tanks since 1998.
A highlight of the trial was deposition testimony from Fiat Chrysler chief executive officer Sergio Marchionne, which involved intense questioning from Butler about Marchionne's meeting with then U.S. Secretary of Transportation Ray LaHood in 2013. The meeting took place after Chrysler initially rejected a recall over Jeep fuel tanks. Following the meeting the company said it would add rear tow hitches to 1.5 million vehicles, a fix that the NHTSA later deemed adequate.
Marchionne stated that "any accident is possible" but forcefully argued the Jeep's fuel tank was not defective and did not pose a safety risk, a position Fiat Chrysler also took while pushing back on regulators' demands for a wide recall of the vehicles.
In addition to debating the design of the Jeep's fuel tank, both sides argued throughout the trial over the actual cause of Remington Walden's death. The Walden's attorneys relied on a Georgia medical examiner's report stating Remington died from the fire, while Fiat Chrysler's attorneys argued Remington died from a head injury before the fire reached his booster seat.
Fiat Chrysler also the claimed explosion was the result of a crash at over 50 miles per hour that exposed the fuel tank to forces well in excess of what regulators required it to withstand.
"This crash just overwhelmed the structure of this vehicle," said Brian Bell of Swanson Martin & Bell LLP during his opening statement on behalf of Fiat Chrysler, while arguing that the explosion didn't mean the Jeep was defective.
Everyone else involved in the crash suffered comparatively minor injuries. The driver of the car that struck the Walden's Jeep later plead guilty to vehicular homicide and is currently incarcerated.
The verdict could have substantial implications for Fiat Chrysler, since despite the widespread nature of the Jeep recalls, the fuel tank fire issue has not received the same national scrutiny as defective ignition switches in General Motors vehicles or exploding airbags manufactured by Takata Corp.
The next trial involving Jeep fuel tanks is scheduled for January in California, according to court records.
The trial in Georgia before Judge J. Kevin Chason was recorded and webcast gavel-to-gavel by Courtroom View Network.
The plaintiffs are represented by Jim Butler and David Rohwedder of Butler Wooten & Fryhofer LLP, James Butler of Butler Tobin LLC, George Floyd of Floyd & Kendrick LLC and attorney L. Catharine Cox.
The defendants are represented by M. Diane Owns, Terry Brantley, Alicia Timm and Anandhi Rajan of Swift Currie McGhee & Hiers LLP, Brian Bell, Anthony Monaco and Andrew Albright of Swanson Martin & Bell LLP, Brian Westenberg and Sheila Jeffrey of Miller Canfield Paddock and Stone PLC, Erika Jones of Mayer Brown LLP and by attorney Bruce W. Kirbo.
The case is James Bryan Walden and Lindsay Newcombe Strickland, on behalf of Remington Cole Walden v. Chrysler Group LLC, case number 12-CV-472, in the Superior Court of Decatur County in the State of Georgia.
David Siegel can be reached at dsiegel@cvn.com.
Previous Coverage:
First Jeep Fuel Tank Fire Lawsuit Goes To Trial
Related Coverage:
Ford Settles $31M Seat Belt Design Suit, Avoiding Mistrial
Trucking Co. Blasted With $19.25M Wrongful Death Verdict
Click here to check out more product liability cases in CVN's one-of-kind video archive.