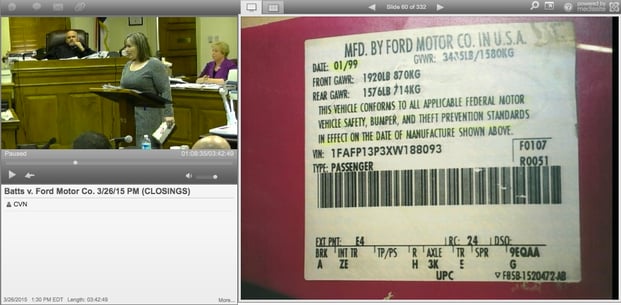 An attorney for Ford shows jurors a certification stating that the 1999 Ford Escort met all federal safety requirements during her closing argument. Click here to see video from the trial. Click here for a copy of the complaint.
Nashville, N.C. — Ford Motor Co. settled a $31 million product liability suit over the design of a seat belt on Monday in North Carolina state court, narrowly avoiding a mistrial after the jury claimed to be deadlocked following weeks of testimony about whether or not the belt caused a teenager's paralysis.
The settlement announcement follows a dramatic series of events on Friday evening, when the jury initially seemed to clear Ford of any liability in the case, which stemmed from a rear-end collision that left plaintiff Che-Val Batts paralyzed despite other unrestrained passengers in the 1999 Ford Escort he was riding in suffering comparatively minor injuries.
The jury informed the court just before midnight on Friday that it had reached a verdict a few hours after closing arguments took place. The verdict stated the two-point lap belt Batts was wearing was not defective, and that the driver of the car who rear-ended the Escort, Alejandro Rios, was solely responsible for Batts' injuries and should pay $750,000 in damages, according to a Courtroom View Network webcast of the proceedings. Batts' attorneys had asked for over $31 million in compensatory and punitive damages.
However during jury polling, it became evident the verdict was not unanimous as required under North Carolina law, and deliberations resumed on Monday morning. Shortly before lunch the jurors claimed to be deadlocked 8-4, and Judge Thomas Lock directed them to continue deliberations.
The confidential settlement was announced in court a short time later.
Plaintiffs' attorney J. Kent Emison of Missouri-based Langdon & Emison told CVN he and his clients are "extremely pleased" with the resolution to the case but declined to comment on the specifics of the settlement.
A Ford spokeswoman declined to comment on the terms of the deal beyond expressing sympathy for Batts and stating his injuries were caused by Rios' actions.
While the settlement was disclosed to the jury on Monday, it is unclear when the parties actually resolved the case. On Friday evening a Ford spokeswoman emailed CVN a statement six hours before the non-unanimous verdict was announced claiming the parties had reached a confidential settlement and waived all rights to an appeal.
The statement, which Ford later retracted, also included language indicating the jury had reached a verdict in favor of the plaintiff. Ford later said they prepare media statements for multiple outcomes in a case, and that the wrong statement had been mistakenly released. The company did not respond to follow-up questions regarding whether or not a settlement had actually been reached when the retracted statement was issued on Friday.
Batts' attorneys claimed the rear-impact collision in 2010 caused him to "jacknife" over the belt and injure his spinal chord, and that Ford should have installed an allegedly safer three-point shoulder belt in the car.
Ford's attorneys argued that lap belts were intentionally used because they are safer for small children, but Emison responded that Ford's own promotional materials suggested that if a child was too small for a shoulder belt, that they be restrained in a booster seat instead of using a lap belt. He claimed Ford knew as far back as the 1960's that two-point lap belts offer less protection than three-point shoulder belts.
Fords' attorneys told the jury those arguments were irrelevant, because the Escort met all federal safety standards at the time and was not defective. They claimed Batts was not wearing the lap belt properly at the time of the collision, and that he had slouched forward in his seat, so the belt covered his stomach instead of resting on his hips like it was designed to.
During her closing argument, Ford's attorney Sandra Giannone Ezell of Bowman and Brooke LLP kept an image displayed on a projection screen of a federal certification stating that the 1999 Ford Escort met all required safety standards. She told jurors that the federal law applied to the car "bumper to bumper" including the two-point lap belt in the rear seat. She argued that any injury from the belt wasn't due to it being defective, but because it was not worn by Batts the way its designers intended.
"We are 100 percent sorry that this happened to him and zero percent responsible," Ezell told the jury. "There is no question Che-val Batts was not seated upright with the belt on his hips at the time of this accident."
During the trial jurors heard graphic testimony regarding Batts' extensive injuries, and in one of the most emotionally charged moments of the proceedings, Rios, who does not speak English, broke down in tears on the witness stand upon learning for the first time that the accident resulted in Batts being paralyzed.
However Ezell repeatedly stressed to the jury that sympathy for the plaintiff must not guide their deliberations and forcefully argued that the only question that mattered was whether or not Ford complied with applicable safety standards when designing the 1999 Escort.
"Everyone who came in here said Ford followed the law," Ezell told the jury.
The trial was recorded gavel-to-gavel by Courtroom View Network.
The plaintiffs are represented by J. Kent Emison of Langdon & Emison and by Hoyt Tessener and Megan West of Martin & Jones PLLC.
Ford is represented by Sandra Giannone Ezell and Nathan Colarusso of Bowman and Brooke LLP.
Rios is represented by attorney Kevin Lewis.
The case is Amos Tyndall, as Guardian Ad Litem for Che-Val Batts v. Ford Motor Co. and Alejandro Ortiz Rios, case number 11-CVS-86, in the General Court of Justice, Superior Court Division of Nash County.
David Siegel can be reached at dsiegel@cvn.com.
Previous coverage:
Paraplegic's $28M Suit Over Ford's Seat Belt Design Goes To Trial
Related:
Click here to check out more product liability cases in CVN's one-of-a-kind online video archive.