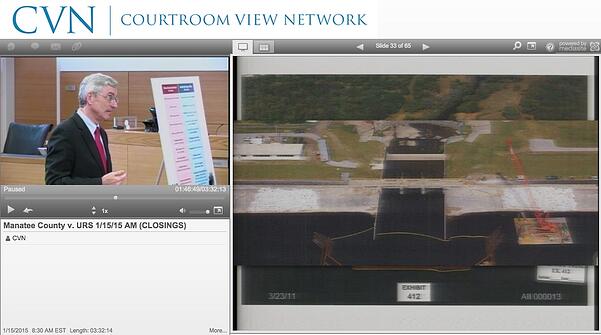 Plaintiff's attorney Robert Buesing shows jurors a photo of the cofferdam designed by URS during his closing argument on Thursday. Click here to see video from the trial. Click here for a copy of the complaint.
Bradenton - A Florida state court jury socked civil engineering giant URS Corp. with a $2.2 million verdict on Thursday in a professional malpractice suit brought by Manatee County, finding the company was negligent for designing a faulty cofferdam meant to keep the Lake Manatee Dam's spillway dry during repair work.
After deliberating for less than six hours following a nearly two-week trial, the jury found URS Corp., a subsidiary of Aecom Technical Services Inc., 65 percent responsible for the failure of the cofferdam, which let water into the repair area due to an unstable base. The jury found contractor Johnson Brothers Construction 35 percent responsible for the dam's failure, though they were not a defendant in Manatee County's suit.
Therefore URS' actual liability will be reduced to roughly $1.4 million. In 2012 URS reportedly rejected a $2.7 million settlement offer to resolve the case, and Manatee officials subsequently refused URS' counterproposal of $20,000.
Manatee County hired URS in 2009 to design the cofferdam but later accused the company of committing professional malpractice by failing to perform an adequate analysis of the sandy lake soil into which the cofferdam's base was installed. Moving soil caused sandbags meant to keep the structure secure to repeatedly shift, and due to ongoing leaks the cofferdam was eventually removed in 2011 with the underlying repair work left uncompleted.
As a result, Manatee argued it incurred over $2.6 million in expenses removing the cofferdam, that it sought to recoup after URS refused to take any responsibility for the cofferdam's failure,.
During closing arguments, Robert Buesing of Trenam Kemker Scharf Barkin Frye O'Neill & Mullis PA, representing Manatee County, told jurors the evidence showed URS failed to use properly qualified engineers to design the cofferdam's base, and that the company failed to follow their own internal quality control procedures, according to a Courtroom View Network webcast of the proceedings.
Buesing said URS relied on engineers who specialized in above ground projects, while the underwater design project required different expertise.
"We have proven that URS, in their words, screwed up this project because they used people who were not qualified," Buesing told the jury. "They may be good people. I'm sure they are, but they weren't qualified for this."
Representing URS, Wayne Mason of Sedgwick LLP told jurors the design of the cofferdam was sound, and that the actual construction carried out by Johnson Brothers caused the dam's failure, an argument Mason first raised during his opening statement.
"Where is the evidence that says we caused the sandbag failure," Mason asked. "It was Johnson Brothers' design and Johnson Brothers' lousy construction that caused it."
Mason said URS' design for the cofferdam's base was approved by both Manatee County's engineers at McKim & Creed and by Johnson Brothers' engineers at A2B Engineering. Mason accused Manatee County of being "in bed" with Johnson Brothers, after the county agreed to pay the contractor $1.7 million to remove the cofferdam and only sue URS.
However Buesing countered that point during his rebuttal, telling jurors the $1.7 million to remove the cofferdam was part of Johnson Brothers' original contract, and that the county merely requested the cofferdam be removed at an earlier date. He also repeatedly stressed that any misconduct by Johnson Brothers shouldn't let URS off the hook for a faulty initial design.
"I know they're trying to splatter responsibility everywhere. That's unfortunate," Buesing told the jury. "They screwed this up at the beginning. That's why you have a quality control process."
Attorneys for Manatee County and representatives for URS and Johnson Brothers did not immediately respond to requests for comment from CVN Thursday evening.
Manatee County is represented by Robert Buesing and Gregg Hutt of Trenam Kemker Scharf Barkin Frye O'Neill & Mullis PA and by Deputy County Attorney James Minix.
URS is represented by Wayne Mason and David Kent of Sedgwick LLP and by Timothy Woodward of Shutts & Bowen LLP.
The case is Manatee County v. URS Corporation Southern, case number 2012-CA-02451, in the Circuit Court for the 12th Judicial Circuit in Manatee County, Florida.
---