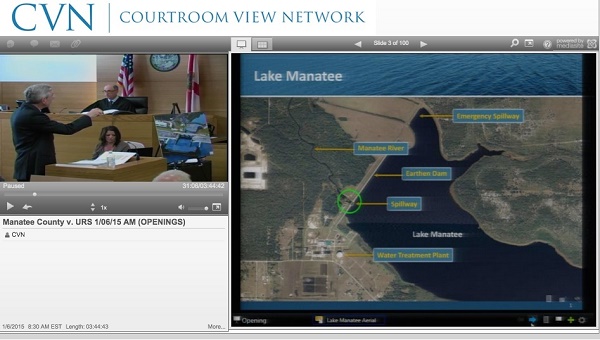 Robert Buesing delivers the opening statement for Manatee County Tuesday morning in its suit claiming URS Corp. was negligent while repairing the Lake Manatee Dam. Click here to watch opening statements.
---
Bradenton, FL.—A Florida state court jury heard opening statements Tuesday in Manatee County's $2.7 million lawsuit against URS Corp. over claims that the civil engineering giant was negligent in performing repairs on the Lake Manatee Dam.
Robert Buesing of Trenam Kemker Scharf Barkin Frye O'Neill & Mullis PA, representing Manatee County, told jurors that over the course of a two-week trial, the evidence would prove URS committed professional malpractice by negligently designing a faulty cofferdam meant to keep a portion of the larger dam dry during repair work.
"An outside professional engineering firm hired by Manatee County produced a failed design, which caused the county to spend over $2.6 million that was wasted," Buesing told the jury, according to a Courtroom View Network webcast of the proceedings.
San Francisco-based URS, a subsidiary of Aecom Technical Services Inc., was hired to perform repairs to the dam's spillway in 2009, according to the county's complaint. The repairs required the use of a cofferdam to keep the work area dry, but the county claims URS was negligent by failing to analyze the stability of the sandy soil in which the cofferdam's based was installed.
The cofferdam allowed leaks as a result of sandbags placed on the loose soil becoming displaced, Buesing told the jury, and the cofferdam eventually was removed entirely in 2011 with the underlying repair work left uncompleted. Despite a provision of URS' work assignment saying the county is indemnified from any costs arising from negligence or professional malpractice related to the repairs, Buesing said URS has refused to take any responsibility for the cofferdam's failure or eventual removal.
In 2012 URS reportedly rejected a $2.7 million settlement offer to resolve the case, and Manatee officials subsequently refused URS' counterproposal of $20,000.
"Part of being an engineer is taking responsibility for your mistakes," Buesing told the jury
Wayne Mason of Sedgwick LLP, representing URS, told the jury during his opening statement that the blame lay with Manatee County and Johnson Brothers Construction, the contractor for the dam repair project. Mason claimed that while URS was responsible for the engineering of the cofferdam, Johnson Brothers was responsible for the actual construction using a different design.
"The URS design was never built," Mason said, arguing that the county should instead have sued the contractor. "What was built was the poorly-planned, draw-it-up-as-you-go work of Johnson Brothers."
Mason said the county and Johnson Brothers were responsible for the decision to remove the cofferdam rather than repair it, despite URS' position that it didn't pose any risk to public safety. He suggested a payout from a large corporation like URS could be motivation for the county's suit and not any actual negligence.
"The evidence will be that somehow somebody at Manatee County has persuaded themselves or been persuaded to try and use this lawsuit to turn mistakes and misjudgments into money," Mason said.
Both parties are expected to rely on extensive expert witness testimony during the trial, and while asking jurors not to seek out any outside information about the case, Judge Peter Dubensky acknowledged the challenges of considering such complex technical arguments.
"I know as I've listened to some of this case I've been confused," Judge Dubensky said in an attempt to sympathize with jurors intimidated by the subject matter. "Everything will be explained to you."
Attorneys for Manatee County and representatives for URS and Aecom did not respond to a request for comment from CVN.
Manatee County is represented by Robert Buesing and Gregg Hutt of Trenam Kemker Scharf Barkin Frye O'Neill & Mullis PA and by Deputy County Attorney James Minix.
URS is represented by Wayne Mason and David Kent of Sedgwick LLP and by Timothy Woodward of Shutts & Bowen LLP.
The case is Manatee County v. URS Corporation Southern, case number 2012-CA-02451, in the Circuit Court for the 12th Judicial Circuit in Manatee County, Florida.
---