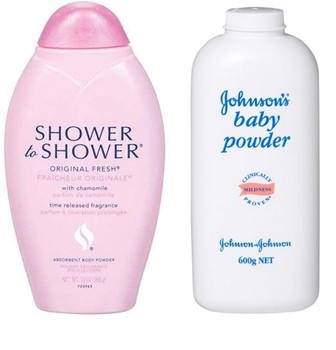 Stock image of Shower to Shower and Johnson's Baby Powder
Darlington - A lawsuit linking Johnson & Johnson's popular talc-based hygiene products and a deadly form of cancer associated with asbestos exposure heads to trial on May 14 in South Carolina state court, and the full proceedings will be webcast gavel-to-gavel by Courtroom View Network.
The trial comes weeks after a New Jersey jury awarded the first plaintiff verdict in such a case, ordering J&J and their talc supplier Imerys to pay $117 million, including $80 million in punitive damages, to a man who claimed he developed mesothelioma by inhaling asbestos fibers supposedly present in Johnson's Baby Powder and Shower to Shower.
Plaintiff Bertila Boyd-Bostic's case in South Carolina will be the fourth such lawsuit to go to trial. An initial trial last year in California state court ended in a defense verdict, followed by the trial in New Jersey. A third J&J talc mesothelioma trial is currently underway in Los Angeles County.
For the first time in a talc mesothelioma trial, defendants J&J and Imerys will be joined by Rite Aid, the third largest drugstore chain in the United States, where Bostic-Boyd claims she purchased the Baby Powder she inhaled.
All previous trials involving J&J's talc products, including a number of trials involving plaintiffs who developed ovarian cancer after applying it to their genitals, involved either J&J alone or J&J and Imerys.
While J&J faces thousands of lawsuits throughout the country filed by ovarian cancer plaintiffs, only a few dozen mesothelioma cases are currently pending. However that could change if plaintiffs notch additional headline-grabbing verdicts, and could result in a wave of lawsuits given the widespread use of products like Baby Powder.
Like plaintiffs in previous trials, Bostic-Boyd claims the defendants knowingly withheld information about asbestos supposedly present in talc powder in order to protect the sales of popular consumer brands. Talc is a mineral mined from the ground that can occur in close proximity to asbestos deposits.
Bostic-Boyd passed away in October 2017, and the lawsuit is now being pursued by her husband Antoine.
J&J and Imerys maintain that no reliable scientific evidence exists linking mesothelioma with talc exposure, arguing that even miners exposed to the mineral on a daily basis don't show any greater chance of developing mesothelioma. They also argue their talc products do not contain asbestos fibers.
In previous trials the companies pointed to other potential sources of asbestos exposure as causing mesothelioma, a tactic likely to be repeated in this case. Bostic-Boyd initially sued a large number of defendants, claiming that in addition to Baby Powder she was also exposed to asbestos as a bystander at a tractor mechanic shop. (Click here to read a copy of the complaint)
Boyd-Bostic and her husband are represented by W. Christopher Swett of Motley Rice LLC, a national plaintiffs firm based in South Carolina. This will be the first J&J talc powder trial involving Motley Rice. Swett is joined by Nathan D. Finch out of the firm's Washington, DC office.
J&J and Rite Aid are represented by attorneys from four law firms, including Sandra Ko and Sarah Johnston out of Barnes & Thornburg LLP's Los Angeles Office, Eric Cook and Bruce Bishop out of Wilcox Savage's Virginia office, and Michael Brown out of Nelson Mullins Riley & Scarborough LLP's Baltimore office. They are backed up by local South Carolina counsel Louis Herns, Christina Lore Perrin and Ryan Conner with Milligan Herns LLC.
Imerys is represented by Moffatt McDonald, David Connor and Scott Frick of Haynsworth Sinkler Boyd PA, a local South Carolina firm.
The trial is taking place before retired Chief Justice of the Supreme Court of South Carolina, Jean Toal, who currently presides over the state's consolidated asbestos docket.
Gavel-to-gavel video of the full trial will be available to CVN subscribers, in addition to numerous other talc, asbestos, product liability and mass tort trials from throughout the United States.
The case is captioned Antoine Bostic, individually and as Personal Representative of the Estate of Bertila Delora Boyd-Bostic v. 3M Company, et al., case number 17-CP-16-0400, in the Court of Common Pleas for the County of Darlington.
Email David Siegel at dsiegel@cvn.com