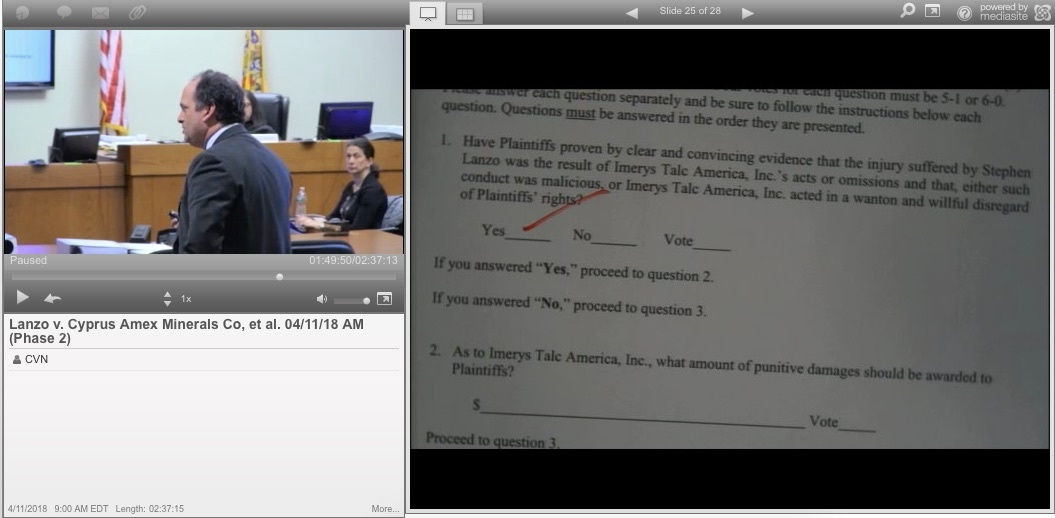 CVN screenshot of plaintiff attorney Moshe Maimon delivering his closing argument in the punitive damages phase of the trial
New Brunswick - Jurors in a New Jersey state courtroom just miles away from Johnson & Johnson's US headquarters slammed the company and their talc supplier Imerys with an $80 million punitive damages verdict on Wednesday, in a lawsuit over the alleged presence of asbestos in talc-based products like Baby Powder and Shower to Shower.
The Middlesex County jury's award comes in addition to $37 million in compensatory damages awarded last week, and marks just the second time J&J has faced a trial over claims that its talc-based products caused mesothelioma, a lethal form of cancer frequently linked to asbestos inhalation.
Jurors found J&J liable for $55 million in punitive damages and Imerys liable for $25 million, bringing the total award in the case to $117 million, an amount likely to draw increased attention to a possible link between mesothelioma and J&J's talc products, after a series of trials in 2016 and 2017 involving an alleged link between ovarian cancer and talc exposure created national headlines.
Both J&J and Imerys stated they plan to appeal.
The full trial, which began in late January, was recorded and webcast gavel-to-gavel by Courtroom View Network.
J&J faces over 6000 lawsuits nationwide related to its talc products, but most of those cases involve ovarian cancer. Currently only a few dozen involve mesothelioma claims. However a $100m+ verdict in a mesothelioma case, delivered in a jurisdiction where J&J is one of the largest private employers, could expose the company to a wave of similar lawsuits.
A California jury cleared J&J in the only other talc mesothelioma lawsuit to go to trial, and a third trial is scheduled for next month in South Carolina state court.
Moshe Maimon of Levy Konigsberg LLP, who represents plaintiff Stephen Lanzo, 46, told CVN that internal J&J documents ultimately convinced the jury that they knew there was asbestos present in their talc products.
"The jury was able to see documents that had been secret and confidential until they were admitted into evidence," Maimon said, noting that one of J&J's key expert witnesses admitted in his testimony that asbestos had been documented in Johnson's Baby Powder.
J&J spokesperson Carol Goodrich told CVN the company would appeal the verdict, and that the panel's decision will likely be reversed since the jury was prevented from seeing key evidence, which resulted in the defense filing numerous unsuccessful motions for a mistrial. She also cited recent appeals court decisions overturning plaintiff verdicts in ovarian cancer talc trials.
"After suffering multiple losses through court rulings and at trial, plaintiff's attorneys have shifted their strategy and are now alleging that talcum powder is contaminated with asbestos, despite multiple independent, non-litigation-driven scientific evaluations which have found that our baby powder does not contain asbestos," Goodrich said.
A spokesman for Imery's reiterated the company's statement following the compensatory damages award, indicating that they would also file an appeal.
Maimon said he expects an appeal, but that he thinks it will be unsuccessful like the defense's multiple motions for a mistrial.
"Over the course of the three month trial we overcame every obstacle thrown at us, from constant motions and motions for re argument, to protracted examinations and cross-examinations of witnesses, to make sure that a just verdict consistent with New Jersey law was achieved," he said.
Lanzo and his wife Kendra were represented by Joe Satterly of Kazan McClain Satterley and Greenwood, LLP.
J&J was represented by Kirkland & Ellis LLP, and Imerys was represented by Alston & Bird LLP and Rawle & Henderson LLP.
Judge Ana Viscomi, who oversees New Jersey's consolidated asbestos docket, presided over the trial.
In addition to streaming the upcoming punitive phase, CVN recorded the full trial from the start of opening statements, in addition to numerous other talc trials in California, Missouri and Florida. Video of all of these trials and many more is available to CVN subscribers, by signing up for access to CVN's one-of-a-kind online trial video archive.
The case is captioned Lanzo v. Cyprus Amex Minerals Co., Docket No. L00738516
Email David Siegel at dsiegel@cvn.com