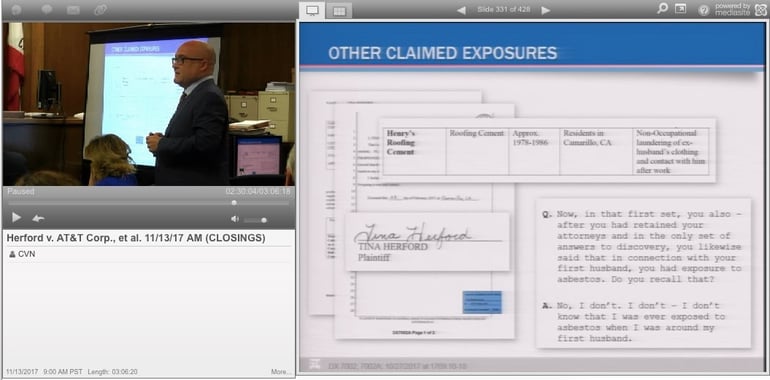 CVN screenshot of J&J attorney Morton Dubin delivering his closing argument
Pasadena - A California state court jury handed a major win to Johnson & Johnson Thursday, determining that the company is not responsible for a woman's cancer that she claims she developed from inhaling asbestos fibers in popular talc-based hygiene products.
The lawsuit filed by plaintiff Tina Herford and her husband Doug Herford was the first in the nation to go to trial over allegations that J&J's talc products caused mesothelioma, a generally fatal cancer affecting the lining of the lungs that is frequently associated with asbestos exposure.
The verdict, reached after jurors heard 17 days of argument and testimony, represents a substantial victory for J&J and co-defendant Imerys Talc America, their talc supplier. The Herfords' attorney, Chris Panatier of Simon Greenstone Panatier Bartlett PC, had asked the jury to award the couple $24 million, arguing that J&J and Imerys knew for years that their talc products contained asbestos but withheld that knowledge from consumers.
J&J and Imerys maintained throughout the trial that the products Tina Herford used like Johnson's Baby Powder and Shower to Shower never contained asbestos, and that her mesothelioma was caused by radiation treatments she received for breast cancer during the 1990's.
The trial was webcast live and recorded gavel-to-gavel by Courtroom View Network.
Over the last two years numerous juries in Missouri and California hit J&J with massive verdicts over claims that women developed ovarian cancer as a result of using talc-based powders on their genitals. The Herfords' trial was the first time a jury weighed in on the alleged presence of asbestos in J&J's products inhaled by a plaintiff.
The headline-grabbing ovarian cancer verdicts, including a $417 million verdict awarded by a California jury this summer that a judge later threw out, spurred thousands of women throughout the country to file similar lawsuits. A large award in this initial case would have likely caused a wave of similar claims from a new and potentially widespread group of plaintiffs.
While additional asbestos-related talc trials involving J&J are pending, including one set to begin in early 2018 in New Jersey state court, this initial defense verdict nonetheless represents a key development in what could potentially be an entirely new front in talc-related litigation involving J&J and Imerys.
J&J spokesperson Carol Goodrich told CVN that the claim J&J's talc products caused mesothelioma is a "baseless theory" that plaintiff attorneys have adopted after the reversals of ovarian cancer verdicts in Missouri and California and a New Jersey judge's decision to throw out similar claims on summary judgment.
"Johnson's Baby Powder has been around since 1894 and it does not contain asbestos or cause mesothelioma or ovarian cancer," Goodrich said. "We will continue to defend the safety of Johnson's Baby Powder in future trials."
Imerys spokesperson Gwen Myers told CVN that the company commends the jury for following the science that she said establishes the safety of the talc the company supplied to J&J.
"Imerys sympathizes with anyone suffering from cancer, but there is no evidence that talc caused Ms. Herford's cancer," Myers said. "The jury's decision is consistent with a recently published study of workers who mined and milled talc all day over the course of more than 50 years that did not find a single case of mesothelioma. Imerys follows all FDA and other regulatory guidelines and utilizes rigorous testing to ensure that our talc meets the highest quality standards."
During his closing argument on behalf of the plaintiffs, Chris Panatier set up a number of miniature red flags in the courtroom (a tactic that worked for him successfully in the past) to represent the warning signs he claimed J&J and Imerys ignored that their talc contained asbestos.
"Before you walked in here, I don't think any of us had any inclination there was asbestos in J&J's products, and there is," Pantier told the jury. "It's in the mines, and it's in the finished product."
Panatier told jurors that J&J and Imerys successfully lobbied the U.S. Food and Drug Administration to approve testing methods that weren't sensitive enough to detect the asbestos present in talc.
"That's been the game all along. This was the goal, to create a test that would get them a 'non-detect,'" Panatier said.
He did not immediately respond to a request for comment from CVN.
Without using actual flags, J&J attorney Morton Dubin of Orrick Herrington & Sutcliffe LLP's New York office used the same metaphor, describing the "red flags" in the plaintiffs case, including supposed inconsistent statements regarding how long Tina Herford used talc powder products. He presented a form Herford provided to a doctor stating she only used talc products for six to eight years during her childhood, but she later testified that she used talc powders on a daily basis for 35 years.
He also relied on expert testimony offered on J&J's behalf from an oncologist who stated that the radiation treatments Herford received to treat her breast cancer could have been the primary cause for the mesothelioma that later developed in the same part of her chest.
Attorneys for both J&J and Imerys told jurors that there was no indication that talc miners ever developed mesothelioma from inhaling the mineral, and that no epidemiological study ever showed a clear link between talc exposure and mesothelioma.
Given the stakes involved in this initial trial, an army of attorneys from across the country descended on Judge C. Edward Simpson's Los Angeles County courtroom. Chris Panatier is based out of Texas, and in addition to outside counsel from Orrick's NYC office, J&J was also represented by Sharla Frost out of Tucker Ellis LLP's Houston office, along with local California counsel Alexander Calfo of King & Spalding.
Imerys relied entirely on local counsel, represented by Todd Benoff and Peter Masaitis out of Alston & Bird's Los Angeles office.
The full trial is available online for CVN subscribers, along with numerous talc and asbestos trials that are also available for on-demand viewing as part of CVN's one-of-a-kind online trial archive.
The case is Tina Herford et al. v. Johnson & Johnson et al., case number BC646315, consolidated in LAOSD Asbestos Cases, case number JCCP4674, in the Superior Court of the State of California, County of Los Angeles.
Email David Siegel at dsiegel@cvn.com