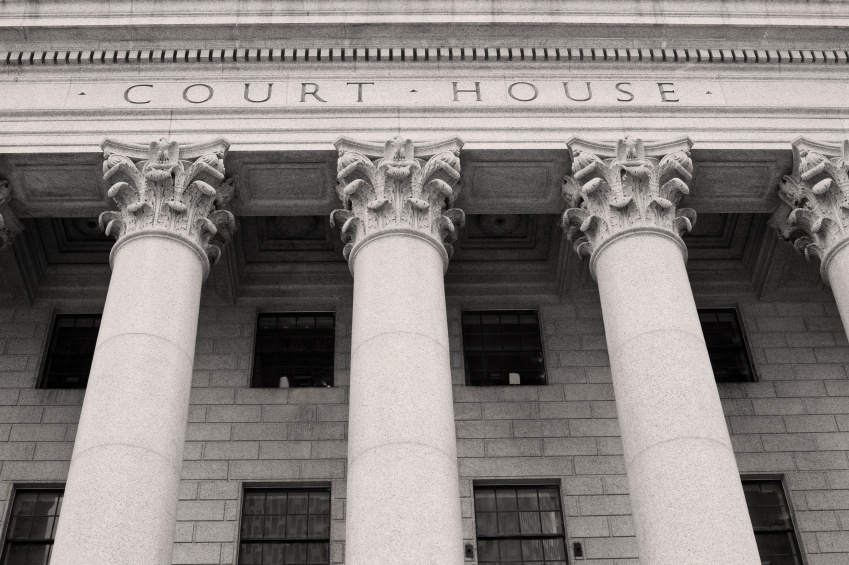 Courtroom View Network crews are on hand to provide gavel-to-gavel coverage of three significant commercial trials going on at the same time in Fulton County Superior Court.
---
Atlanta, GA—It's not unusual for three important trials to take place at the same time in the Fulton County Courthouse. What is unusual and historic this week is that Courtroom View Network crews are on hand to provide gavel-to-gavel coverage as three different Superior Court Judges preside over three significant commercial civil trials.
In Courtroom 5B, Judge Robert McBurney is presiding over the case of Dina Andrews v. Percy Bady (2014CV230964). Percy Bady is a nationally known singer, composer, arranger, and producer who has worked with Whitney Houston, Dionne Warwick, Michelle Williams, Kirk Franklin, and BeBe and CeCe Winans among others. Among his credits are the keyboard and choral arrangements for R. Kelley's hit song, "I Believe I Can Fly."
Dina Andrews is also a music industry veteran, having provided consulting and management services to numerous recording artists for over 30 years. Her clients have included Pebbles, Babyface, and Jimmy Jam and Terry Lewis. Andrews was Bady's longtime manager and contends she is entitled to a share of his royalties for many works, which Bady has refused to pay.
Down the hall in Courtroom 5E, Judge Craig Schwall is presiding over a claim for unpaid attorney fees, Chamberlain, Hrdlicka, White, Williams & Aughtry v. Elie Karam et al. (2014CV242261). The prominent multistate law firm of Chamberlain, Hrdlicka represented the owners of a popular discount clothing store, D&K Suit City, in a condemnation dispute with the Georgia Department of Transportation.
When the DOT widened Memorial Drive recently, D&K Suit City lost the longstanding location on Memorial Drive where the chain's original store had operated for 20 years. The store relocated across the street into a strip mall. The new location was not nearly as profitable as was the old store, which the owners attributed to the relocated store's being less noticeable and less accessible for homeward bound traffic. However, the DOT did not initially compensate the store owners for the diminished value of their business. Chamberlain, Hrdlicka contends that they secured a multimillion dollar settlement for the owners in the dispute and are owed for their legal services in the matter.
Three floors up, in Courtroom 8D, Judge Shawn LaGrua is presiding over another case involving allegedly unpaid fees, Nebo Ventures, LLC v. NovaPro Risk Solutions, LP (2011CV202767). NovaPro entered into two contracts with the City of Atlanta in 2004 and 2009 to provide various third party administrative services, including workers compensation claims administration. In 2011, NovaPro sold its assets to a successor company, Carl Warren & Company, which assumed the City of Atlanta contract, and NovaPro ceased doing business.
In 2003, Nebo entered into an agreement with NovaPro's predecessor to help the company sell its services to potential customers, including the City of Atlanta, and, under the terms of their agreement, Nebo was entitled to a portion of the fees paid NovaPro by the City. Nebo contends that NovaPro failed to pay all the fees owed it by NovaPro, and, further, that NovaPro fraudulently concealed from Nebo over $1 million in performance bonus payments made by the City to NovaPro.
These three cases mark the first time in the history of Courtroom View Network's Georgia section that its crews have covered three different trials in the same courthouse at the same time. CVN will continue to report on all three trials as they progress and provide video highlights after the trials conclude.
Steve Silver can be reached at ssilver@cvn.com.
Not a Subscriber?
Learn more about CVN's unparalleled coverage of top Georgia trials.