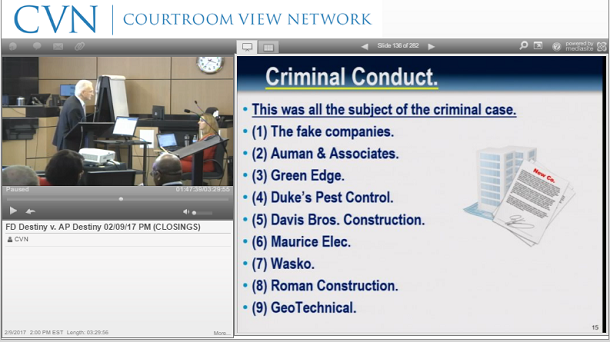 Richard Hutchison delivers his closing statement during the fraud and breach of contract trial stemming from the failed Destiny development project in Florida.
---
West Palm Beach, FL—Jurors Friday cleared Subway founder Fred DeLuca of responsibility for the alleged breach of a massive land development agreement, and they handed down a to-be-trebled $2.9 million verdict against his partners, a Florida real estate developer and his business manager, for their role in a scheme to defraud DeLuca. FD Destiny v. AVP Destiny, 2009CA029903.
The jury, in Florida's 15th Circuit, needed about 8 hours to find real estate developer Anthony Pugliese and his business manager, Joseph Reamer, liable to the estate of DeLuca, his company, and a land development firm on counts ranging from fraud to civil theft. The claims stemmed from Pugliese and Reamer's role in a conspiracy to fraudulently bill DeLuca through dummy corporations as part of the Destiny land development project on more than 25,000 acres in north central Florida.

The jury's award will be trebled under Florida law, according to Holland & Knight's Richard Hutchison, who represents the FD Destiny, DeLuca's company in the development, and DeLuca-affiliated parties. Hutchison said the treble damages, along with interest and attorney fees, will push the final award past $10 million.
Friday's verdict, which contained 47 questions, aims to resolve the web of breach and fraud claims stemming from the failed development. While jurors found DeLuca had breached his portion of the contract, they concluded Pugliese's fraud and prior breach insulated DeLuca from liability.
DeLuca, as the project's primary financial backer, teamed with Pugliese on the project in 2005, intended to become an eco-friendly, mixed-use community near Ocala. However, the partnership, and the development, fell apart amid claims that DeLuca failed to make payments as agreed, while Pugliese mismanaged the property and fraudulently billed DeLuca more than a $1 million through a series of dummy corporations and phony invoices.
Pugliese and Reamer pleaded guilty to felony fraud charges in 2015. DeLuca died that same year, leaving his estate, through his FD Destiny Corporation, to carry on its claims against Pugliese, whose breach of contract claims were filed through his AVP Destiny firm.
Friday's verdict wrapped a month-long trial in which the parties traded broadsides over who was responsible for the project's failure. AVP Destiny's attorneys argue DeLuca caused the development's collapse by breaching the contract 34 times through his refusal to pay on the project.
During Thursday's closing arguments, Edmond Lindsay & Hoffler's Tricia CK Hoffler, representing AVP Destiny, told jurors DeLuca refusal to fund the project and his various demands that were not contemplated by the operating agreement, including the mid-project demand of a budget, were designed to squeeze Pugliese out of the development so DeLuca could reap all of its profits.
She reminded jurors DeLuca initially funded the project despite its lack of a budget, and she contended his later insistence on a budget before he continued funding was merely a stalling tactic. "Fred DeLuca knew this: that if he stalled, if those workers weren't paid, and if he created the massive confusion with. . . months of failing to fund, he would bring Anthony Pugliese to his knees financially," Hoffler said. "And, that's exactly what he did."
Hoffler told jurors Pugliese set up his fraudulent billing scheme only after realizing DeLuca was trying to push him from the development and was a risk to stop funding again at any time. Hoffler noted Pugliese and Reamer had served jail time and repaid $1.2 million as part of their no contest pleas for the fraud. "Anthony Pugliese and Joe Reamer made a mistake," she said. "But, we're asking you to hold Fred DeLuca accountable for all of his manipulations, financial manipulations, delays designed to destroy this project, which he did."
AVP Destiny's attorneys did not request a specific amount in damages during Thursday's closings. However, Gary, Williams, Parenti, Watson & Gary's Willie Gary argued evidence showed the development would have been worth more than a billion dollars, and his clients should be receive an award with that in mind. "They breached and they breached and they breached. And, Fred DeLuca knew he was breaching," Gary said. "That's the way he does business. He brings you to your knees."
By contrast, FD Destiny attorneys argued DeLuca did not breach the contract but merely temporarily withheld payment when the project was running without a budget, and they claimed Pugliese bore responsibility for a percentage of the project's costs. During Thursday's closing arguments, Holland & Knight's Richard Hutchison reminded jurors a host of people involved in the development testified that Pugliese was responsible for 25% of the project's costs after initial funding. "The only two people who testified that it wasn't (a 75-25 split) were Joseph Reamer and Anthony Pugliese, [with] not one [supporting] document," Hutchison said. "So you have to believe those two, or you have to find for FD Destiny on the breach of contract [claims]."
Hutchison argued Pugliese knew he was ill-suited for such a complex development project and capped his mismanagement with fraud. Hutchison told jurors Pugliese had not managed a development bigger than 20 acres before taking on the Destiny project, and he made numerous missteps during the project, including his failure to perform due diligence that ultimately led the partnership to buy protected wetlands that could not be developed. "It had so many wetlands, it would send its [state-administered environmental development] credits somewhere and just stay preserved and be a conservation area forever. It was a sender of building credits not a receiver," Hutchison said. "They bought the wrong property."
Hutchison walked jurors through evidence of Pugliese's phony billing scheme and alleged misappropriation of funds that Hutchison said topped $2.9 million. "This wasn't a mistake. Somebody sat down, somebody drew this up, thought about [it], using imagination, used artistic creativity, came up with this whole idea of fake companies," Hutchison said. "This was an organized scheme to defraud."
Hutchison requested more than $46 million in compensatories plus unspecified punitives. However, jurors declined to award punitives in the case.
"The DeLuca family is pleased with the verdict and grateful for the jury's service," Hutchison said in a post-verdict statement to CVN.
Attorneys for AVP Destiny and its affiliated parties could not immediately be reached for comment.
Email Arlin Crisco at acrisco@cvn.com.
Related information
The AVP Destiny and Pugliese-affiliated parties are represented by Edmond, Lindsay & Hoffler's Tricia C.K. Hoffler and Gary, Williams, Parenti, Watson & Gary's Willie Gary.
The FD Destiny and the DeLuca-affiliated parties are represented by Holland & Knight's Rick Hutchison.