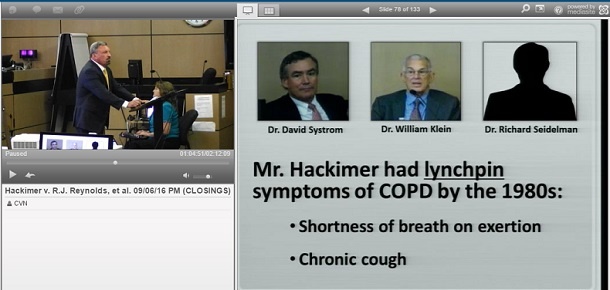 Jeffrey Furr delivers closing arguments for R.J. Reynolds at trial over the emphysema John Hackimer claims the cigarette maker caused.
---
West Palm Beach, FL—R.J. Reynolds prevailed Tuesday against a $15 million suit by a former train engineer after jurors found his claim untimely. Hackimer v. R.J. Reynolds, 2014-CA-010849.
Jurors needed less than 90 minutes to conclude John Hackimer knew or should have known before May 5, 1990 that he had emphysema that could have been caused by smoking. The finding barred recovery against R.J. Reynolds.

Doctors diagnosed Hackimer, 70, with emphysema, a type of chronic obstructive pulmonary disease, or COPD, in 1993. Hackimer, a former train engineer who smoked up to three packs of cigarettes a day for about 30 years, claims a scheme by Reynolds and other cigarette makers to hide the dangers of smoking caused his nicotine addiction and COPD.
Hackimer's attorney, The Alvarez Law Firm's Alex Alvarez, requested $15 million in compensatory damages plus a finding that punitive damages were warranted in closing arguments Tuesday.
Hackimer's case is one of thousands of similar Florida lawsuits against U.S. tobacco companies. The cases arise from a 2006 Florida Supreme Court decision decertifying Engle v. Liggett Group Inc., a class-action tobacco case originally filed in 1994. Although the state's high court ruled Engle cases must be tried individually, it found plaintiffs could rely on certain jury findings in the original verdict, including the determination that tobacco companies had placed a dangerous, addictive product on the market and had hidden the dangers of smoking. To rely on those findings, individual Engle progeny plaintiffs such as Hackimer must establish a causal link between deceptive tobacco marketing, addiction, and smoking-related disease.
A smoker's underlying disease in the so-called Engle progeny cases must also have "manifested itself" between May 5, 1990 and November 21, 1996. Smokers that knew or should have known they suffered from a disease before the May 5 date that could reasonably have been caused by smoking cannot recover on a claim for that disease under Engle.
Hackimer's attorneys argued evidence did not prove Hackimer's claim was time barred. During Tuesday's closing arguments, Freidin Brown's Philip Freidin reminded jurors Hackimer was not officially diagnosed with COPD until three years after the 1990 date, and a 1991 diagnosis for pneumonia did not mention Hackimer suffering from COPD.
Freidin also claimed Hackimer's coughing fits and shortness of breath before 1990 were isolated and confined to a camping trip or when he sprinted during ball games. "Did they prove that he had symptoms of COPD… that were not related to either his age, his weight, or being out of shape? Did they provie it?" Freidin asked. "The evidence is they did not prove it."
However, the defense challenged that argument and pointed to evidence Hackimer had a chronic cough before 1990, a cough King & Spalding's Jeffrey Furr called a "lynchpin" symptom of COPD inTuesday's closings.
Furr also noted Hackimer's treating physician concluded Hackimer had detectable COPD before 1986, or four years before the cut-off date. Based on the fact Hackimer's parents suffered from smoking-related empysema, "he had some evidence that what he was experiencing was related to his smoking," Furr said.
Tuesday's verdict marks Reynolds' thirdstraight win in CVN-covered Engle trials. In late August, jurors in Volusia County cleared Reynolds of responsibility for the lung cancer death of a former Florida Health Department worker who smoked for decades. Earlier that month, jurors in Miami found an insurance executive who suffered from heart disease after years of smoking was not addicted to nicotine, a requisite element of an Engle claim.
Email Arlin Crisco at acrisco@cvn.com.
Related information
John & Deborah Hackimer are represented by The Alvarez Law Firm's Alex Alvarez and Freidin | Brown's Philip Freidin.
R.J. Reynolds is represented by Jeffrey Furr, of King & Spalding.
Not a subscriber?
Learn how you can watch CVN's unrivaled tobacco litigation coverage.