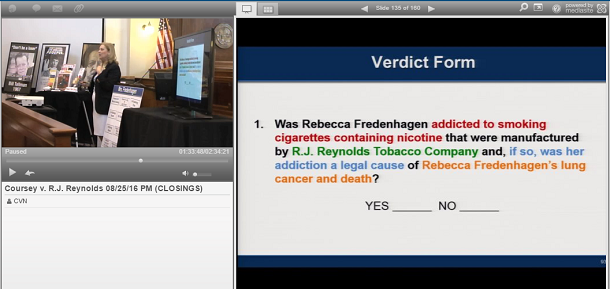 Stephanie Parker delivers her closing argument for R.J. Reynolds at trial over the lung cancer death of Rebecca Fredenhagen. Jurors Thursday cleared Reynolds of responsibility for Fredenhagen's death.
---
Daytona Beach, FL—Jurors Thursday needed less than an hour to reject the claims of siblings who sought up to $8 million in compensatory damages plus untold punitives from R.J. Reynolds for the lung cancer death of their mother, a former Florida health department worker. Coursey v. R.J. Reynolds, 2013-30656-CICI.
Jurors rejected the claimed link between nicotine addiction and the 1992 cancer death of Rebecca Fredenhagen, a Florida health department worker who chain smoked for decades.
Thursday's verdict followed a six-day trial in which Fredenhagen's daughter, Debra Coursey, claimed Reynolds' concealment of smoking's hazards caused her mother's nicotine addiction and fatal metastatic lung cancer.
During Thursday's closings, Coursey's attorney, Robert Foote, of Foote, Mielke, Chavez, & O'Neil, reminded jurors of decades of tobacco industry documents showing a conspiracy to hide the dangers of smoking from the public. Foote argued Fredenhagen was part of the "cycle of life" smokers whom R.J. Reynolds targeted at a young age to replace older smokers as they died.
Foote requested up to $4 million in compensatories each for Coursey and her brother, Thomas Fredenhagen. "People have complicated relationships with their parents and maybe Debra did for a while," Foote said. "But at the end, as opposed to many families, they had a wondefful relationship. And if you think about what they would have said to themselves in 1991… what would they say it would cost to lose her, there's no number. But that's the way our system works. We don't go blow up buildings at RJR. The way the American system works, and this is a hard job for you, is to try to put a number on that loss."
Foote also requested a finding that punitive damages were warranted.
However, the defense characterized Fredenhagen as a smoker by-choice, who was well aware of the dangers of cigarettes and who succeeded in her first serious quit attempt in 1985. "By all accounts, Ms. Fredenhagen decided to smoke with her eyes wide open," Jones Day's Stephanie Parker told jurors. "She had all this avalanche, this mountain of information throughout her life about the health risks, but she continued to smoke. She was a willing smoker. And once she made up her mind to become a nonsmoker, she never relapsed and she never smoked again. No one forced her to smoke.
"Ms. Fredenhagen should be 100% responsible for the decisions she made about how she wanted to live her life."
Coursey's case was brought in connection with Engle v. Liggett Group, the1994 class action that involved Florida smokers who successfully sued U.S. tobacco companies for allegedly hiding the dangers of cigarettes from the public. The Florida Supreme Court affirmed the jury's findings but decertified the class. To prevail, plaintiffs must file their claims individually and prove the smokers at the centers of their cases suffered from nicotine addiction that caused a smoking-related disease.
Related Information
Robert Foote, of Foote, Mielke, Chavez, & O'Neil, represents Debra Coursey.
Stephanie Parker, of Jones Day, represents R.J. Reynolds.
Read about the trial's openings.
Read about testimony in the case.
Learn more about CVN's unrivaled tobacco litigation library.