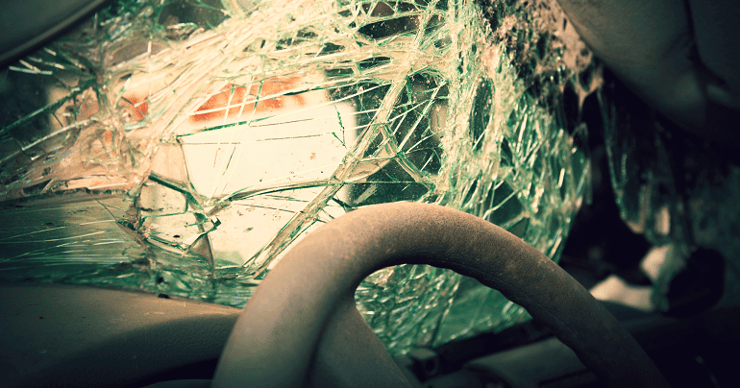 Stock image.
---
Decatur, GA – A DeKalb County State Court Jury awarded Jewel Wicker $3.5 million in damages after the then-Georgia State University student's car was run over by a First Class Produce truck.
Jewel Wicker v. American Family Insurance et al. 13A47336.
According to statements and evidence presented at the trial, the accident occurred while Wicker's car was crossing the intersection of Camp Creek Parkway and Old Fairburn Road on July 22, 2012. A First Class Produce box truck driven by the company owner's son, Parker Owens, ran a red light at the intersection and nearly crushed Wicker's car. Wicker was taken by ambulance to Grady Hospital where she was treated for several days.
The defense admitted liability for the accident but questioned the extent of the damages that Wicker should receive. In his opening statement, attorney Mitchel Evans said, "There's no dispute that Ms. Wicker was injured in this case. What the parties disagree is whether or not this accident warrants turning Ms. Wicker into a multimillionaire. [Wicker's attorney] told you that he expected … to get back up here and tell you why the evidence warranted her being awarded millions. That's where the parties disagree… what is fair compensation for the injuries and harm Ms. Wicker sustained."
During his opening statement, Wicker's attorney Alwyn Fredericks said her doctors had diagnosed her with a mild traumatic brain injury. He added: "There is no such thing as a small brain injury and you will see why we believe there should be an award in the millions for Jewel. Jewel Wicker has a permanent mild traumatic brain injury. She didn't have that before she was run over. There is no such thing as a small brain injury."
At the time of the accident, Wicker was an honors journalism student at Georgia State University. She testified that she resumed her studies after the accident and obtained her degree, although she couldn't carry the same course load as before. She added that she currently works as a print journalist in Pennsylvania, a position with a flexible schedule that allows her time for breaks as she needs them.
Wicker testified that, since the accident, she has suffered from daily headaches, depression, memory loss, aphasia, light sensitivity, and tinnitus. She acknowledged that her condition had improved since the accident. She said that, initially, she suffered from severe headaches every day, but that she now has severe headaches only two or three times a week and milder headaches other days. She added that she takes a variety of medications, including Botox injections and Vicodin for pain, Ritalin for her memory problems, and Prozac for depression.
Wicker broke down in tears as she described the effects of her medication: "On the Prozac, I'm just always tired. So when I come home from work, it's really hard to get everything done… I just come home and I sleep for hours and then I get up and I do one or two things, eat, and go back to sleep. And then I'll wake up and I'm still really, really exhausted."
Under cross examination, Wicker acknowledged that she had received treatment for TMJ about a year before the accident and had also received treatment for depression during the months before the accident resulting from a traumatic encounter with police. She also admitted to taking part in a number of school and extracurricular activities, including working on the student newspaper, after the accident.
Several of Wicker's friends and relatives also testified on her behalf as to the change in her behavior after the accident. The jury also heard testimony from her treating physicians as to her injuries and diagnosis. The defense did not call any witnesses in the case.
Attorneys for the parties were unavailable or declined comment in the case.
Correction: An earlier version of this story inaccurately detailed Jewel Wicker's job. This error has been corrected to reflect the fact that her current position's flexible work schedule provides her the time she needs to take breaks as necessary, but that no special special accomodations are provided by her employer.
Related information:
Attorneys involved in the case include Alwyn Fredericks of the Atlanta firm of Cash, Krugler, & Fredericks, representing Jewel Wicker, and Mitchel Evans of the Atlanta firm of Fain, Major & Brennan, representing the defendants.
Watch on-demand video of the trial as soon as it becomes available.
Not a Subscriber?Learn more about CVN's unparalleled coverage of top Georgia trials.