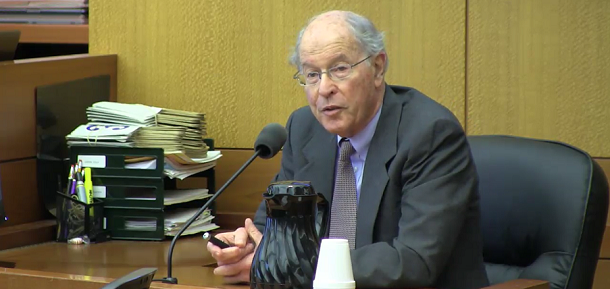 "No matter what was the cause of [Harper's] respiratory arrest, that was treated, he recovered, and he went steadily downhill after that. And that was a result of the infection," infectious disease specialist Dr. Daniel Musher says Monday in the trial of two doctors who treated Kenneth Harper before his death.
---
Atlanta—An infectious disease expert told jurors Monday that a hospital patient likely died from infection that overwhelmed his suppressed immune system, and not medical error, as trial entered its second week against two doctors who treated him. Harper v. Vick, et al., 08EV005552.
Dr. Daniel Musher, a Houston, Texas internal medicine specialist, said Kenneth Glenn Harper, 56, likely died from the progression of a bacterial infection that neither his weakened immune system nor antibiotics were able to stop. "The infection just spreads through the tissues, and I believe that's what it was doing in the case of Mr. Harper," Musher said. "If you don't hold (the infection) in check, [it] will just spread."

Harper, 56, died October 23, 2006, five days after an ER visit and admission to Wellstar Kennestone Hospital for neck swelling he said made him unable to swallow. Harper's wife, Sandra, claims her husband's death could have been prevented if two doctors who treated him, otolaryngologist Michael Vick and pulmonologist Paul Zolty, had intubated Harper or otherwise ensured his airway remained open after they examined him the morning of October 19. Harper went into cardiac arrest hours after the two doctors examined him.
However, Musher told jurors medical staff successfully restarted Harper's heart and intubated him after the cardiac arrest, yet Harper died nonetheless. "No matter what was the cause of the respiratory arrest, that was treated, he recovered, and he went steadily downhill after that," Musher said. "And that was a result of the infection."
Days before his admission for the neck swelling, doctors diagnosed with Harper with myelodysplasia, a bone marrow disorder that destroys the body's immune system. Referring to Harper's blood work and medical records, Musher told jurors the disease had so weakened Harper's immune system that pseudomonas, a bacteria typically found in the body's intestinal tract, infected Harper's neck and caused sepsis. "What all these numbers are telling you is, if you have pseudomonas bacteremia, it's bad, and if you have pseudomonas bacteremia and you're in septic shock, it's really, I hate to use the word terrible, but it's terrible. It's a very, very poor prognosis."
On cross-examination, however, Musher said Harper "probably" went into cardiac arrest because of a compromised airway. Musher refused to say respiratory arrest would interfere with a patient's ability to fight off an underlying infection such as Harper's, but he acknowledged "it would certainly increase, it might increase, his overall risk of passing away from infection."
Closing arguments in the case are expected Wednesday afternoon.
The parties' attorneys were not immediately available for comment.
Email Arlin Crisco at acrisco@cvn.com.
Related Information
Read about openings in the trial.
Sandra Harper is represented by the Bird Law Group's William Q. Bird and Alexandria Kash, as well as KurleLaw's Jennifer Kurle and Steven Justus.
Dr. Michael Vick and the Wellstar Physicians Group are represented by Green, Sapp & Moriarty's Henry Green and Daniel Moriarty.
Dr. Paul Zolty and Georgia Lung Associates, P.C. are represented by Swift, Currie, McGhee & Hiers, LLP's Roger Harris and Drew Timmons.
Learn how you can watch trial in this case and other critical medical malpractice litigation, in Georgia and throughout the country.